Bliss Triple Oxygen Instant Energizing Eye Mask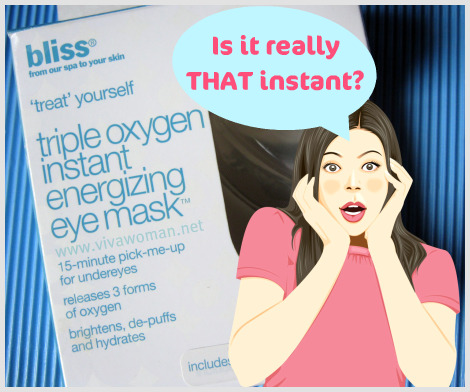 I love eye masks and I'm talking about those that come in the form of "pads" for the undereye area. Unfortunately, I haven't come across any that contains just natural ingredients and the last ones I used came from SkinFood. So when I received the Bliss Triple Oxygen Instant Energizing Eye Mask in my goodie bag during the last media invite at Bliss Spa, of course I had to try them out!
Brighten, de-puff and hydrate all at once
Okay, this one is touted as a 15-minute pick-me-up for our undereye areas. Besides being able to release 3 forms of oxygen, this marine collagen eye mask is said to brighten, de-puff and hydrate with its antioxidant vitamin C and puff-pummeling cucumber extract. I was a bit skeptical about the oxygen because I don't understand how that works on our skin but I'll say, Bliss Triple Oxygen Instant Energizing Eye Mask delivers what it promises. I found my undereye area less puffy and noticeably brighter and more refreshed immediately after. It doesn't get rid of the undereye dark circles of course as just like all masks, the effects are good as long as you use it. Neither did I notice any reduction in lines and wrinkles since I only used this once a week but I would venture further to say this is definitely handy when you need some help on your undereye area quickly.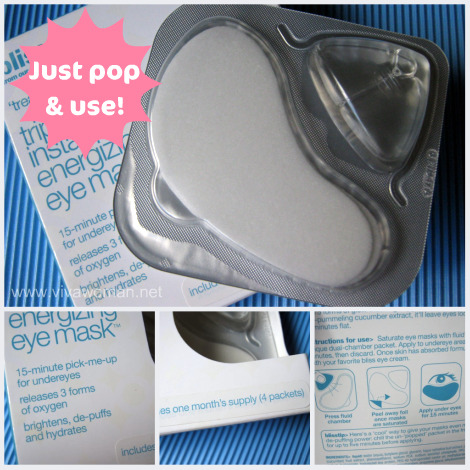 Usage instructions
In each box, you'll find 4 single-use, twin-chamber packets in the box and each packet holds a pair of eye pads in one compartment, and a liquid solution in the other, keeping them separate and airtight until the time of use. Apparently, this is better because it allows the active ingredients to remain in their purest form, so they have maximum potency when placed on your peepers. Actually, I don't quite buy that but still, I found the packaging unique as I haven't seen this in other types of eye masks. And to use the mask, you simply press the fluid chamber until it 'pops', releasing the liquid into the eye mask chamber to saturate the pads – no mixing or measuring required. After leaving on for 15 minutes, simply follow on with your usual eye care products without rinsing your eye area so that the ingredients can penetrate.
Ingredients
These are the ingredients found in each eye mask packet:
Liquid – water (aqua), butylene glycol, glycerin, fagus sylvatica bud extract, cucumis sativus (cucumber) fruit extract, phenoxyethanol, sodium PCA, sodium ascorbyl phosphate, PPG-26-buteth-26, sodium hyaluronate, hydrolyzed soy protein, PEG-40 hydrogenated castor oil, methylparaben, citric acid, butylparaben, ethylparaben, isobutylparaben, propylparaben, propylene glycol, ethylbisiminomethylguaiacol manganese chloride
Mask – algin, cellulose gum, glycerin, caprylic/capric triglyceride, citric acid, sorbitol
Price and availability
Each box of the Bliss Triple Oxygen Instant Energizing Eye Mask cost S$75 at Sephora or Bliss Spa, which means you'll be spending about S$19 each time you use this on your undereye area. It's expensive by my standard especially if I compare it to SkinFood Carrot Collagen Eye Sheet which cost only S$5 per packet.  However, I have to admit that the results are far better although personally, I would probably only consider purchasing this if it goes on sale as I would rather spend my money on a good eye cream or eye gel.
Comments