Rebound on a trampoline for health & beauty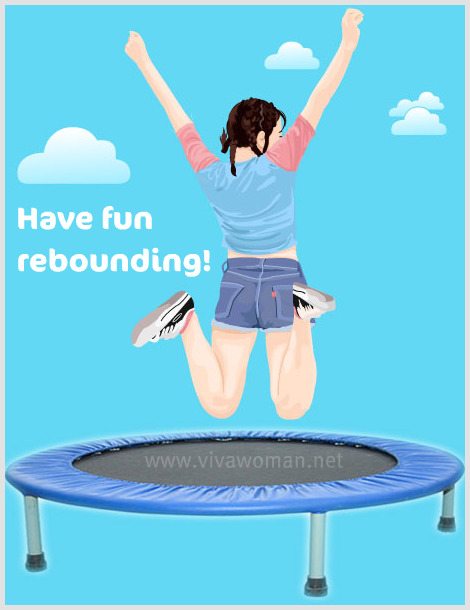 So what's the exercise that I've been doing as mentioned in yesterday's post? Well, I've been rebounding on a mini trampoline at home. Actually the same time I started my detox, I started rebounding on my gym ball and it was later that I finally bought a mini trampoline. It was a little tedious initially and I only managed 10 minutes each time but gradually, I was able to increase to half an hour each day while watching some TV programs. And you know what's the best types of programs to watch while doing this exercise? Sitcoms involving evil mother-in-laws! Those plots really make me mad and bouncing with a lot of gutso! Haha…
Stimulates the flow of lymph fluid
Anyway, the reason I picked up rebounding is because it's a low impact exercise that allows me to keep fit within my home. I can rebound on the mini trampoline any time of the day and I don't have to perspire under the hot sun. So I save both my time and my skin! But most important of all, I found out that rebounding stimulates the flow of lymph fluid through the lymphatic system. This is because bouncing on a trampoline uses three powerful forces – gravity, acceleration and deceleration – and the change in gravitational forces allows for greater blood flow and this increases the amount of waste and toxins flushed from the body.
Provides beauty benefits
I also found out that rebounding can strengthen every cell in our body. As such, this can help firm our skin and increase its elasticity over time. In addition, this exercise can tone our body and help rid cellulite plus increase metabolism and fight fatigue. I can't say about the beauty benefits yet but I'm pretty certain it's giving me more energy as I don't feel so tired on a daily basis.
Where to get mini trampolines
You can get a mini trampoline from the bigger sports shop for between S$100 – S$150, depending on the quality and brand. I bought mine at a sports shop at Parkway Parade and it cost me S$100. It can take up to over 80kg of weight and so far, it's serving me well.
If you're interested to find out more about the benefits of rebounding on a trampoline, I suggest you listen to the explanation from Hans Gruenn, MD, expert in Longevity Medicine in this video I've posted.
Comments