What can vitamins do for sun-damaged skin?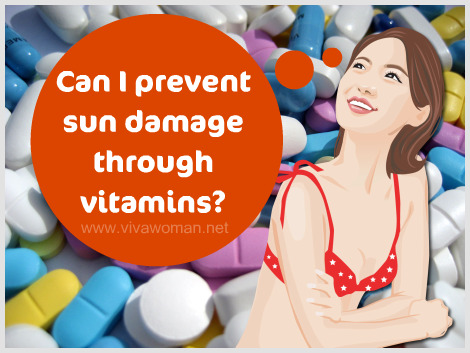 Remember my recent post about how we can boost our sun protection orally through antioxidant and nutrient rich food? Today, I'm going to cover how vitamins may contribute to the prevention and treatment of sun-damaged skin in oral or topical formulations based on a report titled, "Vitamins and photoaging: Do scientific data support their use?", published online in the Journal of the American Academy of Dermatology. According to dermatologist Jenny Kim, MD, PhD, FAAD, associate professor in the division of dermatology and her colleagues, there is evidence to support the potential role of vitamins A, C, E, and B3 in modifying the photoaging process.
Vitamin A: Effective in treating a variety of skin conditions
The two most common forms of vitamin A studied for their role in protecting the skin from UV-induced damage are retinols and carotenoids. Retinol is found in foods such as liver, milk, and eggs, and is the most biologically active form of the vitamin. Carotenoids are found in many fruits and vegetables, and have strong antioxidant capabilities. Carotenoids are not shown to be beneficial in the treatment of photoaging, but research suggests that they might play a role in photoprotection by preventing UV-induced collagen breakdown.
On the other hand, there is vast evidence supporting the role of topical retinoids (the class of substances formed by retinol and its natural and synthetic derivatives) in treating photoaged skin. But not all retinoids are equal in their ability to fight photoaging as prescription retinoid formulations have the most scientific data to support their use in this area compared to retinoids found in over-the-counter cosmeceuticals. In addition, it should be noted that unlike topical retinoids, there is minimal evidence supporting the use of oral retinoids in the treatment of photoaging.
Vitamin C: Possible skin care product value
Vitamin C, a water-soluble vitamin also known as ascorbic acid that is found in citrus fruits and dark green leafy vegetables, plays an essential role in the production of collagen and elastin. Because of its antioxidant properties, vitamin C may reverse the negative effects of UV radiation in the skin. However, it should be noted that some of the human clinical trials that have shown favorable results when applying a daily dose of L-ascorbic acid treatment are of small sample sizes. In addition, vitamin C is unstable when used in cosmeceutical formulations and it is not known how much, if any, intact molecule remains when applied to the skin.
"This problem has been partially overcome by chemically modifying ascorbic acid," said Dr. Kim. "However, for the body to use the supplied ascorbic acid, it must convert it to L-ascorbic acid and many of the stabilized, commercially available forms have not been examined to determine whether this conversion is possible. For that reason, the average consumer will not be able to determine if a cosmeceutical containing vitamin C will be effective."
Vitamin E: A primary antioxidant
Vitamin E, or tocopherol, is a fat-soluble vitamin and its synthetic form is found in many over-the-counter products. Working as an antioxidant, vitamin E protects cell membranes and is thought to play an important role in skin aging because of its antioxidant properties. While topical vitamin E is available in a variety of products, there is no data which support claims that it improves skin wrinkling, discoloration and texture.
"Topical vitamin E has been studied in humans, as in mice, more as a protectant to be used before sun exposure than as an agent to be included in cosmeceuticals to reduce the signs of skin aging," said Dr. Kim. "Through research we have learned that UV exposure significantly decreases levels of cutaneous vitamin E, and vitamin C should be included in any formulation containing vitamin E because of the important role it plays in maintaining active vitamin E levels."
Research also has explored combining vitamins E and C as an oral supplement to provide sun protection. Multiple studies suggest that this combination therapy is beneficial for photoprotection. However, Dr. Kim noted that overzealous oral vitamin E supplements may be harmful and two new studies also suggest that a high intake of vitamin E may be associated with an increased risk of basal cell carcinoma.
Vitamin B3: A possible treatment for photoaging
The B vitamins consist of eight different water-soluble vitamins that are found in a variety of foods. Vitamin B3 has been shown to reduce blood cholesterol and atherosclerosis (a condition in which fatty materials collect along artery walls), but now new insights are examining its role as an effective treatment for several skin conditions – from acne to photoaging. Specifically, Dr. Kim noted that vitamin B3 has been found to increase collagen production in in vitro studies and to reduce skin hyperpigmentation (dark spots) in clinical studies.
"There has been one clinical trial conducted in Caucasian women in which 50 women applied 5% niacinamide (topical vitamin B3) to one side of their faces twice per day for 12 weeks, and these women experienced significant reductions in the appearance of hyperpigmented spots, redness, wrinkles, and yellowing, as well as improved skin elasticity," said Dr. Kim. "While initial studies show promise that topical vitamin B3 may prevent UV-induced skin aging, larger clinical trials are needed to confirm its role as a definitive treatment of photoaging."
Prevention is still better than cure
While it's evident that these vitamins can play a role in fighting sun damage to some extent, some concerns regarding their effectiveness remains especially whether these properties are effective when delivered in skin care products. So as consumers, we have to be aware in order to choose the right vitamins to work for us.  At the end of the day, prevention is still better than cure and so proper sun protection is key to the prevention of photoaging.
Comments