10 other beauty uses with your toothbrush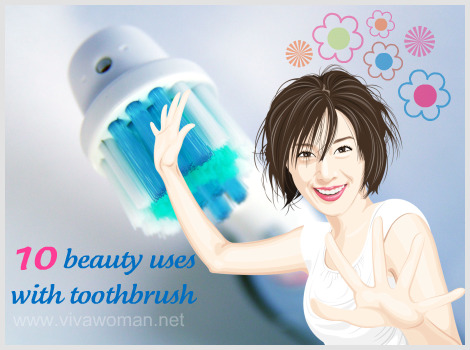 Toothbrush is a necessity for all of us in maintaining a set of healthy teeth. However, besides using the trusty toothbrush to brush our teeth, can we use it for other purposes? Well, there are plenty of other uses but here, I'll look at 10 of them that are beauty related.
1. Exfoliate your lips
To keep your lips kissable, run an old toothbrush under warm water and gently brush your lips with it. If you like, you can add vaseline to your lips and then brush off with warm water. This will help remove dead skin on your lips and make your lips soft and smooth.
2. Scrub away your dead cuticles during manicure and pedicure
If you do your own manicure and pedicure, a toothbrush is really handy. When you're done with pushing your cuticles, just scrub your nails with a toothbrush to get rid of the dead cuticles. The toothbrush can also help scrub away dead skin on your fingers and feet!
3. Scrub your elbows, knee caps and heels
You should exfoliate your elbows, knee caps and heels often so that they don't become rough and look vastly different from other parts of your body. But you don't always need fancy products to smoothen them. When you're bathing, your can scrub them using a toothbrush and some soap. Since a toothbrush isn't too harsh on those areas, you can use them every day or every other day.
4. Exfoliate your face
This one is controversial as some people will obviously find a toothbrush too harsh for their skin. Your best bet is to use an old toothbrush that has softer bristles. Best if it's electric as it makes the scrubbing easier. Look how easy Michelle Phan does it with hers! But I wouldn't recommend this for those with sensitive or thin skin though.
5. Exfoliate your neck and décolleté areas
Personally, I would prefer using the electric toothbrush to exfoliate my neck and décolleté areas. It's great for massaging the area and keeping it well cleansed. Like the face, you have to moisturize the area properly after exfoliation.
6. Scrub away the ingrown hair
If you have issues with ingrown hair either on your armpits or elsewhere, you need to exfoliate frequently with a body scrub. I don't have issues with ingrown hair but I like to use a scrub sometimes on my armpit and I find that a toothbrush can help me complete the scrubbing job more efficiently.
7. Groom your eyebrows
If you have unruly eyebrows, forget about buying a specific eyebrow brush. Just use an old toothbrush to groom your eyebrows into place with some Vaseline. I like using my kid's small toothbrush because the size is just right.
8. Clean your jewelry
I've seen my mom use a toothbrush complete with toothpaste to polish her gold and silver jewelry. A toothbrush is great to clean a piece of jewelry of intricate design with tiny nooks and crannies.
9. Clean your hair brushes and combs
For hygiene purpose, it's really good to clean your hair brushes and comb frequently. Okay, I admit I'm quite lazy with this one but if I do clean them, then it's always a toothpick to pick out the hair and then an old toothbrush to scrub between the bristles. The brushes always look brand new again after the washes.
10. Clean your little containers and bottles
A toothbrush is also good when I need to clean some little containers and bottles that I use to store my DIY skin care concoctions. I can give the little bottles and containers a good scrub with the toothbrush and it always does the job well.
So do you have other beauty tips to use that toothbrush? If you do, please share!
Comments