Are you allergic to your sunscreen?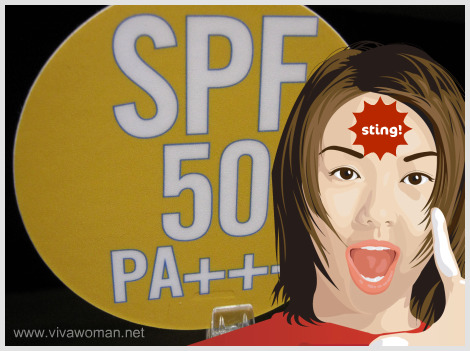 A reader by the name of Esther sent me an email last week asking if it's normal for her chemical sunscreen to sting her face upon application. My reply was that it's abnormal and she could be allergic to her sunscreen. I forgot to ask Esther if she has sensitive skin as I understand that those with such skin type may not take too well to chemical sunscreens. For some of these people, the sting could be so bad that it makes their face red with a burning sensation. Apparently, some of these allergic reactions represent contact dermatitis.
So besides having sensitive skin, what other reasons may result in one being allergic to their sunscreens?
1. Photoallergy
In some cases of sunscreen allergy, those affected reported that their face itched and turn red when exposed to the sun, and this is because of a photoallergic reaction when the chemical filters within the sunscreen reacted with the UV rays.
2. Reaction with perspiration
Still others have reported feeling itchy when they start to perspire or get their face wet. There appears to be a few causes for this but on the simplest level, the pores of our sweat glands may get blocked when dead skin cells and bacteria collect during perspiration. This in turn, causes an inflammation of the skin of some people and that's how they develop prickly heat rash.
3. Ingredients in their sunscreen
Some are highly intolerant the chemical ingredients within the sunscreen. Besides the active ingredients, it could also be due to the fragrance, preservatives or even alcohol.
4. Acne medication
Those who are using acne medication may find their skin more sensitive and hence, not suitable to use chemical sunscreens.
5. Dry skin
You may experience a stinging effect if your sunscreen makes your skin become dry. Alcohol in your sunscreen may aggravate this and many sunscreens have a high alcohol content to make them feel less greasy. In this case, you might want to ensure you've hydrated your skin well in advance.
So if your sunscreen stings your skin or turns it red, you may want to switch to an all physical sunblock or mineral sunscreen containing zinc oxide and/or titanium dioxide, preferably in a natural formulation with little preservatives and no alcohol. You may like to know zinc oxide is widely known to calm down skin inflammation and relieve symptoms such as itching, burning and redness. This is why it's a key ingredient in ointments for controlling diaper rash. And to answer another of Esther's question: stinging in the long run is bad for your skin as it means your skin is being assaulted and these will possibly contribute to free radical damage on your skin in the long run.
Comments