What your hair says about your personality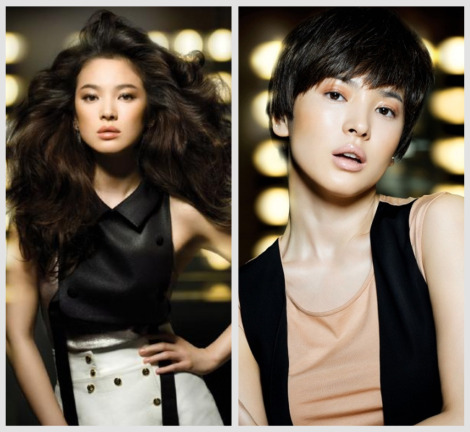 I've been toying with the idea of keeping my hair longer but on second thoughts, I think not. First, my hair texture is too thin and limp. Second, long hair is definitely going to age me and considering my thin frame, I don't think I'll look good. Anyway, it seems most people think that older women should have shorter hair. So it also means to say, longer hair are for younger women? Personally, while I do have such stereotypes but as a whole, I think long hair is more versatile and short hair is more refreshing.
But according to Jo-Ellan Dimitrius, women who are over 40 years old and wear their hair long may not resist growing up. These women are said to be caught in a time warp and still think of themselves as teenagers or college students rather than as grown-ups. And such women may be fairly unrealistic in their outlook on life as well as in their perception of themselves. On the other hand, women with short hair that is carefully cut and styled may reveal an artistic personality. (source)  
So do you agree with her views? If it's true, I definitely couldn't wait to grow up because I've maintained short hair for umpteen years now. LOL. Well, whatever it is, all I really care about now is to get a haircut soonest! But the bad news is, I've to wait till next weekend because my hairstylist is fully booked!
Anyway, I wish everyone will have a good hair day and I leave you with these hair related tips and quizzes from Total Beauty.
Get salon perfect hair at home!
Should you have your hair relaxed? Take the quiz!
How much do you know about at-home hair color? Take the quiz!
Have fun!
Comments