Hair pampering at Phyto Hair Spa in Wheelock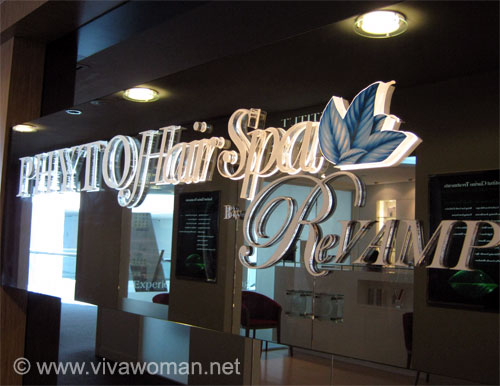 Some of you would have read of how I used to suffer from a lower self-esteem because of the state of my hair. So hair treatments are not new to me but this is the first time I visited a hair spa. While I'm familiar with Phyto for their retail products, I have no idea that they also offer specialized and exclusive hair treatment services over at Phyto Hair Spa by Revamp in Wheelock. In fact, I later learnt that this is the first exclusive Phyto hair spa in Asia.
I guess the reason for the lack of awareness is also because I haven't been actively searching for hair treatment services these recent years. So thanks to a complimentary session arranged for bloggers, I had the opportunity to experience Phyto's 100% botanical healing scalp session last Friday. I was expecting the session to be good since I already like some of Phyto's shampoos such as their Phytocedrat and Phytocyane (click for my reviews), but what I wasn't expecting was that I found new meanings in the words "hair spa".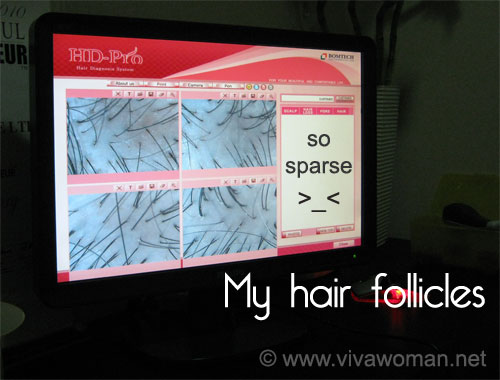 Pre-treatment analysis
Before the hair treatment began, I was ushered to a private consultation room where the condition of my scalp and hair were analyzed via an advanced computerized analysis system. The consultant whom I met wasn't a tricologist, but she was able to explain the condition of my scalp by diagnosing my hair follicle condition before recommending a suitable hair therapy for my hair problem. One thing I have to mention is that she was very tactful throughout the consultation and was careful not to cause me any embarrassment. In fact, she was objective throughout the analysis and not once did she mention that I have very little hair.
Enclosed treatment area
Actually, when I first stepped into Phyto Hair Spa, it looked like a normal hair salon to me. However, besides the private consultation room, the hair treatments were all conducted within an enclosed treatment spa area, which comes with six hair spa couches. Yes, that's the picture you see below but in reality, the room is dimmed and so there is quite a bit of privacy for the customers. Each station has its own personalized entertainment set and individual reading light. And unlike the usual hair salons that we visit, this one comes with lockers and I was able to enjoy my treatment without worrying about my bag especially when I stepped out of the room for the shampooing and styling.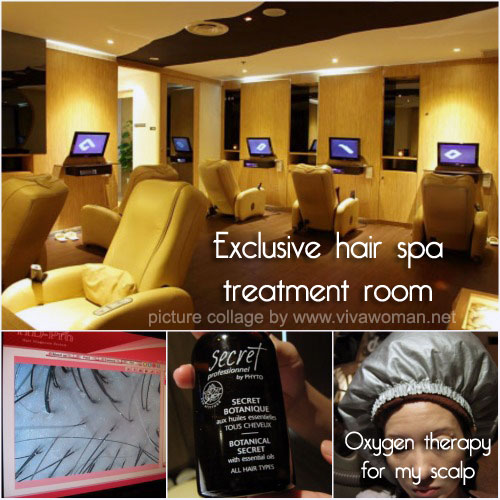 The 7-step treatment process
The treatment I received was for oily scalp. It was a 1 hour 45 minute session and the process involved:
1. A pre-shampoo treatment to purify, rebalance and tone the scalp.
2. Another treatment to re-build plus deeply nourish and treat the scalp.
3. An oxygen therapy to open up pores on the scalp for deep cleansing.
4. A 20-min rejuvenating upper body massage to promote circulation.
5. A rinse off with botanical shampooing massage techniques.
6. Applying an oil control serum to the scalp.
7. Blow dry and hair styling.
Products used during the hair treatment were all from Phyto – serums with botanical ingredients as well as the shampoo and conditioner.
Treatment attendant
I had Wing who attended to me during the entire session. She was very pleasant and provided adequate explanation for each treatment process. I like her massage techniques as she was able to make me feel extremely relax and comfortable. More importantly, just like the consultant, Wing did not embarrass me by pointing out the condition of my hair.
Result of treatment
I went away the session feeling like some weight had been removed from my head. One session was probably insufficient to improve the condition of my scalp completely. Although my scalp seemed less oily the next day, I still had to wash my hair. But at least, it behaved well for the next few days after the session.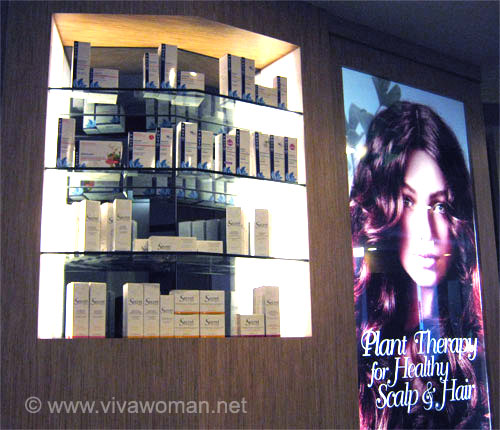 Price and venue
The treatment I received was titled the "Get Down To The Root" and it cost S$188 for the 1hr 45 min session. There is also a 2 hours session that cost S$208 and the additional 15 minutes is for an added infra-red treatment. Besides treatment for oily scalp, Phyto also offers treatments for sensitive scalp, dry scalp, hair loss as well as others like anti-aging. Packages are also available for those interested and more information are available at their website. The hair spa I visited was at Wheelock Place #05-08A but you can also find them at Ngee Ann City #05-26.
Overall summary
While it's called a hair spa, I really wasn't expecting the level of pampering that came with the treatment. Unlike the usual hair treatment places I've visited, this one offers massage not just on the head, but on the shoulder, the back and even the hands. It was a good 15 to 20 minutes of massage! On top of it, the spa couch I sat on was really an Oto massage chair and so I was able to enjoy even more back massages during the entire session. Of course I enjoyed myself!
One of the things I noticed about the spa is that some of their staff do not speak English that fluently. However, they tried their best to be clear and did not use another language to communicate with me. That was definitely a plus. But more importantly, they overcompensated by their excellent level of service throughout the treatment session by ensuring I was comfortable at all times. And the level of service extended to me as a blogger seemed consistent with the other customers who were also receiving their treatments in the room. So yes, I'll be happy going back for another round of treatment definitely – when I have more spare cash to pamper myself!
Comments