Are oral beauty supplements your kind of thing?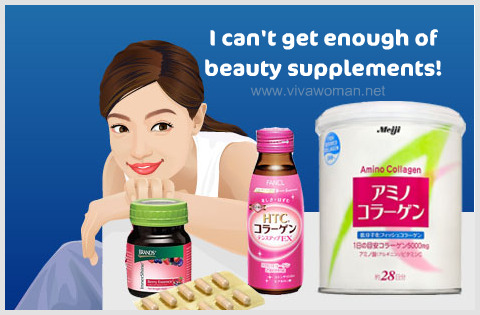 The other day, I almost got myself a bottle of sheep placenta supplement that was on sale. However, I thought I better read up more about it before making the purchase. In the end, I decided against it. Come to think of it, I've become a coward (read: kiasi) when it comes to beauty supplements. I was never like that. Years ago, I would purchase supplements that promised me fuller hair or healthier nails and I didn't need much prompting about eating collagen for skin firming. However, somewhere along the way, I got lazy. And these days, I prefer to rely on skin care products and treatments instead, while maintaining a healthy diet. I take supplements all right, but strangely, I'll avoid those that are packaged as beauty supplements.
Health considerations
Maybe it's because I'm deterred by the fact that I'm already taking so many supplements on a daily basic and I don't want to add anymore to that list. Or maybe I'm just skeptical because these beauty supplements are only good if I continue taking them on a long term basis and it's just too much trouble (and money). Plus, I feel that it's better to rely on nutrients and minerals from direct food source. However, I do get curious about some of the interesting ones – like sheep placenta currently. I'm actually tempted to try it just that I fear that it might disrupt my hormones and I'll rather be safe than sorry. I mean, while it sounds really beneficial for my skin, but will it cause me any health complications later? I don't think anyone can give me a definitive answer to that, given that our bodies also react differently to such supplements. For example, I had a friend broke out and developed eczema after taking one of the popular brands of collagen powder.
Hence, for the moment, I'm keeping beauty specific supplements out of my diet. Heliocare falls into a gray area for me because it's for sun protection. Other than that, I'm happy to take my vitamin C and probiotics daily and perhaps add a fish or omega oil later.
Share share
So tell me, are your into beauty supplements? How important do you consider them in your skin care routines? Do you believe in them over using creams and lotions on your skin? And if you're taking some of these supplements, would you care to share your experience? Who knows…I may change my mind after reading some of your testimonies. HEH!
Comments