Bottle nipple liquid cleanser to wash brushes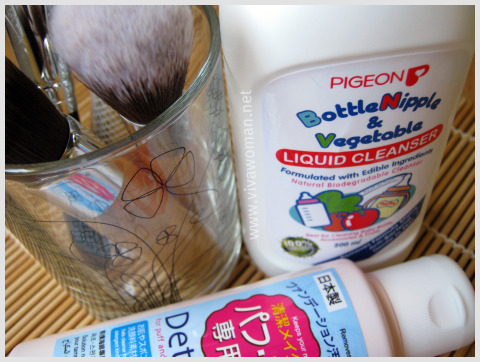 I had thought that I needed new face brushes but it turned out, there's no need to purchase anymore! Thanks to all of you who have responded to my post last week, I found a solution to my problem of oily brushes! It was an issue with the cleanser I used and after using some of the solutions mentioned, my brushes are back to being fluffy again! So what did I do?
I went out to grab a small bottle of Pigeon Bottle Nipple & Vegetable Liquid Cleanser as suggested by Berry and also a bottle of makeup sponge cleanser from Diaso mentioned by meandmyTHRILLS. Before I washed the brushes with the cleansers, I took on pf1123's suggestion of double cleansing and washed my brushes with my Muji oil cleanser. After that, I washed the brushes with either Pigeon Liquid Cleanser or the Diaso cleanser, just to compare. The Pigeon Liquid Cleanser was a clear winner as I can feel the brushes rather squeaky clean even while washing them. In fact, I don't really need to double cleanse my brushes if I use this. As for the Diaso one, it was definitely better than the Baby Bee's Shampoo & Wash I used but not quite as effective as Pigeon's.
So I'm definitely going to continue using Pigeon Bottle Nipple & Vegetable Liquid Cleanser to wash my face brushes henceforth. It is very gentle and doesn't foam, but yet, it is able to cut through the grease and clear the oil from my brushes very well. And the best part is, a 200ml bottle only cost S$5.50 and you can find it easily in department stores selling baby stuff!
* Update: Pigeon Bottle Nipple Cleanser is tested to have a pH level of 6.
Comments