DIY Beauty: potato mask for mild skin discoloration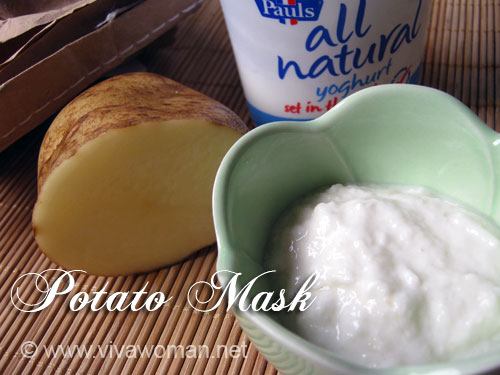 It seems that there are tons of homemade beauty recipes for treating skin pigmentation and discoloration. Based on experience, I find that they do work to quite a good extent, although you should moderate your expectations to understand that the results are not instantaneous. However, with consistent applications, they do yield fairly good results for mild to moderate cases of skin pigmentations. The reason I like using them is that they are way cheaper and more natural. I mean, if you really want natural skin care, then nothing works better than using food ingredients right from your kitchen.
Potato contains a potent skin lightening enzyme
Okay, today, I'm going to introduce you another skin lightening mask and this time, we're using a potato. I've mentioned in my eye mask recipe that potato juice is not only effective in removing the dark circles around the eye because of its liquid starch content, but it also contains the enzyme, catecholase, that is often used as a skin lightener.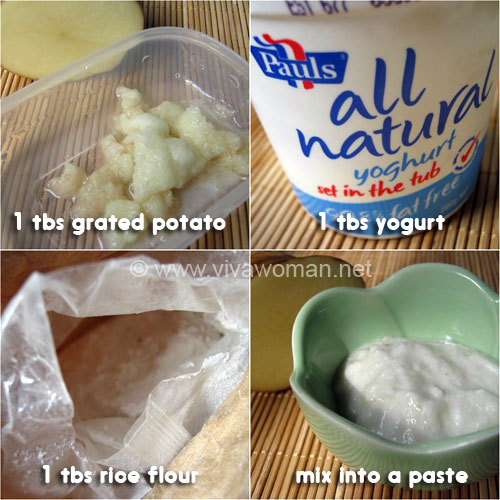 Mix into a thick paste with other ingredients
So this recipe is easy peasy. Just grate part of a potato to yield about one tablespoon full of pulp and juice. Mix the grated potato with one tablespoon of yogurt and one tablespoon of rice flour. You can replace the yogurt with milk if you like but I find yogurt is better when it comes to making a paste that won't drip all over. If you don't have rice flour, you can also use oat flour.
This mask should be used fresh
The thing about this recipe that I don't quite like is that the potato oxidizes very quickly after it is being grated. So you really have to be fast to mix the grated part with the rest of the ingredients. Once they are mixed together, the grated potato do not oxidize so quickly but I'll say this mask cannot be stored and should be used fresh.
Application and removal
Once you have the paste ready, just apply this mask to your entire face after cleansing, leave it on for 15 to 20 minutes and then wash off with lukewarm water. Moisture as per normal after that. At the moment, I use this sparingly because I alternate with other recipes but you are recommended to use this daily for a month to see some positive results.
Comments