Do you like to use face sheet masks?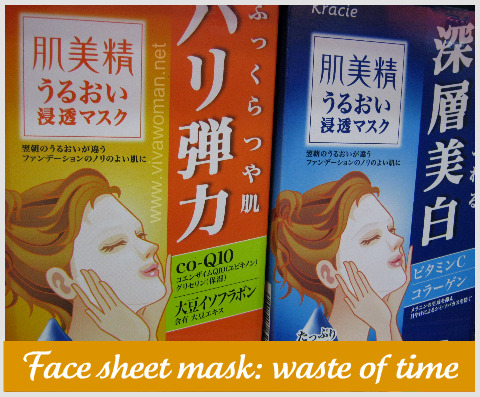 It's quite odd that while facial sheet masks are huge in Asia, I hardly use them myself. In fact, I don't like them too much and consider them a complete waste of time. When I say a waste of time, I don't mean they're not beneficial. But literally as in it is a waste of time to have to use them for at least 10 minutes or more.
That's because most of these commercially available face sheet masks are always dripping wet and if I were to use one properly, I will always have to lie down and that's too time consuming for me. In addition, I've yet to come across a face sheet mask that contains natural formulation. And as far as my experience has proven, their benefits are temporary; I would have to be more consistent with the usage to gain any longer term benefits. However, most of them contain some form of alcohol, fragrance and preservatives; so that's a deterrence to me. For now, the only sheet mask I use is the DIY type using a facial lotion. But even that is quite infrequent.
So do you like to use face sheet masks? How often do you use one and which is your current favorite?
Comments