8 things to know about the skin around your eyes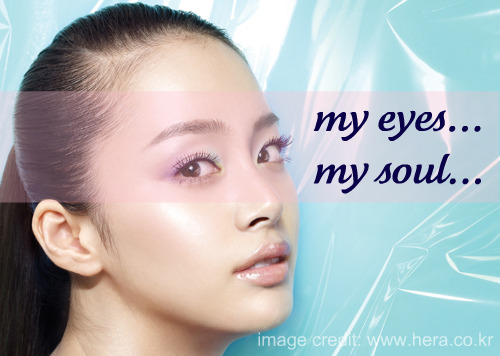 Right now, I'm not satisfied with the skin around my eye area. I see fine lines, crow's feet, dark circles and eye bags; I would like to get rid of them all. However, this is going to be a difficult and almost impossible task because the skin around our eyes is different from the rest of our face. So to start tackling this challenging task, let's first take a look at the various factors causing the problems that plague the eye area.
1. Thinner skin
The skin around our eyes is said to be seven to ten times thinner and more delicate than the skin on the rest of our face. This is why it is always said that our eye area is more sensitive and we should treat it delicately and not rub our eyes as that action can contribute to wrinkles. Maybe the worst fact is that as we age, the skin around our eyes get even thinner due to a loss of collagen and elastin.  (source)
2. Hereditary factor
Hence, because the skin under you eye becomes thinner over time, dark circles become more apparent due to the dense capillary network beneath and when the blood that passes through the large veins close to the surface of the skin produce a bluish tint. So if you've inherited a thinner and more transparent skin, chances are, your dark circles can be very apparent. (source)
3. Leaky capillaries
I've also learnt that with age or illness, the tiny capillaries in our skin can get weakened and thus leaky. The fluid from these leaky capillaries along with the hemoglobin slowly accumulates below the eyes, thereby forming the look of dark circles. Hemoglobin is the main ingredient in red blood cells and contains a heme group whose iron atoms bind to oxygen molecules. When oxygen molecules are detached and hemoglobin becomes oxidized, red blood cells turn bluish in color. That is what happens with dark eye circles. (source)
4. Sebaceous glands
The skin around our eye area is highly prone to dryness because it has few sebaceous glands unlike skin around other parts of our face. So on a whole, it has a poor lipid barrier, and more prone to lines forming. (source)
5. Skeletal framework
If you have prominent cheekbones and a pair of deep-set eyes, chances are, you'll get these deep hollow contours below the eyes. As such, it would seem like your dark circles are very pronounced although it could be an illusion caused by the shadow. (source)
6. Toxins in your organs
Dark skin under the eyes may mean sleep problems or toxins in the kidney and or the liver. Accordng to TCM, the top of the eye and directly below the eyes is the kidney zone. Puffiness and fluid retention in this area is a sign the body is holding on to too much fluid (watery and swollen with a blue tinge) or is mucus congested (fatty and swollen with a yellow tinge). Blue circles or white under the eyes indicates tiredness or even exhaustion. A yellow tinge shows the liver and gallbladder are working too hard. (source)
I also understand that if your gall bladder is not functioning well enough to process and break down fats in your body, this may contribute to milia (milia seeds) around the eye area for some people.
7. Frequent eye movements
The skin around the eyes is affected by the number of times you blink, and your facial expressions.  Often called expression lines, these unfortunately calls attention to your eye area for the wrong reason.
8. Shape of eyebrows
Don't underestimate your eyebrows as the shape of your brow can make your eyes look larger and  brighter.  So a better arched eyebrow can make you look more awake and enhance your overall appearance.
So if you're troubled by your eye area like me, you might want to find out what's the root cause before identifying possible remedies.
Comments