A trio review of Ecobeau Korean natural products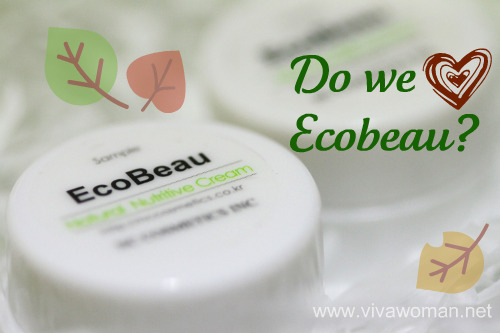 Today, I'm going to review three of the products under Ecobeau, a natural series from Korea that is said to be made from botanical extract and contains no alcohol, no preservatives and no parabens. Instead of just giving you a personal review, I have invited two readers, Chenyze and Kaiping, who received the Ecobeau travel kit, to share their views on some of the products as well. So interested to find out? Here goes the trio review!
Ecobeau was created by Professor Choi from Kwangwoon University (Korea) and co-developed with University of Toledo (Ohio). The range is formulated to be free from synthetic preservatives and includes ten products, such as a cleanser, a toner, a dark spot serum, a moisturizer, a mask an eye cream and even BB creams. I understand that the Ecobeau Loess Cleanser and Loess Nutrtive Mask are their top sellers and so I'll start off reviewing those two first.
Ecobeau Loess Cleanser 150ml S$30
Ingredients: Loess water, LES, cocamido propyl betain. glycerin, sodium hydrogen carbonate, aloe moist, natural antiseptic (Koran pepper, moss extract, pasque-flower ), rice bran, allantoin, collagen, coenzyme Q10, natural fragrance.
This is described as a natural cleanser with soft foam that gently cleanses your face. It contains minerals from loess water and loess is described in the website as "minute mineral matter that aids health by emitting infrared rays, and has excellent absorptive, purifying, and revitalizing properties".
Chenyze: combination with oily T-zone skin type
I had initially started the first few days using the EcoBeau cleanser as my sole cleanser. I love the smell of the cleanser, the fact that it's more gentle on my skin because it's a foam cleanser (less friction), and that about a half pump is more than enough for me to really soap up and exfoliate my face!. I tried double cleansing but I needed very very little for the second round of cleansing. It does leave my skin feeling fairly moisturized, but I noticed that my face didn't look as bright as when I used my usual True Bio Skin Care Cleanser. I changed my routine a bit, and ended up using EcoBeau for a first cleanse, following up with my True Bio Skin Care Cleanser.  Using EcoBeau for the initial cleanse worked out wonderfully because when I go over a second time with a tiny amount of True Bio Skin Care Cleanser, I find the lathering and cleansing very smooth – evident that EcoBeau Loess Cleanser had cleansed well.
Kaiping: sensitive and acne-prone skin type
When I used this cleanser for the first night, my skin started drying a little more than usual. Subsequently, little bumps appeared on my face the next night, and then I got a very bad out break now on both sides of my face.  So I had to stop using this cleanser, after using it only for a few nights.
Sesame: combination with oily T-zone and acne-prone skin type
This cleanser cleanses very well; I only need one pump and one washing in the morning. In the evening, I used two pumps to cleanse my face full of makeup but still double cleanse with another pump. My skin felt comfortable after each wash and it does not feel dry nor tight. I don't like the scent though; it's very pleasant but it doesn't smell natural to me.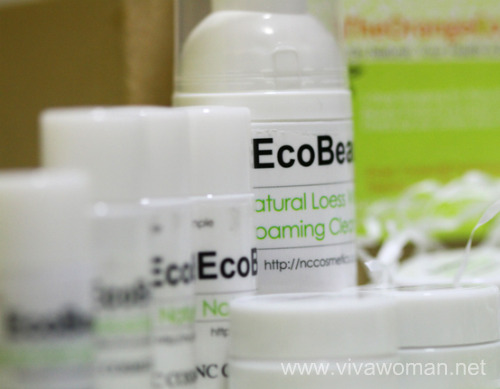 Ecobeau Loess Nutritive Mask 100ml S$33
Ingredients: Extract of herb medicine ( 9 herb medicine including dictamus ), loess powder, hydrogeneted castor oil, sodium hyaluronate, polysorbate-20, glycerin, aloe moist, jojoba oil, squalan, olive oil, sesame oil, twin-80, cetyl alcohol, natural antiseptic (Korean pepper, moss, pasque-flower ), allantoin, oatmeal, D-phantenol, rice bran, tocopherol, retinol, collagen, elastin, coenzyme Q10, albutin, natural fragrance.
This is a peel off type of mask in a deep maroon color and is said to contain nine herbs including dictamus and moss. Just apply all over the face evenly and peel off after about after 20 minutes of drying.
Chenyze: combination with oily T-zone skin type
The nutritive mask didn't work that well for me. It was very sticky so it was quite hard to apply it on evenly on face. I tend to end up with thicker patches! A major annoyance is that it's a peel-off mask that doesn't peel off too well! Waiting for it to set for longer periods of time didn't help either – perhaps it's because I didn't manage to apply it smoothly and evenly to begin with. I really didn't like that I'd end up tugging my skin to get off the mask. The description reads "no particle left at follicle after unmasking" but no such thing at all! I didn't even see a slight difference or any whitehads/blackheads that came out when I peeled off the mask.
Kaiping: sensitive and acne-prone skin type
For the mask, I haven't tried it yet, partly because of the bad experience with the cleanser, and partly because the murky red colour made my urge to try drop below zero. I find the smell rather "funny" too.
Sesame: combination with oily T-zone and acne-prone skin type
I usually do not like peel off mask but surprisingly, I like this one. The travel size tub was sufficient only for two usage though. I applied fairly thickly and evenly according to the instructions, waited for 20 minutes and manage to peel off the mask very easily without any pain or tugging. I did not feel like I was peeling off my skin and my skin felt rather smooth and hydrated afterwards. Nice! But again, I don't like the scent.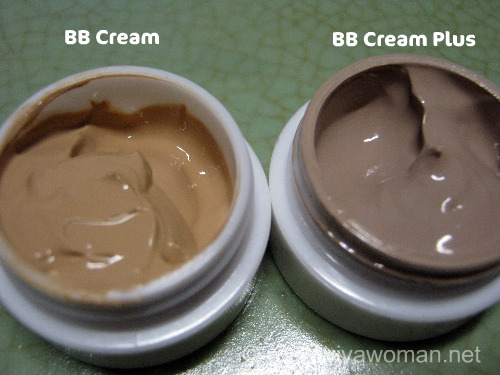 Ecobeau BB Cream & BB Cream Plus 50ml S$30 & S$33
Ingredients: Extract of herb medicine( 9 herb medicine including dictamnus ), aloe moist, color mix(foundation), sodium hyaluronate, glycerin, octylmethoxy, jojoba oil, squalane, oxybenzone, cetyl alcohol, olive oil, sesame oil,natural presertive( Korean peper tree, pasque-flower, moss extract), titanium oxide, zinc oxide, natural fragrance, rice bran, oatmeal, D-phantenol, allantoin, collagen, elastine, coenzyme, albutine
Other than the color, the difference between the BB Cream and BB Cream Plus seems to be the added sebum control properties in the latter, which helps to control oil secretion and maintain clean matte finishing.
Chenyze: combination with oily T-zone skin type
I hated the BB Cream Plus the first time I used it. It made my face super white that I had to actually wash it off and apply a different BB Cream instead. My skin tone is kinda fair albeit a little sallow. I was ready to throw in the towel, proclaiming that the tone doesn't match, but for some reason, I gave it another go. I'm quite glad I did! This time I slapped on much more moisturizer beneath (you really need it to ease the application later), and used less than half the amount I would use with my normal BB cream. The colour seemed a bit more natural and it actually looked slightly dewy! I still used a bit of powder over it, but I guess I could have skipped it too. I would advice anyone trying out the BB Cream Plus to start off with very little, perhaps even a third of their normal amount! It's also a no for people with darker skin, I guess.
Kaiping: sensitive and acne-prone skin type
I tried the BB Cream too; I liked the colour, and that it can blend well to give a natural dewy look, or can be matt-up with a dust of powder over it. However, I try not to use this too often but only when I'm in a rush because I tend to get clogged pores with most BB Creams.
Sesame: combination with oily T-zone and acne-prone skin type
I wanted to use the BB Creams as a spot concealer and so I used more of the BB Cream Plus because that one gave more coverage. I've been using it to conceal my undereye circles and some spots on my cheeks; the coverage is quite sheer but it gives a nice luminous finishing and I noticed less creasing of my foundation powder under my eyes. I believe that's due to the oil control promised by the formulation.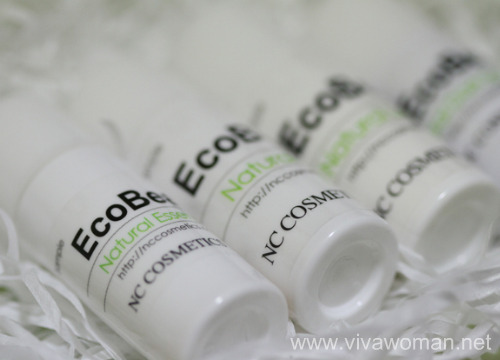 Overall summary
I am actually surprised that I rather like the products from the Ecobeau range. Other than the three mentioned, I'm also using the Ecobeau Eye Cream every night. It feels rich but surprisingly, it works well on my eye area and I've been using it for the past few weeks. I can't say it's getting rid of the fine lines or crow's feet but well, at least it's moisturizing the skin there. However, one thing I don't like about the range is the smell. While the smell isn't unpleasant, but it's not something I would associate with naturally formulated products though. Other than that, I think the products may work well for some skin types but apparently not all, like in the case of Kaiping. So those with sensitive skin need to try with caution. I wouldn't really say the products are completely natural but at least, they're free of alcohol, synthetic preservatives, parabens, sulfates, paraffin wax, petroleum, mineral oils and artificial colorants. So yes, the ingredients are agreeable to me as a whole and they are something I would use on my face. In fact, I like their BB Creams as they probably have the shortest ingredient list around. And may I add that their prices are quite affordable, especially with their current promotional pricing. So if you into Korean products and want to try something more natural, you may like to check them out at their website.
Comments