New Iris Collection from Crabtree & Evelyn
Crabtree & Evelyn as a brand certainly doesn't need much introduction but I wonder how many people are like me and would sometimes call it Evelyn & Crabtree by mistake? But mistake aside, I'll always step into their store when I spot one, just to test their hand creams, smell their fragrances and finger their fine foods. Undeniably, their stores have a distinctive English style that somehow draw me in and make me want to linger just a little longer.
Botanical range free from parabens, phthalates & mineral oil
My first product from the store was the Gardeners Hand Therapy but since developing interest in natural and organic products, I have not bought anymore items from them. So it pleased me somewhat to learn that their latest collection under Iris is free of parabens, phthalates, nitrosamines, propylene glycol and mineral oil. Okay, before you natural and organic beauty aficionados start getting excited, I need to highlight that while the range is formulated with botanical extracts, it is not 100% natural. Still, I'm glad that Crabtree & Evelyn has made an effort to create a friendlier formulation for our body by taking out some of the harmful ingredients in this new Iris collection; I believe this should please current fans of the brand quite a bit.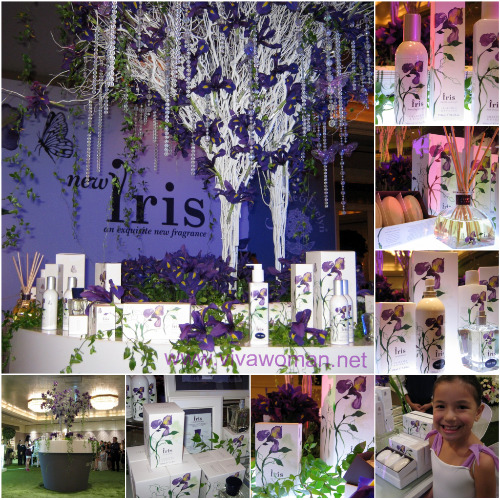 Inspiration drawn from royalty and nobility
The Iris flower was the emblem of Florence, Italy and a favorite of Renaissance perfumers who featured it in their elegant creations. Archival history has it that Iris scented perfume was first brought to England from Italy in the 1400s and King Edward IV favored its use to scent his wardrobe. So Crabtree & Evelyn really created the Iris collection inspired by a bloom prized for centuries by royalty and nobility by working with world-class perfumers to draw out the earthy scent of orris root and then blend it with sandalwood, patchouli, vetiver, cedarwood and musk to create their distinctive Iris fragrance.
Tip on layering the scent
Going by just the Eau De Toilette alone, the scent is quite musky and woody. An interesting tip from one of the staff was to layer the scent so that it can be stronger and last longer. To achieve that, she applied a small blob of the body lotion on my hand before spraying the Eau De Toilette over. The scent was surprisingly different and came across as more define.
Products & prices
The Iris collection will be available in stores from 1 October and comprises 10 products:
1. Eau De Toilette, 100ml at S$65
2. Eau De Toilette, 30ml at S$25
3. Bath & Shower Gel, 250ml at S$35
4. Body Cream, 200g at S$68
5. Body Lotion, 245ml at S$40
6. Triple Milled Soap, 3x 85g at S$28
7. Home Fragrane Reed Diffuser, 200ml at S$88
8. Scented Drawer Lining Paper, 6 sheets at S$45
9. Home Fragrance Spray, 100ml at S$30
10.Scented Poured Candle at S$45 (available in December 2010)
Why is there no hand cream in that list?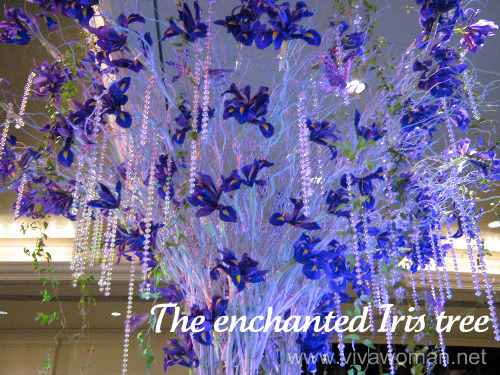 The enchanted Iris tree
I was reminded of The Enchanted Tree when I saw this. The company had re-created an Iris garden in the ballroom of Mandarin Oriental where it launched the Iris collection yesterday. It was quite a lavish sight but unfortunately, the splendidness only lasted some 30 minutes. As soon as the speeches were over, people were heading out. Quite a shame really, considering the concept plus all the efforts and resources that went into creating that elaborate setup. But at least we have them in pictures here eh?
© www.vivawoman.net copyright notice ☺
______________________________________________________________
Comments