EWG list La Roche-Posay Anthelios 40 as safe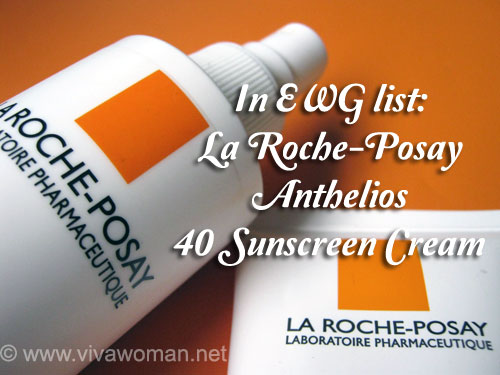 I posted the list of Best Beach & Sport Sunscreen from Environmental Working Group (EWG) on my Viva Woman Facebook page yesterday. If you haven't seen it, you can look a look here. According to the list, the top-rated sunscreens all contain Zinc Oxide and/or Titanium Dioxide to provide broad spectrum protection against UVA and UVB rays.  I don't recognize all the sunscreens listed but I was really surprised to spot La Roche-Posay Anthelios 40 Sunscreen Cream in that list because even though it contains 5% Titanium Dioxide, it is mostly a chemical sunscreen with 2% Avobenzone, 3% Mexoryl SX and 10% Octocrylene. The overall safety score for the product was 2, which means EWG deem this product as safe.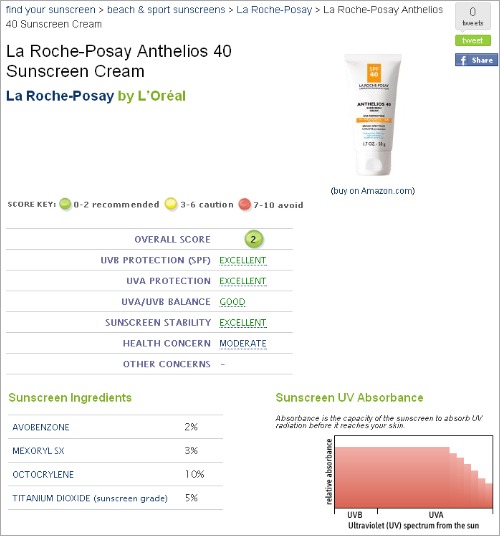 Controversies over toxicity of chemical sunscreen ingredients
There have been lots of bad press regarding chemical sunscreen. Many of the ingredients are suggested as unsafe. Ingredients like Avobenzone and Octocrylene were listed as toxic and unsafe in some studies although such studies are refuted as being inconclusive.  The common disagreement appears to center around the unknown extent to which such sunscreen ingredients are absorbed through the stratum corneum into the deeper tissues and the systemic circulation over time. The answer it seems, lie in the formulation of the product.
The formulation vehicle in which the sunscreen is presented to the skin has a significant effect on absorption into and through the skin. Alcohol-based formulations appear to increase sunscreen absorption. In addition, some sunscreen chemicals may enhance the skin absorption of other sunscreens when applied in combination. Source: American Journal of Clinical Dermatology
Inactive ingredient list
These are the other inactive ingredients in the La Roche-Posay Anthelios 40 Sunscreen Cream:
Carbomer 940, Carbomer Copolymer, Cyclomethicone, Dimethicone, Edetate Disodium, Glycerin, Hydroxypropyl Methylcellulose, Isopropyl Palmitate, Methylparaben, Phenoxyethanol, Polyvinylpyrrolidone/eicosene copolymer, Propylene Glycol, Propylparaben, Water Purified, Stearic Acid, Stearoyl Macrogolglycerides, Stearyl Alcohol, Trolamine
Based on my understanding, Glycerin, Isopropyl Palmitate, Propylene Glycol Alcohol all act as permeation enhancer to aid ingredient penetration through the skin but I am unclear how much or to what level the ingredients can penetrate.
Puzzling question
While I have my reservations, I won't conclude that the product is unsafe. Personally, I use La Roche-Posay's sunscreen sometimes too so I'm actually glad that one of their products is graded as safe by EWG. But I'm still scratching my head wondering how this product make it to the list of what I see are predominantly physical sunblocks aka mineral sunscreens as out of four of its active ingredients, only one is a mineral. Maybe I'm just missing the big picture altogether?
Comments