Marie Veronique Organics Anti-Aging Oil Plus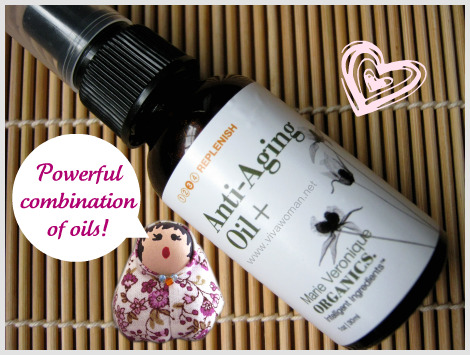 I was very surprised to receive this bottle of Anti-Aging Oil Plus, complimentary with the samples of Marie Veronique Moisturizing Face Screen Plus from the company. I hadn't mentioned anything to them, especially not that I'm quite fond of using oil on my face!
More than 20 different oils
Just looking at the ingredients alone, one would think that this Marie Veronique Organics Anti-Aging Oil Plus is super oily as it has more than twenty different types of carrier oils and essential oils including some of the most powerful ones with super antioxidant properties such as grapeseed oil, apricot kernel oil, borage oil, argan oil, emu oil, blackberry seed oil, evening primrose oil, rosehip seed oil, black raspberry seed oil, sea buckthorn oil, cranberry seed oil, just to name a few. But no, this anti-aging oil isn't that much oilier than the ones I'm used to.
Thick but not overly greasy
I started using this only in the night, after toning my face. Just a few drops is sufficient to moisturize the entire face. I also use a little bit of it around my eye area. It's thick all right, but it's not particularly greasy and by morning, my face looks and feels fine, without any oily residue. I was initially afraid that this would be too heavy for my currently acne-prone face but after three weeks, I didn't experience breakouts. I have one or two more new acne, but I know that's because of some of the junk food I couldn't resist taking.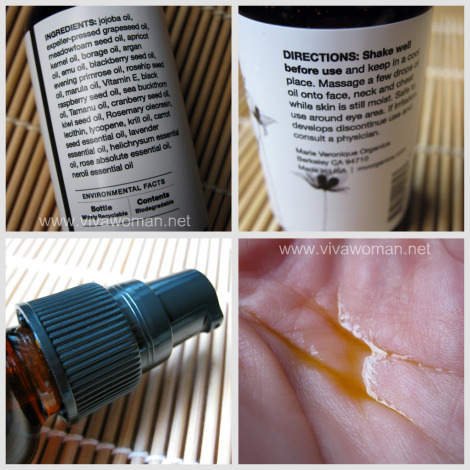 Replenish and repair lipid barrier
Described as a product that combats aging with the most powerful oils, the Marie Veronique Organics Anti-Aging Oil + is said to provide the ultimate protection and repair of the lipid barrier with essential fatty acids from emu, krill and kiwi seed and has the ability to seal in moisture and leaves the skin supple, smooth and more refined. Personally, I love this because it works well for my combination skin type. I've also started using this on some days beneath my moisturizing sunscreen and I'm very happy with it. My cheeks don't feel exceptionally dry so I believe it does prevent moisture loss and dehydration.
All natural ingredient list
The entire ingredient list is here: Simmondsia chinensis (jojoba oil), Vitus viniferi (grapeseed oil, expeller-pressed), Limnanthes alba (meadowfoam seed oil), Prunus armeniaca (apricot kernel oil), Borago officinalis (borage oil), Argania spinosa (argan oil), emu oil, Rubus fruticosus (blackberry seed oil), Oenotherus biennis (evening primrose oil), Rosa rubignosa (rosehip seed oil), Sclerocarya birrea (marula oil), Tocopherol (Vitamin E), Rubus idaeus (black raspberry seed oil), Hippophae rhamnoides (sea buckthorn oil), Calophyllum inophyllum (Tamanu oil), Vaccinium macrocarpon (cranberry seed oil), Actinidia deliciosa (kiwi seed oil), Rosemary oleoresin, lecithin, lycopene, Euphasia superba (krill oil), Daucus carota (carrot seed) essential oil, Lavendula angustfolia (lavender) essential oil, Helichrysum italicum (helichrysum) essential oil, Rosa centifolia (rose absolute) essential oil, Citrus aurantium bigaradia (neroli) essential oil
Strong color and smell
So as you can see, it contains no harmful chemicals, no waxes that can clog pores, no water that can evaporate and dry out your skin, and no nut oils that can go rancid with UV exposure. The color of the oil is orange but it did not make my face more yellow upon application. In addition, it smells great but I have to say the scent would be considered quite sharp for those who are prefer scent free products. Another thing to note is that this Anti-Aging Oil Plus is easier to apply when your face is slightly damp, after washing or after applying your toner.
A little goes a long way
This 1oz bottle cost US$80 at the online store and those who do not like the emu oil may like to know that you can choose from the 100% Vegan formula which retails at US$70. Anyway, looking at the amount I need, I'm thinking this bottle is going to last me for at least six months!
Comments