Can I apply sunscreen around my eye area?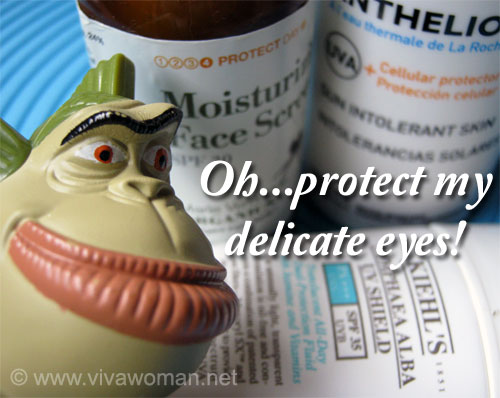 A number of you have raised this question to me so I thought I'll take it together and address it here. Actually, I had this similar question many years ago and I raised it to a dermatologist. He was the one who got me obsessed about using sunscreen but guess what was his answer? "There's no need to apply sunscreen on the eye area because that area would not get so much sun exposure compared to the rest of the face." I didn't show it to his face, but if he could read my thought bubble, he would have seen me blurting "WHAT???" Truly, I found his answer incredulous and of course I didn't believe him; I would have been more convinced had his reason been something along the line that sunscreen can get into our eyes and irritate them.
skin around our eyes is ten times thinner than the skin on our face
I know that our eye area is perhaps less prone to sun damage compared to our cheeks but still, there is a need to protect them. In fact, the skin around our eyes is so much thinner than other parts of the face that it needs more protection! I have small sun spots around my eye area in the past when I didn't use anything to protect the skin. I believe some of the wrinkles around the eye area are also due to improper protection. I don't use my sunglasses all the time and face it, how many eye products contain SPF?
Sunscreens are not tested to be used around eye area
So why shouldn't we use sunscreen around the eye area? Because the instructions say so? Well, the reason I see is that most sunscreens, especially the chemical ones, contain ingredients that are sensitive to our eyes. Sunscreens have not been tested to be used around the eye area and so manufacturers play it safe by indicating that it shouldn't be used around the area. Hence, the usual line of thought is that it is best to avoid applying sunscreen around the area, especially on the eyelid in case the sunscreen melts and gets into our eyes and irritate them.
I use sunscreen over my eye area
I use a mineral sunscreen containing zinc oxide and I apply my sunscreen OVER my eyes. What I mean is that I do not deliberately dab the sunscreen around my eye area but instead, when I apply it on my face, I bring the lotion over my closed eyes using my palms. I may dab a little more closer to the sides of my eyes and the undereye area, but I do not apply a thick layer of the sunscreen on my eyelid. And just for those interested, my sunscreen is not rich nor greasy. I would describe the texture as just right for my skin type.
Make some evaluations
Hence, a few questions you need to ask yourself:
– what type of sunscreen do you have?
– does your sunscreen contain any ingredients that might irritate your eyes?
– is your sunscreen very moisturizing or greasy?
– are your eyes very sensitive?
– are you prone to perspiring frequently?
– would your sunscreen melt under heat?
Overly thick and rich sunscreens may promote growth of milia seeds
Generally, I find sunscreens, both chemical and mineral, pretty safe around the eyes if you can take to most of the eye creams and eye makeup. However, I would not advice you to dab a thick layer of the sunscreen over the area. Just apply a little on your palm and bring it over the area. If you're doing this the first time and are worried, the best is to try out bit by bit first. However, if your sunscreen is very thick, rich and greasy, then it's most likely not suitable for the eye area as it may pose problems such as the growth of milia seeds later.
Sunscreen ingredients can be drying
On the other hand, sunscreen ingredients can also be drying. I know zinc oxide and titanium dioxide are both drying agents apart from offering UV protection. Most chemical sunscreens contain alcohol and alcohol is drying for our skin too. Because the skin around our eye area tends to be thinner and more delicate, so it is advisable to ensure your eye area is well moisturized before applying the sunscreen too. This is, if your sunscreen is not already moisturizing and greasy in the first place.
So how many of you apply sunscreen over your eye area?
Comments