Marie Veronique Organics sun protection products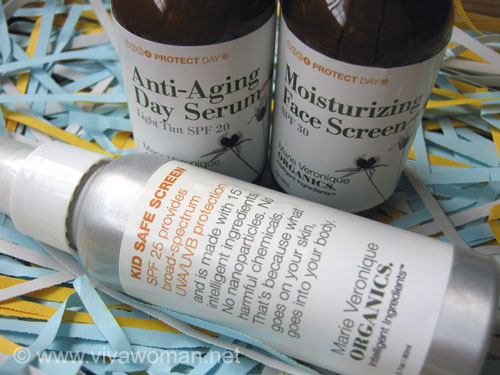 Some of you have been tempted to get the sun protection products from Marie Veronique Organics after reading my reviews and have asked me to give you recommendations to the products as you're unsure which to choose of the three. So here are my comparison of their three products.  As a whole, their products have worked rather well to protect my fair skin tone.  However, do note that I'm Asian with three layers of melanin, and hence, I'm actually less prone to getting sunburn.
Moisturizing Face Screen, SPF 30 60ml US$40 (click for detailed review)
This is by far, my favorite product from Marie Veronique Organics and also, my favorite daily sunscreen. I started using it when it was called Marie Veronique Organics Creme de Soleil and even though I must sound like a broken record but still, I want to say that this is actually my all-time favorite product! I use it daily under the MVO Anti-Aging Oil and the no tint version is just perfect for my fair skin tone. The texture of this product is almost lotion like and if you blend it with your fingers, it's not entirely smooth but has a slight powdery texture to it. However, it applies well without any grittiness, greasiness or dryness. It has a faint whitecast on my fair skin tone that is only visible upon closer scrutiny.
The smell is herbal like and is pleasant to me although I know that some users who are scent sensitive find it heavy. I think this product works well for those with normal to oily skin type. If you have dry skin, this might feel a tad drying because of the high zinc oxide content (20.6%) – I say this because of some feedback given by other users.
My preference is for the no tint version. While I can take to the light tint version and that works great as a sort of foundation base, but it makes my skin a tad darker with certain brands of foundation.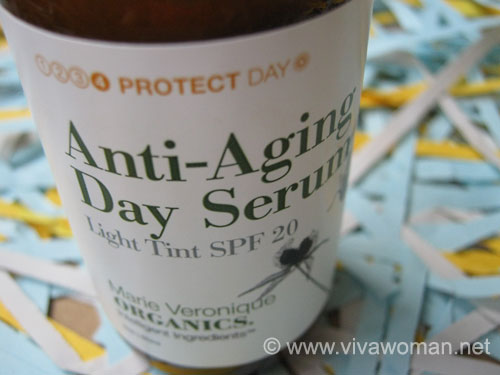 Anti-Aging Day Serum, SPF 20 60ml US$60 (click for detailed review)
This is a luxury product to me. I think it works on a deeper level to repair sun damaged skin too since it is a serum. Moreoever, the ingredients like red raspberry seed oil, coffee fruit extract, Yangu and Cherry Kernel Seed Oil provide excellent ultra violet protection and antioxidant benefits. The complimentary bottle I received from the company was the light tint version but I think the no tint version would have worked well for me as it would have complimented the Moisturizing Face Screen. I did get a small sample of the no tint version and I found it nice to apply it under my Moisturizing Face Screen. But I can't use too much of it as the combination of high zinc oxide content from both products (18% from Anti-Aging Day Serum) make my combination skin a little dry. So I would only use it on days when the UV index is very high or when I need more sun protection. I also use it on its own when I'm indoors mostly.
The smell of this product is very strong although I rather like it. The texture is thin and diluted and it's easy to spread on the skin. In fact, I find the no tint version should work well for fair to medium skin tone because it does not leave much of a whitecast.
Overall, I'll say this is a nice to have product if your budget can afford. Otherwise, the Moisturizing Face Screen is good enough for daily protection and defense.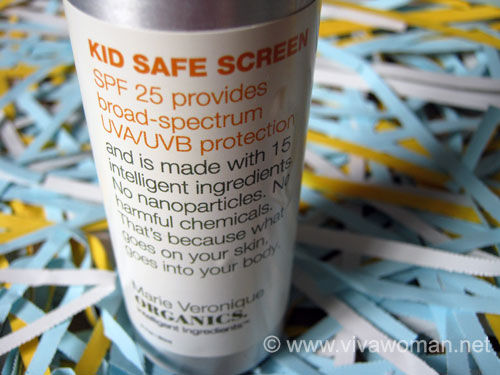 Kid Safe Screen, SPF 25 81ml US$19 (click for detailed review)
Some readers have commented that the MVO Face Screen is expensive. In that case, I would recommend you to try this product instead if you skin isn't dry. This is formulated as a sunscreen for kids but really, anyone can use it as the zinc oxide content is 19% and that offers pretty high protection. However, the ingredient list is shorter as it is meant to be a sun protection product and does not provide anti-aging or antioxidant benefits.
This product has a scent of what I think is xantham gum; it's not unpleasant but some might find the smell odd. The texture of Kid Safe Screen is thick and creamy but it is not greasy at all. In fact, it blends in well, does not leave a white cast and is matt to the touch. It can be drying when applied on its own so this is best used in conjunction with a body lotion, or a moisturizer/facial oil when used on the face. I currently use this product on my boy when he heads to the pool for a swim and I also use it to protect my hands. Frequent re-application is required when you're using this for swimming.
Overall summary
I've said it before but I'll say it again – I love the offerings from Marie Veronique Organics because their products meet my criteria of natural formulations with no toxic ingredients, chemical synthetics, fragrances, waxes, silicones or alcohol. Please note that I started purchasing their products first and the complimentary products only came later when the company learnt of my earlier reviews. If you ask me to recommend from the three products, then my vote definitely goes to the Moisturizing Face Screen.   I'm glad that many of my readers who have tried the Moisturizing Face Screen are happy with the product. Those who indicated that the product did not work well for them mentioned about the product being drying. Hence, I suspect that their sun protection products may not work as well if you have dry skin type. In terms of price point, I agree that their products are not the most affordable especially if we factor in the shipping from States, but I personally find the Moisturizing Face Screen reasonably priced for the ingredients it contains.
Comments