Marie-Veronique Organics Creme de Soleil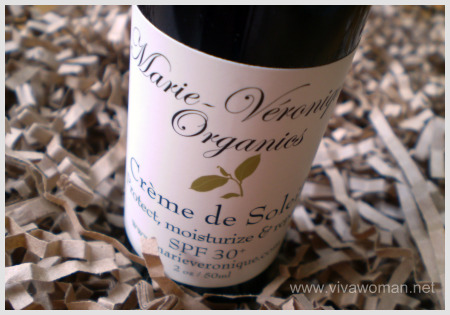 My quest for the perfect mineral sunscreen is over since I found Marie-Veronique Organics Creme de Soleil with SPF30+ which offer complete UVB/UVA spectrum protection. This has got to be the best sunscreen in terms of ingredients and texture I've used so far and I'm totally in love with it. It is also rated as one of the safest sunscreens on the list of Environmental Working Group.
Natural sunscreen with 20% non-micronized zinc oxide
Marie-Veronique Organics Creme de Soleil comes with 20% non-micronized zinc oxide and is a natural sunscreen formula with organic contents. There are no nanoparticles, no chemicals and no parabens. Instead, natural sun protective, lipid-barrier replenishing oils and botanical extracts are used as the base for the sunscreen. In addition, it comes with EFA rich emu oil and pearl powder and does indeed protect, repair sun damage as well as moisturize my skin as promised.
Ingredient listing
Green tea*, neroli hydrosol, non-micronized zinc oxide, oils of apricot kernel, calendula-infused jojoba*, rice bran & meadow foam seed, Vitamin E, MVO botanical anti-oxidant glycerite, aloe vera gel*, potassium sorbate, red palm oil*, mica, pearl powder, allantoin, xantham gum, oils of emu, sea buckthorn*, red raspberry seed & acai, non-GMO lecithin, honeysuckle, essential oils of carrot seed, cistus, lavender & helichrysum. *ORGANIC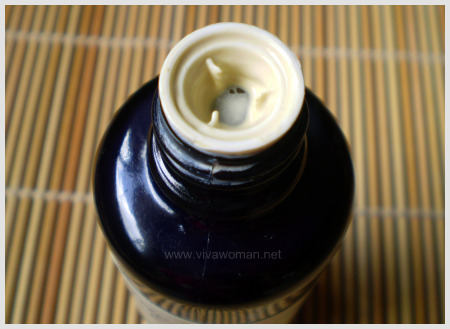 Light sunscreen with broad spectrum protection
The sunscreen offers full protection but is light, non creamy and non greasy; very ideal to be worn any time of the day over a regular moisturizer and under makeup. Because of the high non-micronized zinc oxide content, it does leave a slight whitecast on my fair skin upon application but the whiteness disappears quite quickly after a few minutes. The best part of this sunscreen is that I can apply it on my eye area and not have fear of developing milia seeds. And though the formula contains a high zinc oxide content, I didn't feel that it made my skin exceptionally dry.
Non water resistant
Unlike the UV Natural Sunscreen, I have no problem cleansing my face using this sunscreen. However, that also means this isn't water resistant. And while the dark glass bottle is great for protecting the integrity of the ingredients but I cannot figure out how much of sunscreen is in there. I also don't like having to shake the bottle before using as I sometimes do forget.
Availability outside of US
My major gripe with this product however stems from its unavailability outside of US. I bought it at US$44.99 at Marie-Veronique Organics but had to have someone ship it to me because they do not ship to Singapore. However, I recently found that it's available at Puresha which seems to offer international shipping but retails at a higher price. The Marie-Veronique Organics Sun Serum also appears to be available under the brand of Herbal Bliss in Hong Kong.
Crème de Jour SPF 30
I'm going to test the Marie-Veronique Crème de Jour SPF 30 next because the formula is quite similar to Marie-Veronique Organics Creme de Soleil but available at a cheaper price. Since it is their best seller, I have reasons to believe that it will meet my requirements. I have also requested for additional samples of their sunscreens in my order. I haven't decided if I will include them in the June giveaway or run something different but I will definitely keep you all posted when they arrive!
Summary
Overall, I'm very pleased with the Marie-Veronique Organics Creme de Soleil because it is everything that I want in a sunscreen and more. I can't say that it is the best sunscreen in the market but it is definitely the best mineral sunscreen for me for now! And I should add that it smells very pleasant too!
Comments