5 tips to apply facial oil for optimum benefits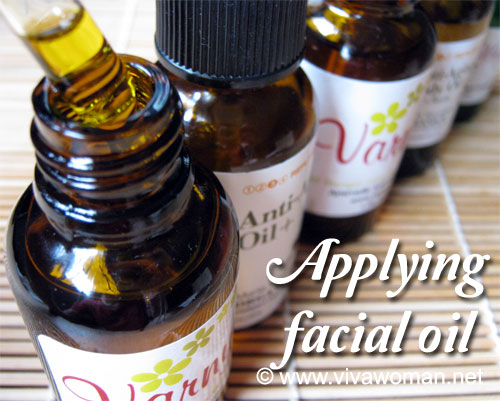 Because of my frequent mentions regarding my addiction to using facial oils, I've received some comments and questions over the application. Some of you have indicated that you find it hard to spread the oil over your face and hence, I've put together some tips on the application of facial oil here.
1. Apply on damp skin to aid spreading
Many have mentioned that they find it hard to spread their facial oil. This is so when your skin is dry. Through experience, I find that it best to apply your facial oil when your skin is slightly damp, either with water or with a facial mist. Note that your skin should not be wet such that the skin cannot hold the oil.
2. Apply sufficiently but moderately
Some users have reported suffering from skin breakouts when they use a facial oil. Perhaps the oil isn't suitable for them, but perhaps it could also be that they've applied way too much. When it comes to facial oils, applying 2 to 3 drops is more than enough. In fact, with some oils like Rosehip, you can even get away with applying just one drop to damp skin as this oil is rather rich.
3. Apply and massage your skin thoroughly
Oil can provide various nutrients and antioxidant benefits to your skin. However, you need to massage the oil thoroughly into your skin. I use oil on a daily basis and what I do is to drop about 2 to 3 drops into my palm, then rub the oil in between my palms before I press my oiled palms on my face. After that, I will massage the oil delicately into my skin, commencing from the center of forehead before proceeding to my cheeks and other areas of my face. I always use an upward, outward massage motion for about 1 minute until the oil has been absorbed into my skin and there's no more "oily film". For the skin around my eyes, I only press my palm lightly but don't massage the area.
4. Apply a water-based lotion or serum before your facial oil
Because water cannot penetrate oil, hence, in the order of product application, you should apply any water-based lotion or serum under your facial oil. If you use an oil-based moisturizer, then it's fine to apply it after your facial oil.
5. Apply by mixing your facial oil with your moisturizer
For those who do not like to use oil neat on their skin, an alternative is to mix one or two drops of the oil into your favorite moisturizer or facial product. Personally, I've not tried this because I like to use my products independently to enjoy their full benefits. However, mixing is possible of course. In fact, I often mix oils in my DIY skin care recipes for additional nourishing. Some oils, like emu oil, can be absorbed deeply into our skin and hence, is useful when used with other active ingredients to aid skin penetration. If you don't want to mix, you can always apply your active ingredient first before applying the emu oil over.
So for other facial oil lovers, do you have other application tips to share with us?
Comments