DIY Beauty: blend makeup with your moisturizer?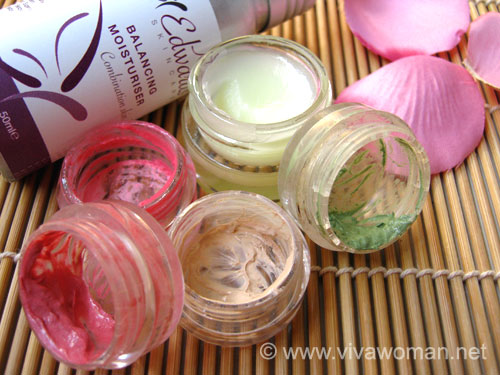 Moisturizer is a necessity for many women. Even though I prefer facial oil, I do use moisturizer on some days. Recently, I've even been stretching my moisturizer to get more out of it. How? Well, by blending it with my makeup! And I believe a number of you already know how. *wink*
Moisturizer + Mineral Powder = Tinted Moisturizer
I started mixing my moisturizer with some mineral makeup foundation powder because I thought that would offer me a better coverage. While I do like the look with tinted moisturizer but since I don't use it often enough, it makes no sense for me to purchase one. DIY is easy and I definitely got more mileage out of my powder and my moisturizer with an improved coverage.
Moisturizer + Eyeshadow = Cream Eyeshadow
While I was at it, I also tried mixing my moisturizer with my eyeshadow. I was using a cream eyeshadow from Paul & Joe for awhile and found them to be rather long lasting. So I thought it'll be fun to mix my favorite colors to my moisturizer to get a cream shadow of my own, which I apply using a brush. It's even possible to get a new funky shade by mixing two or more colors together.
Moisturizer + Blush Powder = Cream Blusher
Blusher is not something I use often but Jo of Lolita taught me how to mix it with a moisturizer to get a cream blusher, which I can apply under my powder. I thought that's a pretty subtle and natural way to add some rosy colors to my cheeks.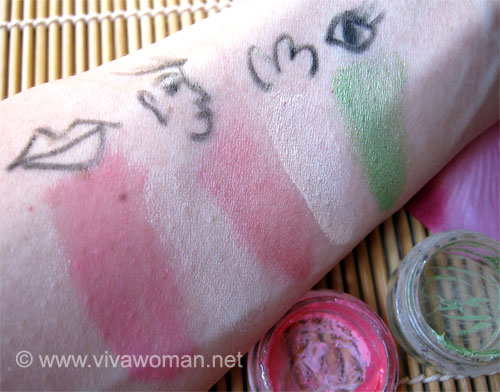 Lip Balm + Blush Powder = Lipstick
Other than moisturizer, you can also use your lip balm to mix with your blush powder to make a new lipstick shade. In fact, I wrote about customizing your own lipstick in one of my DIY posts before. However, I've subsequently learnt from some readers as well as Jo that we must use lip safe colorants. So make sure your blusher powder is safe to be used for this purpose. Typically, Carmine, Ferric Ferrocyanide and Ultramarines are not lip safe. The last two ingredients are rather dark and I doubt we have them in most blush powder anyway. As for Carmine, it depends on the individual. I know I have no issues with it though.
Mix per application
Try experimenting in small quantities. For picture sake, I've mixed all colors into little containers you see here but in reality, I mix the color onto my palm for each application because it's less messy that way for me and I don't have to think about storage. And don't use too much of the powder so that the mixture would not be too drying.
Your say
So do you mix your makeup with your skin care products? Do you like the idea? Personally, I like the idea of using my DIY tinted moisturizer but for the rest, it's more like something I'll do once in a while just for the fun as it does take up a bit of time if I were to do this every day!
Comments