Lenovo What's Your Idea of Fun Giveaway Series 2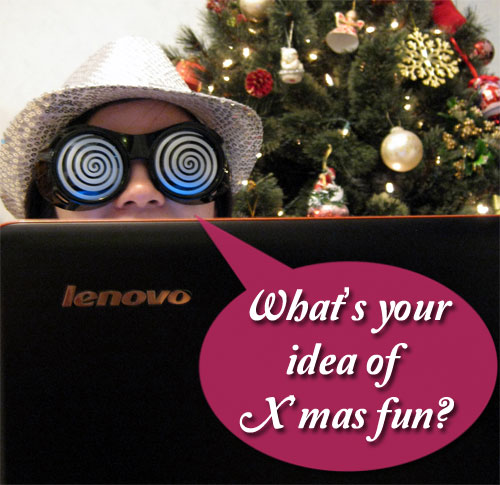 Thank you to all who participated in the Lenovo What's Your Idea of Fun Giveaway Series 1. Winners have been announced on my Facebook page and will be notified via email. For those who did not win, don't be disappointed as I bring you another one today. Plus, the final contest for the grand prize of the Lenovo U160 Ideapad is coming up real soon too. *wink*
The power packed multimedia Lenovo Y460
As part of the Lenovo What's Your Idea of Fun Giveaway, I also received a set of the Lenovo Y460. Yeah, it's an early X'mas present and I had a blast of a time playing with the built-in Cyberlink Youcam, which allows me to snap pictures and record videos and then edit it all at once! I don't want to go into the technical specifications of the system but this light-weight laptop comes packed with Intel® Core™ i5 Processor, a 14″ WXGA LED Display and really good JBL speakers that provides Dolby home theatre sound effects.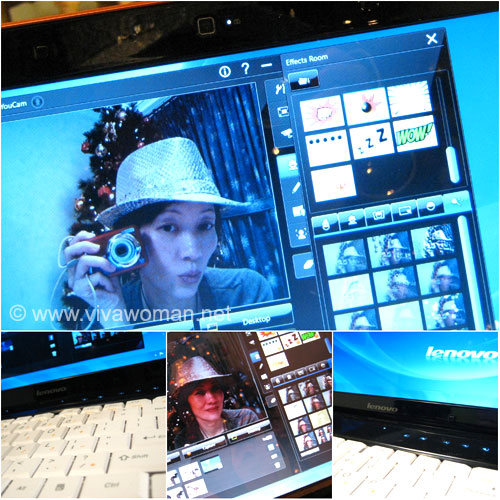 Work and play at the same time
Since the Lenovo Y460 Ideapad is actually a multimedia laptop, I let my hubby test drive the system because he's quite an "expert" in this area. When he found that this Ideapad comes with dual display adapters that is able to auto-switch based on application need, he was already very impressed. I won't even describe how pleased he was when he found out that he can perform a split screen using this connected to the LCD TV as it allowed him to continue working on the laptop while watching a movie. I don't know how he does it but this certainly gives new meaning to WORK AND PLAY AT The SAME TIME! He is now trying to figure out how to convert this into a full blown game machine that can be connected to three screens all at once. *roll eyes*
Cool and fun features like the SlideNav Control
There are many other cool and fun features in this light-weight, power-packed laptop but perhaps the coolest feature of the Lenovo Y460 is its touch-sensitive bar above the keyboard called the SlideNav Control. Just touch and you can launch applications via shortcuts or lock the screen, placing a giant zipper across the screen. ZIP, UNZIP, ZIP, UNZIP! And I love the little details like the lights and the digital sounds they make! Okay, it's hard to describe everything to you but if you watch the video I've embedded here, you can see for yourself how cool and fun these nifty features are.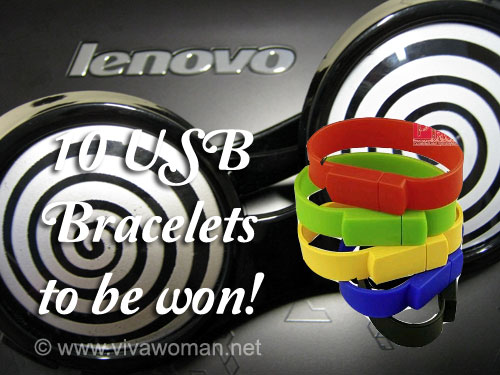 Lenovo "What's Your Idea Of Fun" campaign
Viva Woman is truly blessed to be included in Lenovo What's Your Idea of Fun campaign, which is a global campaign designed by Lenovo to make computing all fun and enjoyable. More details of the campaign are available on the What's Your Idea of Fun website. Last week, I ran the first of the series to give away 20 bag hangers and this week, I'm giving away 10 USB bracelets. The final GRAND PRIZE IS A Lenovo U160 that I've shown you in this post. Read the guidelines to enter the giveaway today but for a start, you may like to LIKE both the Lenovo and Viva Woman Facebook pages because this is going to give you more chances to win the Lenovo U160 later! I have also been dropping hints regarding the final giveaway on my Facebook page. So start clicking on the Like Buttons below now!
Lenovo USB Bracelet Giveaway
For this week, 10 of you with the most interesting answers that'll make me smile or laugh are going to receive one USB bracelet you see above. And still on the fairy tale theme, I would like you to fill in the caption to the picture below:
What do I say to the Evil Queen in Snow White when she says Mirror, Mirror On The Wall?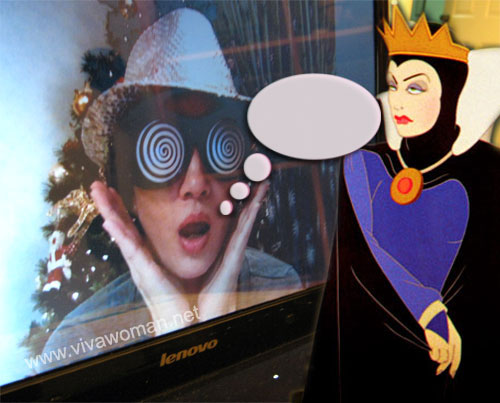 Guidelines to note
This is open to Singapore readers only and each Singapore-based reader is allowed one entry only. Please provide your name and valid email address. The giveaway will be opened till 12 midnight SST on 16 December and winners will be selected and notified via email. Results will be posted on my Facebook page. (Those who have entered in the last giveaway #1 may still enter.)
Enter for more chances in the grand final
Because this giveaway is a series and that means, all participants in today's giveaway (and the last giveaway) will receive additional chances to win the grand prize of Lenovo U160 Ideapad you see in this post. And you may like to know you're just one step away from winning it. *wink* Just make sure you enter using the same name and email address for all the series!
HAVE FUN!
© www.vivawoman.net copyright notice ☺
______________________________________________________________
Comments