Marie Veronique Organics Anti-Aging Body Oil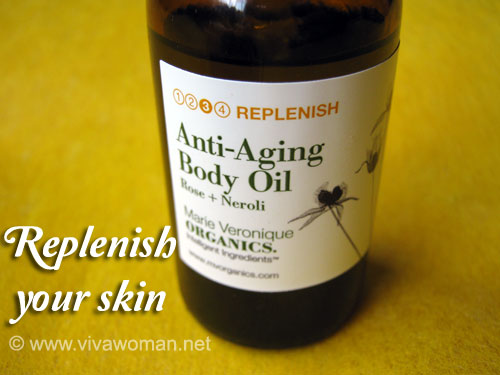 By now, I have already established my keen interest in using oil on my skin and it therefore comes as no surprise that I alternate between using oil and lotion on my body too. I love the benefits of oil on my body too but just that those I have used thus far were rather heavy and I can only use them at night. However, being heavy means these oils also tend to leave some amount of oily stains on whatever I lay hands on, including my bedsheet and my sleepwear. This is the reason why I alternate between using body oil and body lotion. In fact, I'll say I use more body lotion than oil.
Recently, Marie Veronique Organics launched their new Anti-Aging Body Oil in Rose and Neroli blend and I was sent a sample to test. Some of you know I love their Anti-Aging Oil Plus for the face. So how did this perform for me and do I love it as much?
Anti-Aging Body Oil, Rose and Neroli 2 oz or 4oz
Ingredients: Simmondsia chinensis (jojoba oil), Persea americana (avocado oil), Prunus armeniaca (apricot kernel oil), Citrullus Vulgaris/Lanatus (watermelon seed oil), vegetable squalene (from olive oil), Rosemary oleoresin, Rosa damascena (Rose)essential oil, Citrus aurantium (Neroli) essential oil, Helichrysum italicum (Helichrysum), Pelagonium graveolens (Rose Geranium) essential oil, Curcuma longa Rhizome (Curcuma) essential oil.
The oil is described as one to combat aging with essential fatty acids and anti-oxidants from watermelon seed oil, vegetable squalene and apricot kernel oil. It is also supposed to protect and repair the lipid barrier via essential fatty acids from the avocado and jojoba oils. So skin is left more hydrated, smooth, supple and refined. I also learnt that over 2 dozen roses are used to make one drop of rose absolute and there are 20 drops in every 4 oz bottle. Also, over 1 pound of carefully harvested neroli flowers makes 10 drops of neroli essential oil and there are 12 drops in every 4 oz bottle.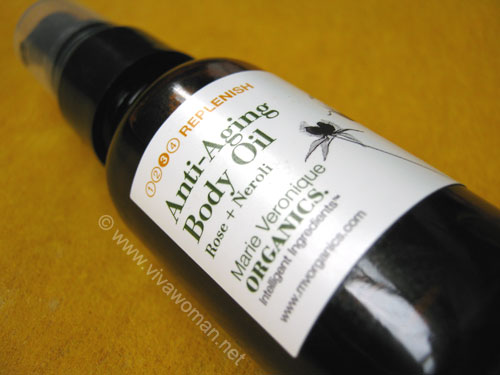 Texture and application
The oil comes in a rich gold color. Upon application, the skin does not feel oily unlike those that I've tried, which tends to leave some amount of oily film on the skin. And because it isn't greasy, I did not even have to worry about staining my bedsheet or sleepwear. However, because it isn't as oily as other oils I've tried, I find myself using more of this to apply on the same area. But I found that if I apply this on damp skin, then I don't have to use so much as the spread is improved. So I actually deliberately wash my hands, dry it a bit leaving some dampness on them before applying this oil on my skin so that my damp hands can improve the application too.
Smell
Okay, I have to comment that the smell is a little odd to me. It is describe as "a luxurious floral aroma from rose and neroli essential oils" but I thought it smell a little like butter, which might be due to the avocado or the watermelon seed oil listed second and third on the ingredients. I don't mind it as it isn't unpleasant but it isn't anything close to aromatic or floral, if that's something you're looking for.
Results
Compared to other oils I've used, I've mentioned that this one isn't as oily.  I find my skin feeling quite good with this one as I always wake up to find my skin soft and supple.  Although this oil can be used in the day too, but I use this mostly at night especially on my hands and I find that it helps to combat the dry patches I have on my arms.
Overall summary
I do like this new Marie Veronique Organics Anti-Aging Body Oil as I think it's superior stuff. The 2oz is at US$36 and comes across more affordable and that might be something you want to consider as a X'mas present. However, going by the amount I use each time, the 4oz is probably a better size for me but it cost US$63.  I wonder how many of us are willing to spend so much on our body even if it's premium stuff?  My guess is that majority of us prefer to preserve the funds for our face isn't it? Ha! Having said that,  I'll say this oil is great for those with problematic skin that needs some additional love because the combination of oil can help to nourish the skin quickly. You can also read more about the benefits of using body oil over body lotion on MVO's blog.
Comments