Believe it or not: baby's pee is good for your skin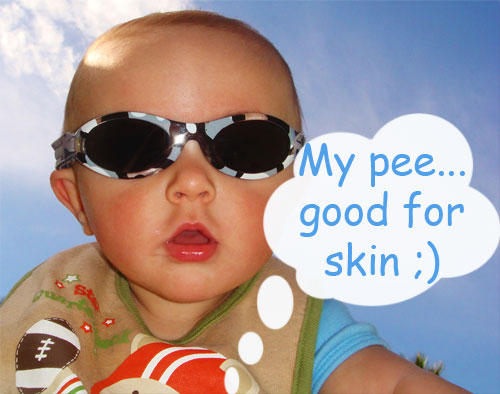 Hey, if you've always been seeking for some magical elixir for your skin, seek no further than a baby's pee! Yesh, it's full of goodness because it will soften dry skin, cure your skin blemishes, and get rid of your acne. Why…it's the ultimate anti-aging serum! A load of bull? Oh so disgusting? Well, haven't you heard of urine therapy that has been practiced in various cultures since early history? I know some people even drink baby's urine!
Using baby's pee to get rid of rashes and blemishes
I'm not so sure about the origins in other cultures but when it comes to the Chinese, this is quite a common practice, especially with the older generation. You know that rashes and blemishes are a common sight with the newborns and I've personally seen my mom wiped various nieces' and nephews' faces with warm, wet diapers, just removed from their butts. Nothing too weird there. I've wiped my son's face with his own pee before and yes, his rashes and blemishes cleared up real quickly after that because I didn't recall doing that for a prolonged period.
Did I try?
So going by the same principle, we adults can also wipe our face with baby's pee! Oh no, I didn't try…at that time, my face was relatively good and I haven't heard that baby's pee can help remove pigmentation spots or I might have given it a go. Heheh. So no need to wrinkled up your nose at me!
Urine contains Urea
Apparently, the reason urine works is because it contains Urea, an ingredient that can cure various skin ailments and therefore found in many skincare products in its synthetic form. With matured urine, I guess there is more bacteria and waste but a baby's urine is considered as healthy and sterile – and so it has that added anti-inflammatory properties. Pee from a newborn is apparently, the best!
Tried it?
Okay, I haven't got any research and science to back me up about using urine as a skin therapy. This is all written for fun. But well, I know there are probably some people who will resort to this. If you or someone you know has tried using baby's urine on their skin, let us know how it has gone. Well, this blog is both scent-free and odor free. *wink*
Comments