FitFlop High Summer '11: flirty, fun & feminine!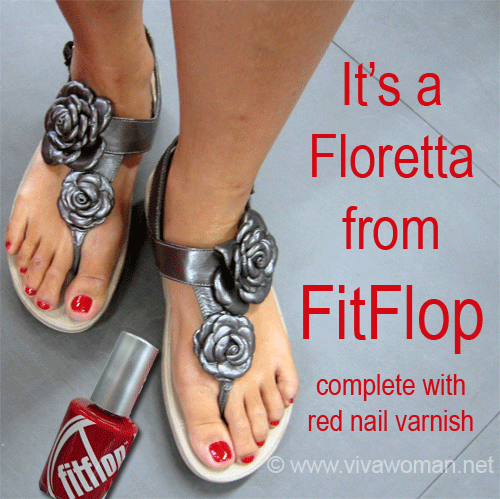 I didn't know FitFlop comes with their very own iconic red nail varnish! Well, not until I attended a media invite this week to preview their High Summer 2011 collection. And that's when I found out that one of the founders of FitFlop, Marcia Kilgore, was actually the founder of Bliss spas. The nail varnish however, is not for sale, but used mostly as a promotional tool. But I managed to score one for myself and am wearing it now. Heh. Oh, that's not my feet you see in the picture here. They belong to Lynly Fong, Director of Spirit Sports that distributes FitFlop. And those are the new Floretta – pretty aren't they?
More feminine power
I think many ladies will be drawn to the new feminine designs. They also come with slimmer-width midsole compared to the sporty designs. So it's no wonder that they are expected to be sold like hot cakes! Are you drooling over them already? But I wish they'll also bring in Fiorella designed by Anna Sui exclusively for FitFlop, which is really really pretty.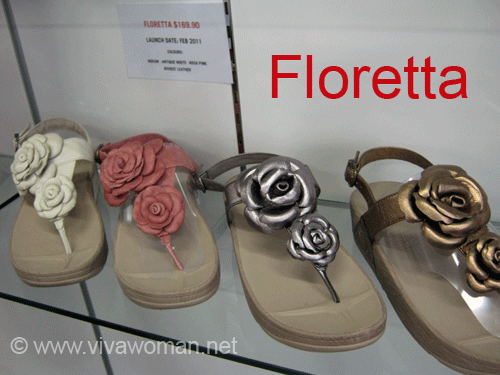 Floretta S$169.90 to be launched real soon
Designed with stunning oversized soft leather flowers on a minimal strap with four choices of colors to choose from – indium, antique white, rosa pink, and bronze leather. Each pair will retail at S$169.90.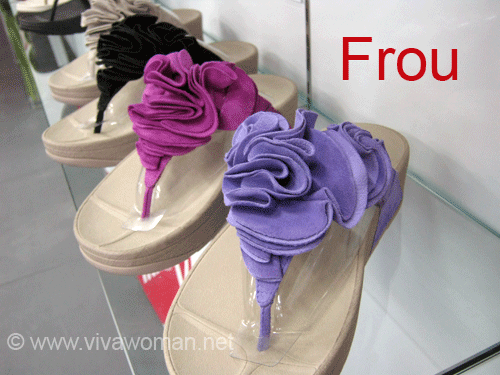 Frou S$169.90 to be launched in April 2011
The frilly, floral-inspired FROU with layers of folded suede ruffles. Frou will retail at S$169.90 too but will only launch in April here with four choices too – black, electric indigo, fuchsine, and pebble.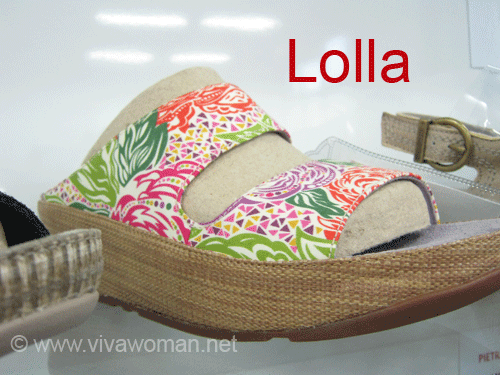 Lolla S$139.90 to be launched in April 2011
Another interesting design is LOLLA, a charming chic and amazingly comfy raffia-wrapped wedge which cleverly conceals FitFlop's muscle-activating Microwobbleboardâ"¢ midsole. Available in black, chocolate, cougar, super navy and liberty.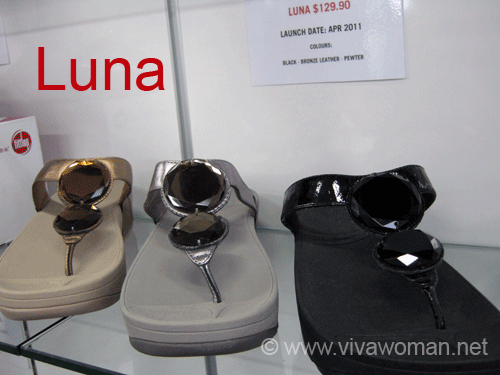 Luna S$129.90 to be launched in April 2011
Add some sparkling chic with these designed with two bevelled edge jewels on a slim line toe-post. Comes in black, bronze leather and pewter.
My reviews on FitFlop
FitFlop footwear carries the APMA's Seal of Acceptance and is recognised by leading medical and health professionals around the globe. And Viva Woman is no stranger to FitFlop, having published various FitFlop reviews already. Without going into details about FitFlop's patent-pending Microwobbleboard technology that serves to activate leg and bottom muscles more, I find their shoes really comfy and they have also helped in alleviating my back problem. I learnt through the media preview that it's because the shoes are design to increase muscle activation during every step and can reduce shock and instantly relieve foot pressure. So I would highly recommend them. I don't know the muscle toning bit but I'm going to take a pair on a road trip soon so let's see if my flabby butt gets toned up k?
Cheapest range of FitFlop
So as you can see, the new designs are super feminine, fantastical and fashionable! For the rest of the collection, check out the pictures posted on my Viva Woman Facebook Page. I also found out that FitFlop retailing here are the cheapest, compared to the prices in the other countries within the region (except Hong Kong I think). So ready to come over for some shopping gals? (^_-)
Comments