Skechers Tone-ups: FitFlop look-alike or more?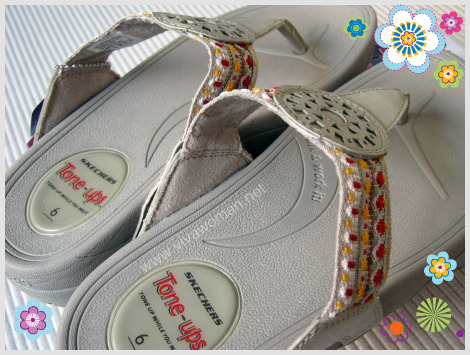 I've been gripped by a shoe mania and was really in the mood for some new footwear yesterday. Originally, I had planned to get a pair of new heels but ended up with this! Skechers Tone-ups Meow Wedge Sandal complete with stitching accents and center disk detail. Doesn't it resemble a FitFlop? Well, it seems to work like one too as it is said to tone and strengthen muscles in back, buttocks and legs as well as promote weight loss with regular use. The key difference is that Skechers Tone-ups sandals feature a unique, soft kinetic wedge insert and dynamic rolling bottom to mimic the sensation of walking barefoot over soft ground. Actually I couldn't really tell the difference because it feels as comfortable as my FitFlop but retails at a lower price tag! I even saw one in the same design as my Electra FitFlop!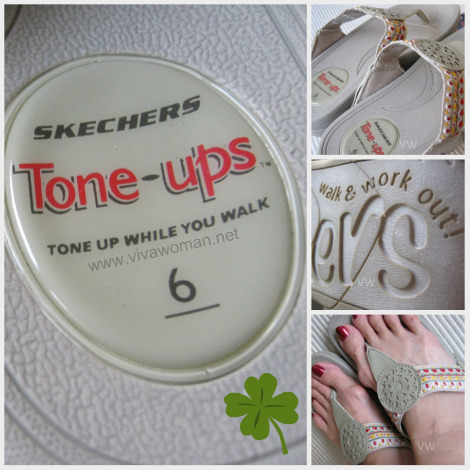 Comparison with FitFlop
However, when I went home and compared my new buy with my FitFlop, I found my new Skechers Tone-ups sandal slightly heavier. My current FitFlops is a size larger than 6 but the straps of Skechers Tone-ups sandal are definitely less fitting as I've tried a FitFlop in the same size and they fitted snugly. In terms of the foam footbed, both seem comparable. Packaging wise, I have to say that FitFlop is more upmarket in terms of their image as the shoe box is definitely more attractive and sturdy looking. Other than that, I can't say too much as I haven't taken my new Sketchers Tone-Ups for a walk. Still, I'm quite happy with my purchase because it cost me S$69 – S$20 cheaper than similar designs from FitFlop.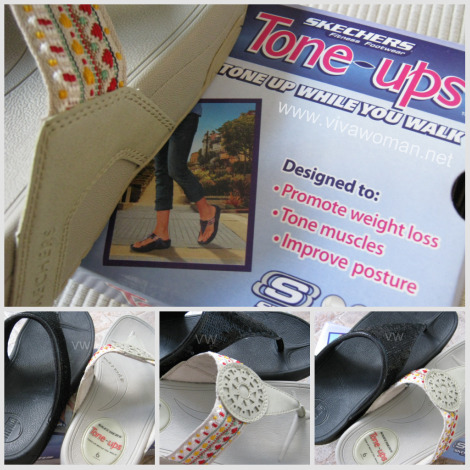 Ease stress on joints and promote correct posture
With the comfort of Skechers Tone-ups, it is said that you will feel your heel sink to the ground as you step, roll forward as your weight shifts to its center, and push off with your toes. This movement will result in stronger leg, buttocks, back, and abdominal muscles as you stabilize your steps and the simulation of soft ground will ease the stress on your joints, promote correct posture, and strengthen selected muscles as you naturally work to keep your centre of balance.
Availability in Singapore
Skechers is available at ION, Jurong Point, Suntec City and Tampines 1. I was told that the stores carry limited designs of the Skechers Tone-ups but you can check more of them at their roadshows at the following locations:
– Compass Point from 27 Apr to 2 May
– Bugis Junction from 30 Apr to 13 May
– Ion Orchard from 6 May to 9 May
I spotted around 10 designs in all and Skechers even has a similar design as FitFlop's Electra in sequins; available in black, silver and gold and they're at S$89. A similar pair from FitFlop would cost you S$109.90.
Anyway, I wonder if it's just me but I don't hesitate very much when it comes to buying flip flops or sandals.  However when it comes to heels, I sometimes spend weeks considering my purchase.
Comments