A miracle protein for curly and frizzy hair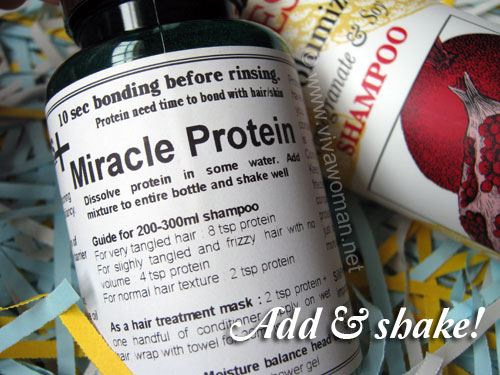 Jo of Lolita gave me a bottle of this Silk Protein Plus Miracle Protein when I first visited her custom blend mineral makeup store at Marina Square but I've only used it a couple of times. Instead, my bestie who pinched some of it from me, has been using it consistently.
Properties and usage
This product contains silk peptide, silk amino acids, silk powder and allantoin. All these ingredients work to provide moisture retention, conditioning, UV radiation reflection and even cell renewal. Usage is very simple as all you need is to add a couple of teaspoons of the powder into your shampoo and shake well. Amount to add depends on your hair type and interestingly, you can even use this in your shower gel, facial gel, dog shampoo and laundry! The powder itself has a strong scent but once mixed into the shampoo, the scent is almost non-existent.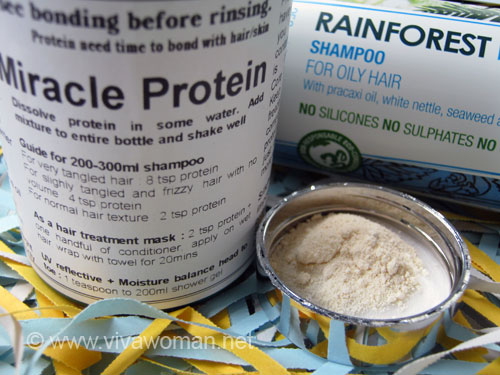 Personal review
Personally, I've tried this a couple of times but I don't really fancy it so much. While it is true that the hair feels softer and smoother but it doesn't absorb excessive oil although the silk powder is supposed to do so. So I prefer to keep to using my normal shampoo. I was however told that this miracle powder can help strengthen the hair in the long run so that might be a reason for me to continue using it.
Bestie's review
My bestie on the other hand, likes this quite a lot. She has shoulder length curly hair and she found the product made her hair smoother and more manageable. In fact, she didn't need to use a conditioner and yet, she found her hair to be silkier and easier to comb. So my deduction is that this product is probably good for those with curly and frizzy hair or those who want to have silky and smooth hair.
Price and availability
The product is available at Lolita as well as online via Silk Mineral. Three sizes are available and the price for a trial bottle starts at S$5.90.  The other two sizes are the 20g jar at S$25 and the 50g tub at S$42. Instructions on how to use the miracle protein are also clearly stated on the website.
Comments