Natural nail polishes: non-toxic or just 3-free?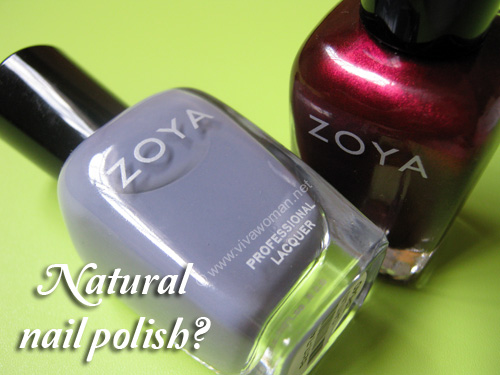 Recently, I bought some nail polishes from Zoya and I was surprised to learn that the brand is considered as natural. I never knew! Actually, it's not surprising considering that I've always favored OPI nail polishes and hence, have never looked at the legions of other brands in the market. However, this is changing because this year, I am keenly seeking more natural alternatives for my nails and my first find was the Karma Organic non-toxic nail polishes. In fact, it was that first find that spurred me to check out if there is such a thing as a natural nail polish.
Free of carcinogenic ingredients
Like I've mentioned, even though the Karma Organic nail polishes are said to be natural, they still smell like normal nail polishes to me. What I know is that they are 3-free, which means the nail polishes are free of Toluene, Formaldehyde, and Dibutyl Phthalate (DBP) and it seems that most so-called natural nail polishes are in the same category. These three are widely considered as carcinogenic ingredients and hence, are supposedly bad for health and particularly should be avoided by pregnant or nursing mothers.
Science of 3-Free
In brief, Toluene is a solvent that was used in many nail polish formulations to dissolve other ingredients and make a nice smooth, easy-to-apply polish. Formaldehyde, or more precisely tosylamide formaldehyde resin ensures that the polish adheres to the nail's surface to make the polish tough and resilient. Finally, DBP acts as a binder and improves the durability and the ability of nail polish to last a long time without chipping. Persephone Magazine has a good article on the Science of "3 Free" Nail Polish if you want to find out more about the characteristics of these three ingredients and the harms they can cause.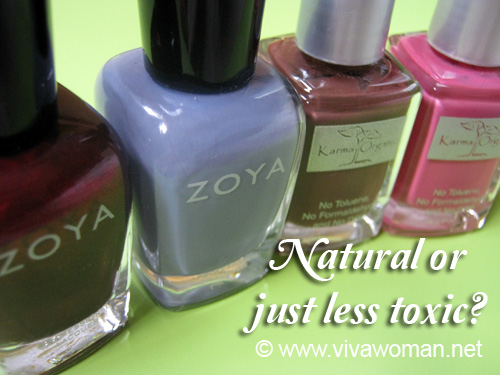 Possibly less toxic with less chemicals
In my own opinion, you can't call a nail polish natural just because they do not contain these three ingredients as the nail polish can still be laced with many other chemicals. I mean, if they smell like paint, then they are not natural to me. But perhaps, they are less toxic than the usual as they may contain less chemicals commonly found in regular nail polish.
Water-based and not solvent-based
What I did find out is that some of the brands of nail polishes that call themselves natural or even vegan are water-based and not solvent-based since they do not use toluene and typically, this means they should not smell as nasty as the usual nail polishes. On top of that, some of them are free of camphor, xylene, and even artificial colors but use only FDA approved colorants or natural colorings. They still use a small amount of plastic, usually in the form of co-polymers but in essence, this group of nail polishes marketed as "natural" minimize use of synthetic ingredients and chemicals. Some even claim to be hypoallergenic and hence, would not cause irritations to the skin or nails.
Safer to use
So in comparison, these group of nail polishes are odor free, non-toxic, biodegradable, and safe for pregnant women to use. Unlike chemical-based traditional polish, they are said not to cause cancer, birth defects, reproductive issues, allergies, or yellow, discolored nails. So as a whole, they are touted as great for people with chemical sensitivities, allergies, and those who are not currently using nail polish due to harmful chemicals and vapors. Colors could be limited though, compared to the usual brands.
Examples of more natural nail polishes
I found a couple of nail polishes marketed as "natural" and here are examples of their ingredients for an idea:
Suncoat Water-based Nail Polish
Main ingredients: Aqua (water, ~65% in formula), acrylate copolymer / styrene-acrylate copolymer (~28% in formula) Other ingredients (all under 4%): propylene glycol n-butyl ether, dipropylene glycol dibenzoate
Pigments/colorant: may contain [+/-] mica (CI 77019), titanium dioxide (CI 77891), ferric ferrocyanide, iron oxide (CI 77491, CI 77492, CI 77499), chromium oxide (CI 77288), carmine (CI 75470)
Acquarella Nail Polish
Ingredients: Acrylic polymer emulsion, Water, and non-toxic colorants (No FD&C). DOES NOT contain Formaldehyde or Formaldehyde like derivatives, Toluene, Ketones or other petrochemical solvents, Dibutyl Phthalate (DBP) or other phthalates, Polyurethanes, Parabens, Camphor, Gluten or wheat by-products, or any aromatic hydrocarbons.
Honeybee Gardens WaterColors Non-Peel Off Polish
Ingredients: Water, water-miscible acrylic, polyurethane formers and thickeners, non-ionic soaps. May contain: ultramarine blue, carmine, mica, iron oxides, and/or titanium dioxide.
May be harder to remove
As you can see, some of them are more natural than the others. And it should be noted that while these contain less chemicals, there are some reports that such natural nail polishes are not as lasting or that they are harder to remove. This is particularly so because the film that is formed by the water-based system becomes more difficult to dissolve as time passes. I also found out that if they're water based, they might be less likely to thicken and if they should thicken, then we should be using water to dilute the polish instead.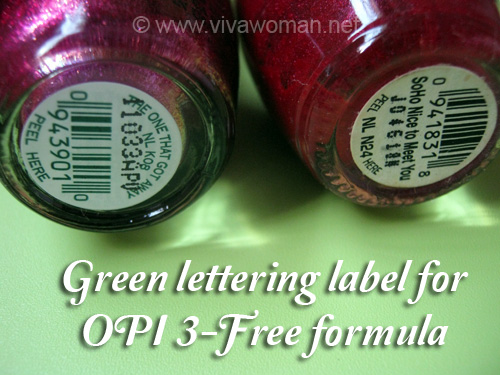 OPI is 3-free since 2008
Anyway, I read randomly from many sites that OPI is a 3-Free brand since 2008. How you can identify an OPI with the 3-Free formula is by the green lettering on the label. Bottles with black text have the old formula. So my new "The One That Got Away" under the Kate Perry OPI collection is completely 3-Free while my old "SOHO Nice To Meet You" is not. Well, I certainly didn't know anything about this back in 2002/2003 when I was pregnant and then nursing. I just used whatever were in my stash and then, all my OPIs had the black lettering labels! And my boy is fine, thank you very much! (#k8SjZc9Dxk-#k8SjZc9Dxk)
Comments