DIY Beauty: simple homemade makeup remover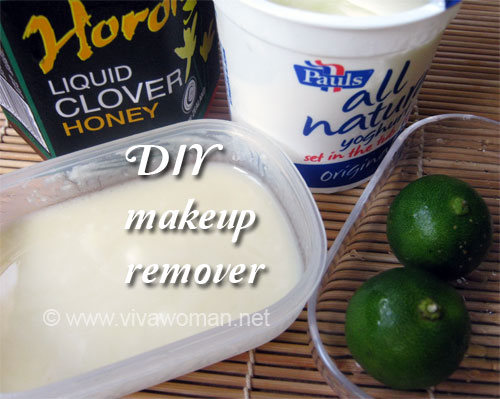 I normally use a cream cleanser to remove my makeup and recently, wanted to try a homemade recipe as a substitute. I don't use thick makeup and usually, it's only foundation, eyeshadow and lipstick. This recipe probably won't work for those using waterproof mascara but for my purpose, I'm pleased to say, it works! And it's so simple to concoct for I only used three items from my fridge!
Beauty benefits of yogurt
The three ingredients in this simple homemade makeup remover are yogurt, honey and lime. If you've followed my DIY section, you know I have often said that yogurt is a great ingredient used in a number of the homemade beauty recipes because of its natural lactic acid and enzymes, which helps to remove dead skin cells and stimulate the production of collagen and elastin. The beauty benefits of yogurt include soothing, softening and hydrating the skin, leaving it soft and smooth. In addition, because yogurt has antibacterial and antifungal properties, it also provides excellent cleansing properties. I personally like the 99.8% fat free natural set yogurt from Pauls. However, I used the original formulation in this recipe because I have that in my fridge.
Beauty benefits of honey
I normally use manuka honey in my homemade recipes but because I also ran out of it, so I use the next available and that is clover honey. It works just as well too. However, manuka honey is better because it is renowed for its anti-bacterial, anti-inflammatory and healing properties and hence, makes a great cleanser or mask for our face too as it helps to hydrate our skin.
Beauty benefits of lime
I have combination skin and hence, I added lime juice for its natural astringent properties. Lime juice can also help with pimples and is known to help control oily skin, improve a dull and greasy complexion, as well as lightening pigmentation spots. However, it should be noted that lime juice is photosensitive and hence, you should always use a sunscreen if you use anything containing lime. Personally, I use this recipe only in the evening.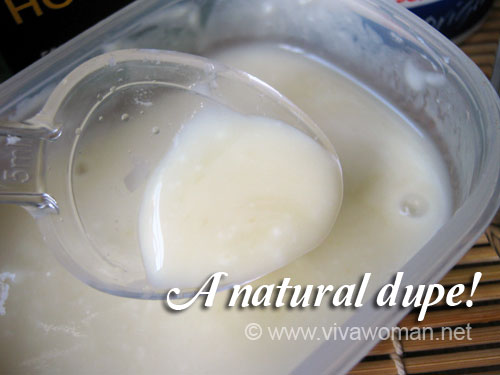 Make it creamier if you like
So all you need is to use 2 tablespoons of yogurt, 1 tablespoon of honey and 1 teaspoon of lime juice. You can add more yogurt if you like it creamier. The concoction you see here will last me around three to four washes but I always make it a point to discard my DIY mixture after three days.
Use a cotton pad to remove eye makeup
You can use this as you would a facial cleanser. For eye makeup, I use a cotton pad to wipe over to gently remove the eye shadow. I follow on by using a foaming cleanser and I know this DIY concoction works because my cleanser foams very well after that. For those who use foam cleansers, you should realize by now that if your face is still full of impurities, your cleanser will not foam as well.
Double cleanse is important
Of course some ladies would consider using this as a facial cleanser too if they do not mind the feeling of a residue over their skin. If you're using this alone to cleanse your face, then I suggest you do a double cleanse with the mixture. Personally, I find this works better for me as a makeup remover.
Gentle with a pH of 4.5
I have tested this recipe with a pH test strip and am happy to report that it is gentle with a pH of 4.5 (healthy skin has pH 4.5 – 5.5). However, while a pH 4.5 is gentle, it is also mildly acidic and hence, for those with sensitive skin, do use this recipe with caution. Perhaps you can consider reducing the amount of lime juice. And so do be careful using this around your eyes for lime juice will sting!
Comments