Is it a breast implant, a wax bead or a mint candy?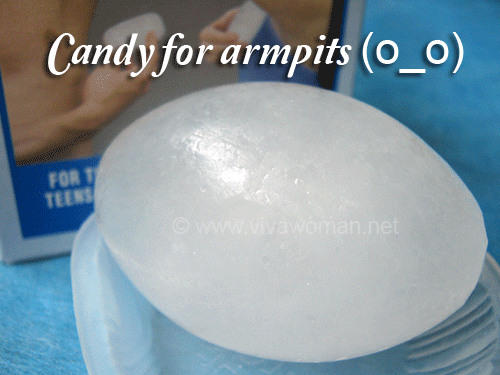 I posted a teaser on the Viva Woman Facebook page over the weekend on this product and the answers totally cracked me up. A number guessed it as a breast implant or silicone, others guessed that it's a soap, a mint candy, or a wax bead and one classic answer was that it looks like a suppository! Haha! It does look like a mint candy but it's candy for the armpits! This is the Naturally Fresh Deodorant Crystal that I bought from Nature's Farm. I haven't seen the roll on one around and so settled for this as I was finding using my DIY deodorant a hassle on days when I'm in a hurry.
100% pure and natural
Actually, I've been pondering if I should get this for sometime already. Somehow, it never appealed to me but I was not able to find a good commercially available and efficient deodorant that is naturally formulated. The price of this is S$20.30 but it's said to last a year. Naturally Fresh contains only natural mineral salts, which works to form a layer of natural 24-hour protection from the bacteria that cause body odor. Hence, there are no harmful chemicals, perfumes or propellants and it is safe for most people.
Effectiveness
In terms of effectiveness, I rate this 4 out of 5 because it does a pretty good job of keeping me fresh throughout the day as it also works like an antiperspirant. But I've found that I need to layer more if I want longer protection or if 'm out under the hot sun and perspiring a lot. I get good peace of mind using this since it is 100% pure and natural. Moreover, it dries up real quickly, is not sticky or greasy and does not stain my clothes. It is said not to clog pores and there was no irritation when I used this generously on my armpits.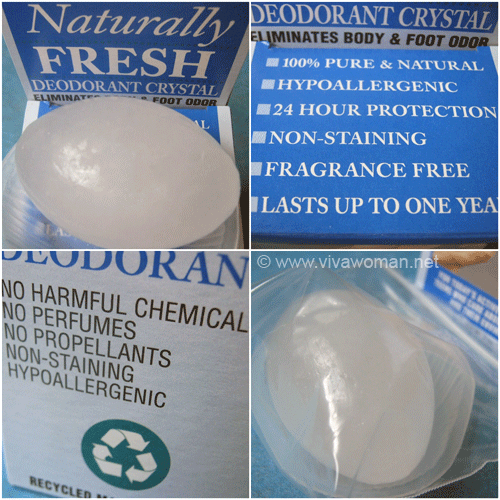 Inconvenience
However, in terms of application, I rate this 1 out of 5 as Naturally Fresh Deodorant Crystal is inconvenient to use. It's shaped like an egg and feels like a stone. While it's easy to hold in the hands, I find the application process a hassle. To use this, I've got to hold on to one end and moist the other end with water or mist, before applying the wet end directly to my armpits. Plus, I found that one application is not enough for my case, and I need to apply twice. So all in all, the process takes longer than using my baking soda DIY deodorant! I've been wanting to get a little container to store this thing but haven't got down to it; so meanwhile, the product is kept in the clear plastic bag that came with the product.
Availability of other formulas
I realized from visiting the company's website that they've introduced a score of deodorants in roll on, twist up or even spray formulas but I certainly don't see them here. I'm not so sure if those work as well but I wouldn't mind giving them a try. So will someone bring the products into our market if they're not already available? And please price them reasonably for they're darn cheap in the US!
Comments