Amal Oils 100% Organic Argan Oil from Morocco
♥Guest Post♥
This is a guest post from Crystal of
Watermoolen
on Amal Oils 100% Organic Argan Oil, a product which was sent complimentary to her for review on behalf of Viva Woman.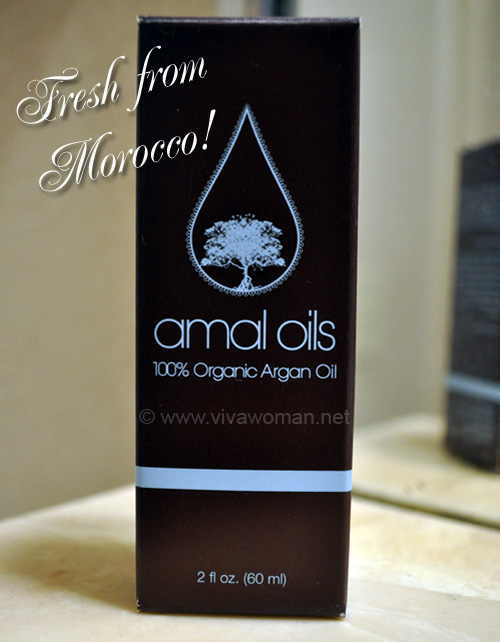 Argan oil, a product from Morocco, has been used to treat diseases in the past, but more cosmetic companies are including this ingredient in their products. Argan oil, derived from the kennels of argan trees, is used more often now in the cosmetic industry as a way of treating the skin, hair, and nails.
Amal Oils is an U.S. based cosmetic company that sells 100% organic argan oil. Unlike other products that contain argan oil, Amal Oils claim that their products have "a less pungent smell" due to its oil being fresh while also making "your skin, hair, and nails feel and look healthier than ever before." The company will be soon releasing a collection of cosmetic products that includes the organic argan oil, too.
I was sent out a bottle of the 100% Organic Argan Oil from Amal Oils to try out for two weeks. Amal Oils is also certified organic by ECOCERT, an organization that recognizes organic products.
Au natural ingredient
Amal Oils 100% Organic Argan Oil is machine pressed in order to get most of the oil (if hand pressed, it only lasts about three months whereas machine pressed oil lasts for about two – three years). It contains no prservatives, parabens, added fragrances, and other toxins. In addition, this product is not tested on animals!
Multiple uses – best for dry skin and nails
Argan oil is considered to be high in fatty acids, natural Vitamin E, carotenes, and squalene – all ingredients that promote healthy skin, hair, and nails. Because argan oil is also noncomedogenic, it makes a great product to treat skin disorders like acne and even eczema. You may also use the oil on your hair as a way of making it smoother/frizz-free.
Great for dry skin in winter
For this review, however, I used the Argan Oil as a way of moisturizing my nails and dry hands. During the winter time, my hands get extremely dry, and lotion usually isn't effective. All you need are a few drops of the oil on your hands, and then rub your hands and nails together. Make sure you only use a few drops or else your hands may end up feeling too oily. If you don't like the idea of slathering oil onto your skin, you can instead add a few drops into any lotion that you have at home and apply it onto your skin. This can also make the rest of your body soft and moisturizing!
Strengthening nails
Aside from softer hands, the oil has helped my nails look and feel healthier, too. A few of my nails actually have been ruined by nail polish (the outer layer of the nail seemed to have "eroded" by nail polish!). The Argan Oil was actually better than my olive oil nail treatment because the Argan Oil seems to have more staying power. My nails did feel stronger after two weeks of applying the oil directly to the nails daily. Even though my nails aren't completely back to normal, I can see my nails benefit from prolonged use of the Argan Oil.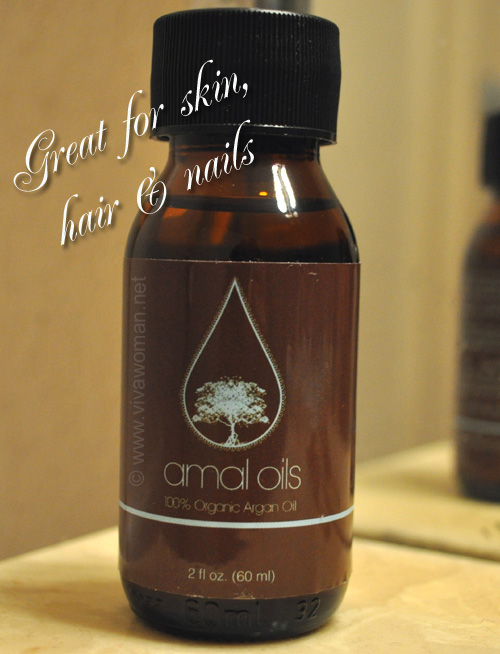 Packaging
Amal Oils 100% Organic Argan Oil comes in a 2 fl oz (60 ml) brown glass bottle. Instead of using a plastic bottle to store the oils, Amal Oils wanted to use a glass bottle to store the oil, a technique to be protected from UVA/UVB lights. You have to pour the oil out, but it comes in a dispenser where only droplets come out. So, don't worry if you accidently topple the bottle over – you won't make a big mess there.
Scent
Amal Oils claim that their Argan Oil has no strong smell like how other argan oils may have. To be honest, I'm not quite sure if argan oils actually produce a huge scent, but this one by Amal Oils seemed to be very, very fragrant free! I don't like lotions or oils that have a huge scent because it can get really annoying if you're constantly applying it onto your skin!
Cost and availability
For a 2 oz bottle (which is quite big even though it sounds small), it will cost you US$35.00. Currently, it's exclusively sold on their website, AmalOils.com, but like I mentioned earlier, the company will be expanding their argan oil product line. Amal Oils ships domestically through USPS Priority Mail. For all international orders, shipping will cost a flat rate of US$15.00.
Conclusion
Despite its traditional use as medicine, Amal Oils was pleasant to use. It didn't irritate my hands, rather it improved the texture of my nails and made my skin softer over a two week period. It's a definite win in my book! For more information or comments, you can always direct your responses to Amal Oils at their Contact Page.
Comments