Want a bottle of FANCL Mild Cleansing Oil for free?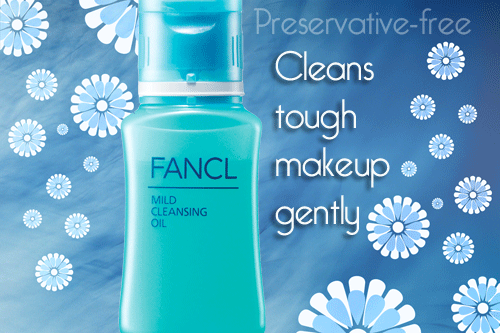 Hello VivaBellas, it's TGI Good Friday and the Easter weekend! So no long post today but for my Singapore readers, I'm excited to share that Fancl has invited me to be part of a giveaway of their Mild Cleansing Oil (20ml) for you! I'm sure many of you are familiar with Fancl, especially their Mild Cleansing Oil, which is preservative-free and cleans even tough, long lasting makeup thoroughly and gently.
For some reasons, I have yet to try out their products although I've read raves about the Mild Cleansing Oil that contains Meadow Foam Oil, which dissolves pore-clogging keratin plugs to improve skin clarity; Green Tea Catechin Oil to remove free radicals on the skins surface; and anti-inflammatory Rosehip Oil, which helps reduce stress on skin during cleansing. So for all those of you who also haven't yet had the chance to try out Fancl's Mild Cleansing Oil, I've got the perfect opportunity for you to do so right now!
All you need to do is to complete a really simple beauty survey that takes just 3 mins by following the link below, and you'll be given instructions on how to claim your bottle of Fancl's Mild Cleansing Oil (20ml) at their Takashimaya outlet. Stocks are limited to the first 300 readers in Singapore who complete the survey, so hurry on up and click on the link below.
*Update: one bottle per redemption based on presentation of IC.
I want a Fancl Mild Cleansing Oil (20ml)!
© www.vivawoman.net copyright notice ☺
______________________________________________________________
Comments