Kelyn Esther Garden Spa Eco Organic Facial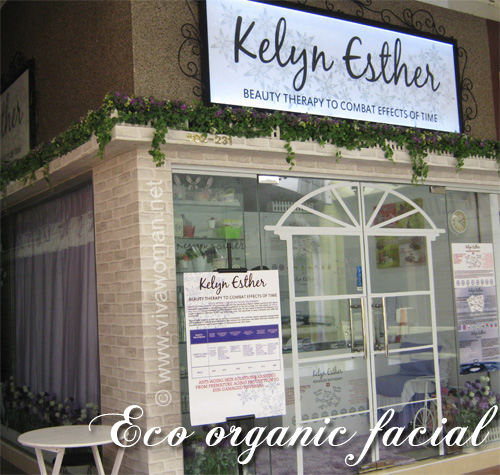 I haven't been going for facials for about four or five months as I was done with my usual facial package and didn't feel like renewing nor trying new ones. In fact, it was only after two months of corresponding that I finally agreed to give Kelyn Esther Garden Spa Eco Organic Facial a try last week.
Kelyn Esther Garden Spa is boutique size beauty salon with a range of products made in Israel. They are probably better known for their dead sea mineral face care under their Multivitamins Therapy Collection but the facial I was invited to try was the Organic Swiss Flora Anti-Stress facial based on their ECO Organic Therapy collection that contains organic and natural ingredients.
The venue
The salon is located at Blk 269 Queen St #02-231, within a 2-storey yellow HDB shopping complex next to Albert Food Centre, opposite the new Red Dot Building in Bugis Village and Illuma Shopping Center. I had no issues finding the salon as I could see it from the ground level as soon as I approached the complex. In terms of the surroundings, this is really more like an estate salon, and does not come with the bells and whistles normally associated with salons located in upmarket districts or big shopping malls. So it will probably need some getting used to if your picture of a beauty salon is of a posh setting.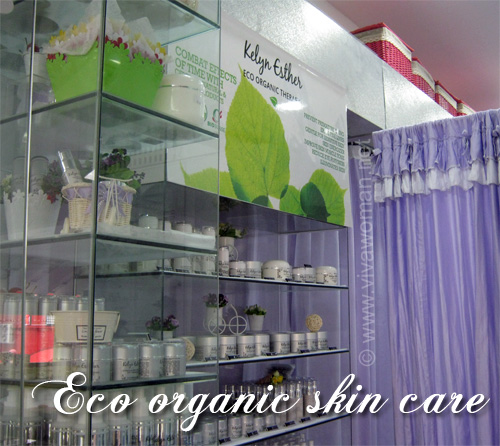 The facial cabin
Kelyn Esther Garden Spa is really quite small but the interior is quite cosy,with pretty purple curtains that partitioned the front counter and the two facial cabins located behind. And although the facial cabin is small and simple, but it is neat and pleasant. The owner probably likes purple because again, you see quite a bit of purple in the cabin. The only thing is that it does not come with a basin and so it was rather inconvenient when I needed to wash my hands in order to remove and put on my contact lenses.
The therapist
The therapist who served me was Kristine and although she spoke English, I found her more comfortable with Mandarin and that was the language we communicated in for most part of the treatment. But from the way she handled my questions and my face, I could tell that she is an experienced therapist. She was able to explain each step of the treatment clearly to me and hence, I felt rather comfortable in her hands. Aside from that, her massaging skills were also fairly good.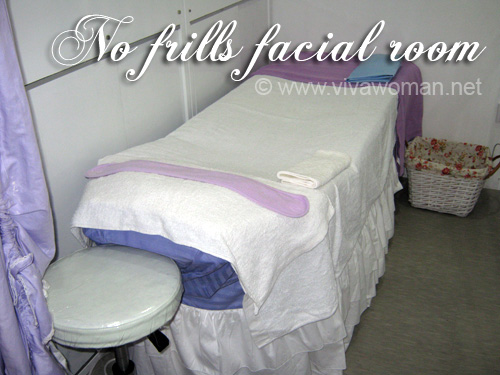 The facial
I had the usual double cleansing, toning, exfoliation, and hydrating treatments. Because I requested for no steaming and extraction except for one spot on my forehead, and so Kristine used an alternative treatment on my face via a machine to dispense oxygen into my skin, which supposedly aided absorption of the products. She also spent most of the time giving me an anti-aging lifting massage on my face and shoulder. Besides the Kelyn Esther Eco Organic products, she also used essential oils in her massages and that certainly soothed my nerves and helped me relaxed. However, I realized that they used towels for the entire treatment and that bothered me quite a bit because I really prefer disposable wipes for hygiene concerns.
The results
My face was definitely cleaner and more hydrated by the end of the treatment but other than that, I didn't see my skin looking noticeably different. The 1.5 hour treatment is slightly pampering with the relaxing aromatic massages incorporated but on the whole, there is not much to rave about. However, the price is rather affordable and the salon offers a series of treatments to customize to different skin conditions and so that is a draw. In addition, those who love dead sea mineral products will find some therapy that will suit their fancy. For more information on the various treatments, check out this page on their website.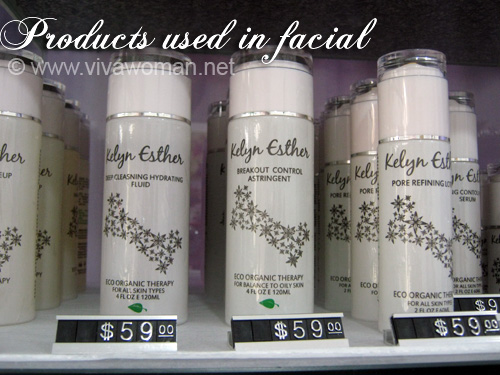 Price and promotion
I understand that the usual price of their Organic Swiss Flora Anti-Stress facial is S$189 but they are offering the same facial at S$299 for 5 sessions, which is their promotional price for the Great Singapore Sale until 15 Jul. And for Viva Woman readers, they are offering a first-time special at S$28. In addition, if you purchase S$80 worth of products from the ECO Organic Therapy collection, you will get to enjoy a complimentary 45-mins Organic Tea Time facial for your 2nd visit. You can check out more pictures of the salon at Viva Woman Facebook Page or visit their website for more information regarding their products. I was assured that it is not their company culture to hardsell so this will definitely allay any such concerns.
Complimentary facial to 3 readers
Kelyn Esther Garden Spa is also offering three Viva Woman readers a complimentary facial. So if you're not willing to part with S$28, here is a chance for you to try out for free. To qualify, just tell me in the comments section below why you go for facials. This giveaway is open to SINGAPORE READERS only and will close on 12 midnight SST on 31 May 2011.
Comments