Are you causing your skin to become sensitive?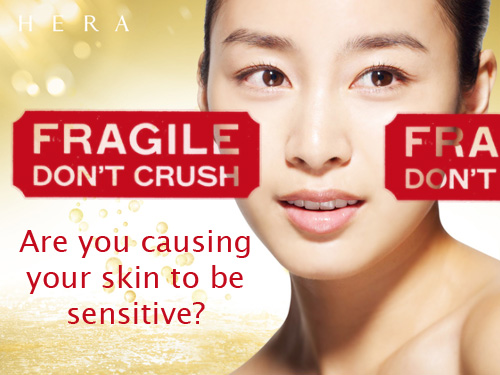 I have a bit of a sensitive skin issue. No, I don't have dermatitis or eczema but the skin my face turns a bit red on contact with certain ingredients and treatments. At one stage, the skin on my body got itchy quite easily too. I believe many ladies have similar issues as beauty salons I've visited have reported an increase in customers with sensitive skin seeking treatments. So why are there more and more people with sensitive skin if they're not born with it or have a skin issue due to a medical condition? What's causing our skin to become sensitive? Am I doing something to sabotage my own skin and causing it to become increasingly sensitive?
Strong skin treatments
During my recent facial, the therapist asked me if I've done any AHA peel before as she noticed that my cheeks turn red quite easily. And her hunch was right. Many years back, I was recommended to do an AHA peel using a high percentage of glycolic acid to eradicate my pigmented spots. At that time, I had no idea about skin care ingredients and hence, not knowing better, I agreed to the peel. However, my spots never got better and my skin definitely got worse! So now, I avoid AHA as they can aggravate my skin's sensitivity. Apart from that, a series of IPL treatments about 6 to 7 years ago must have also aggravated my skin, causing increasing sensitivity. So generally, I avoid harsh treatments, and even regular ones like microdermabrasion, which can also trigger our skin to become more fragile over time.
Skin whitening and lightening products
I wrote about how skin lightening products causing skin sensitivity, especially those that use harsh ingredients such as Glutathione, which may result in heavy peeling. Other common whitening ingredients include Kojic Acid, Licorice Exctract, Mulberry Extract, Arubtin, Vitamin C (L-Ascorbic Acid), Retinol, Glycolic Acid, Lactic Acid, Lemon Juice Extract, and Papain and when used over prolonged period, can also cause skin to become sensitive. I guessed that's also a major cause for the fragile state of my skin now as I was using whitening products over a long period in the past.
Environmental factors
Some people have griped that a change in a new environment, like moving to a new country, has caused their skin to become sensitive. So environmental factors such as cold, wind and rain as well as pollution and cigarette smoke can cause our skin to become sensitive over time. Mine is definitely due to exposure to the sun without using proper sun protection.
Photosensitive ingredients
In addition, using some ingredients can cause also cause skin to be photosensitized and be more sensitive to sunlight. Such ingredients does not necessarily have to be chemical based. Some pure essential oils are known to be phototoxic as well. I have also used a mineral foundation that caused my forehead to itch and developed rashes when exposed to the sun.
Over exfoliating
Even though exfoliation products sold for home use are usually quite mild, but I don't think it's a good idea to exfoliate our skin too often as doing so can cause our skin to lose the protective barrier and causing it to become sensitive. The most I've exfoliated is daily for a week to resolve some acne scars but it's not something I'll recommend doing often.
So do you have sensitive skin? Were you born with it? Or was it developed over time? If so, do you know what triggered it to become sensitive?
Comments