Hand sanitizer: more harmful than you think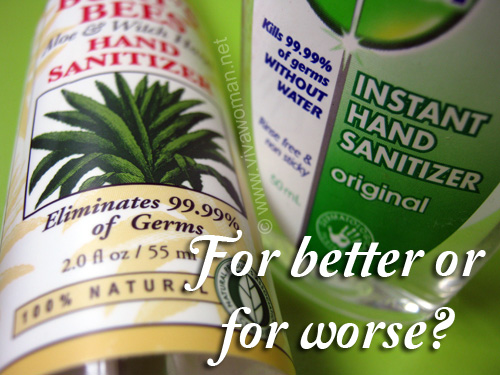 Because of how easily and conveniently hand sanitizers clean hands, they are such a common sight in public places these days. Just yesterday, I noticed them displayed prominently for caregivers to use at a facility for babies. Although I always carry one in my bag, I hardly use it as I really prefer washing my hands. And I learnt that this is better because using too much hand sanitizers can actually do more harm to our hands.
Dry out your hands and cause new entry points for bacteria
First off, to be effective, a hand sanitizer should contain at least 60 percent alcohol as anything lower won't kill the microbes (source). So check the labels before buying that hand sanitizer! I use Burt's Bees Aloe & Witch Hazel Hand Sanitizer and that solution contains 62 percent Ethyl Alcohol, which I assume do kill bacteria. But going by the studies, it also means that the higher the concentration of alcohol in a hand sanitizer, the higher is its abilities to kill germs. However, we know that any formula high in alcohol will dry out our skin in the long run and thus causing the skin more prone to cracking; that also provides new entry points for bacteria inside the skin.
Kills all bacteria and reduce our hand's antimicrobial defenses
Not only that, such hand sanitizers actually kill both the good and bad bacteria that live in the skin. While some bacteria get us sick, researchers found a germ that actually protects our immune system. According to the scorched skin policy, overuse of antibiotic soaps and hand sanitizers upsets this happy homeostasis by essentially killing all bacteria, good and bad. The consequence of this scorched skin policy is that we kill the germs that sometimes contaminate our skin and make disease transmission more difficult, but also reduce the effectiveness of our skin's antimicrobial defenses. So the more sanitizers are used, the more likely bacteria will develop resistances to it and become more lethal varieties that are harder to kill by any means.
Remove protective oil off the skin and allow bacteria to penetrate into skin
I was also reminded during a workshop I attended last Saturday that hand sanitizers tend to strip the protective layer of oil off the skin. With this layer gone, it creates a more beneficial habitat for germs than before, allowing bacteria to penetrate into the skin more easily. And apparently, some bacterial species that are harmless resting atop your skin are troublemakers inside it.
Cut down your usage of hand sanitizer
It's therefore best to wash your hands with soap and water as far as possible as most soaps remove harmful germs but still leave the layer of protective oil intact. So what's the best approach with hand sanitizers then? Keep them for emergencies! Or, use them in other creative ways!
Comments