A cuppa tea a day keeps my puffy eyes away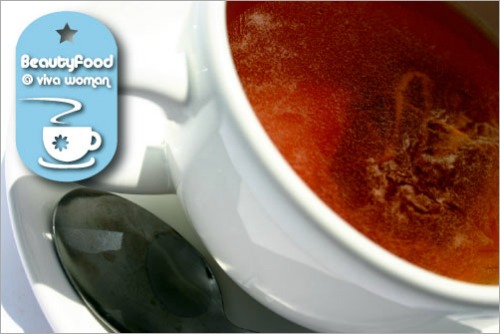 Tea used to be a staple in my breakfast and I could never walk out of my home without drinking a cuppa every morning. However, some time last year, I stopped drinking tea almost altogether because I found out it made my skin drier in the day. Well, that's quite true because my skin was not quite as dry when I refrained from tea. So it came to a point where I only drank tea on Sundays. I survived unscathed and got used to not having my cuppa but something wasn't quite right about my eyes over this period of time; I was waking up to really puffy eyes that would not go away in the day. Some eye gels helped alleviate the puffiness but the results were not as ideal.
Natural diurectic
Because I know that diet plays an important role in contributing to how we look, I examined what I was eating a bit more critically and started wondering if the missing link was the morning cuppa tea. Anyhow, I began drinking tea again in the mornings since early in the year and truly, puffy eyes are no longer so bad by the day. I guess tapping the right eye gel into the delicate eye area had helped but I suspect the tea played a more critical role here because the beverage is a natural diuretic and it does help relieve water retention by making me urinate more…a lot more actually.
Excessive accumulation of fluids
Usually, puffy eyes are caused by an excessive accumulation of fluids in the surrounding skin tissue and is particularly obvious in the mornings because fluid gets accumulated when we don't blink during sleep. Although other reasons can include overconsumption of salt, hormonal changes, or allergies and medical conditions, I guess mine is due to fluid retention plus the thinner skin around my eye area. This is why drinking tea can help ease the puffiness for me but I can't vouch it'll work for others.
Other tips to ease puffy eyes
What also works for me is not drinking too much water in the night, not eating anything salty before bedtime, splashing cold water on my face in the morning to help constrict blood vessel and reduce swelling, and gently tapping my eye gel or cream to stimulate fluid drainage. Other DIY remedies include using moistened tea bags as an eye mask on the eye area for around 10 minutes or so. I know some people use cool eye gel from the fridge or use a cold spoon to press on the eye area. Both are supposed to help reduce puffiness but I've never tried them.
So do you have an issue with puffy eyes? And how do you combat with the puffiness?
Comments