Save up to 40% on beauty buys at Changi Airport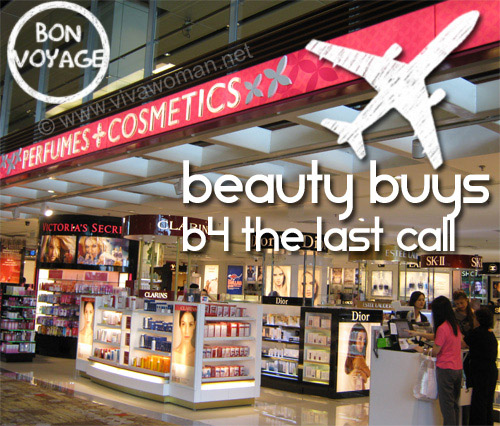 Hey VivaBellas! Hope you're having a good weekend so far. I know some of you are traveling as you've mentioned on my Facebook page. So did you buy anything from the airport or do you plan to buy something when you return? I wanted to check out some items at Perfumes & Cosmetics in Changi Airport prior to leaving for my last trip but you know what, I never got down to it. Actually, it sounds kind of strange to want to buy something prior to leaving for a trip isn't it? But it's not so if you consider the substantial savings you'll get to enjoy off your favorite beauty brands.
Great savings & shopping guarantees
Well, I know there are some cost savings such as the absorption of the 7% GST but I didn't really know that the prices at the Perfumes & Cosmetics outlets are up to 40% lower than the downtown stores until I was officially briefed about the beauty offerings at Changi Airport. Additionally, shopping at the airport comes with 100% money back guarantee and prices are also guaranteed to be no higher than those found outside the airport. So if you buy something more expensive at the airport, you can get a refund at 2x the price difference. Plus, if you are a member of the Changi Rewards program, you will earn points for every minimum spend of S$10 in a single receipt at the airport outlets or eateries and these points can be redeemed for Changi Airport Dollar vouchers. Don't you think the advantages of shopping at the airport are totally awesome?
No need to wait till you travel
In fact, you don't even have to wait till you travel to enjoy these advantages and savings because you can shop at Perfumes & Cosmetics outlet located on the public / non-restricted areas of all three terminals. No wonder some women will make a trip down especially for their beauty loots at regular intervals!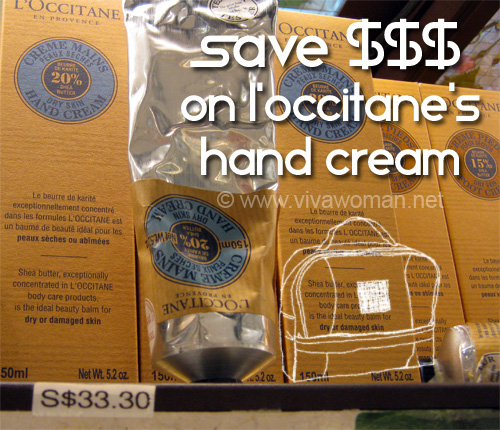 L'Occitane Shea Butter Hand Cream 150ml S$33.30
I checked out some of the items and they are indeed much cheaper. If I remember correctly, the L'Occitane hand cream retails for around S$42 the last time I checked. Over at the airport, it is just S$33.30.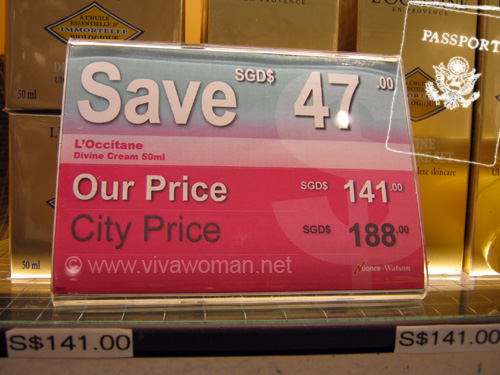 L'Occitane Divine Cream 50ml S$141
And as you can see, you can save S$47 if you buy the L'Occitane Divine Cream here compared to the stores in town! That's substantial!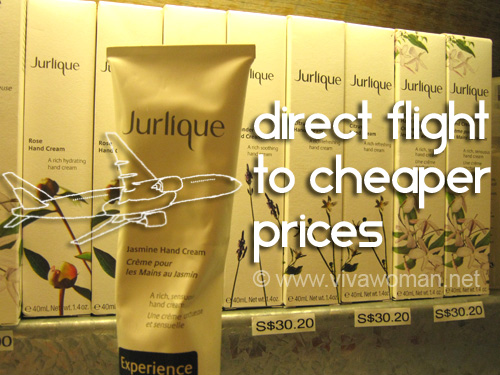 Jurlique Rose Hand Cream 40ml S$30.20
I can't quite remember the price of the Jurlique hand cream at the stores; think it is around S$38 ~ S$40 but it is definitely nothing close to S$30.20 that you can get at the Perfumes & Cosmetics outlets. Anyway, you can look up Nuance Watson's website for a comparison of the prices.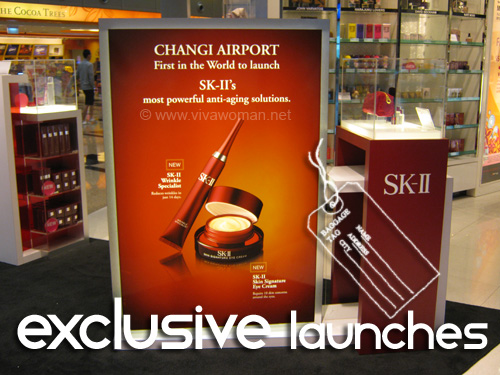 A beauty launch pad for exclusive launches
Apparently, the Perfumes & Cosmetics outlets here are lauded as THE beauty launch pad in Asia Pacific airports. Examples include SK-II's new product, the Skin Signature Eye Cream. Based on my understanding, it seems this product will only be available Perfumes & Cosmetics outlets at Changi Airport.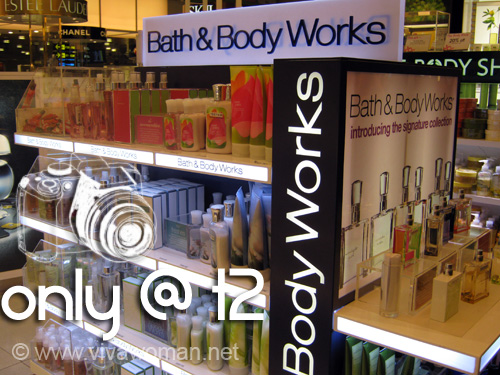 Bath & Body Works exclusively at T2
The other is Bath & Body Works, which you can find at the Perfumes & Cosmetics store in Terminal 2 Departure Transit Lounge only. So you don't have to travel all the way to US just to grab some of your favorite products from the range.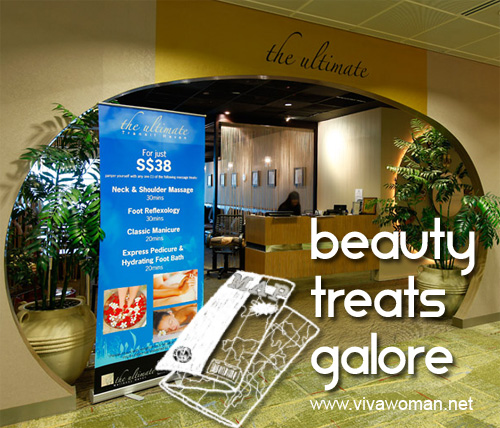 A host of beauty and wellness treats
Other than the Perfumes & Cosmetics outlets, you can also get a host of beauty and wellness treats prior to your departure from the airport – such as massages, foot reflexology, manicures and pedicures.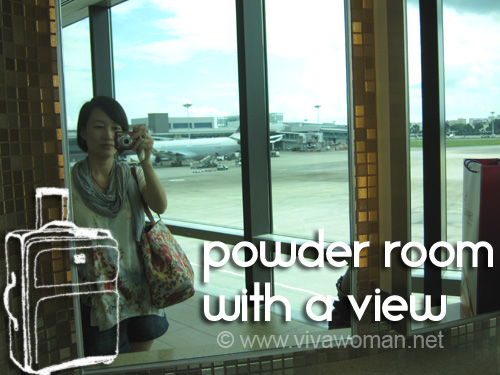 Airport powder room with a view
Changi Airport also has hidden beauty gems like this powder room, a place for ladies to freshen up in-between flights, and it comes with a view of the aircrafts. I was not exactly enamored with the view but it is quite a novelty.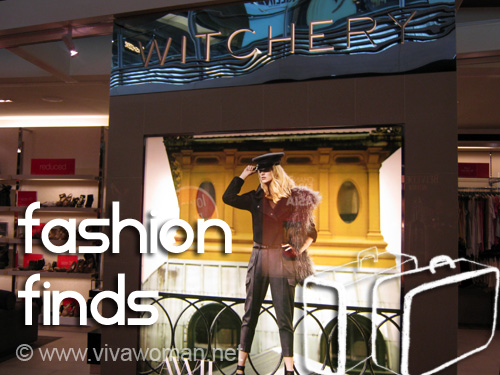 Fashion and accessories finds
And if you're not really into beauty products or treats, you have a choice of fashion stores and boutiques to check out. I shan't share the list here but you can always look them up on the website.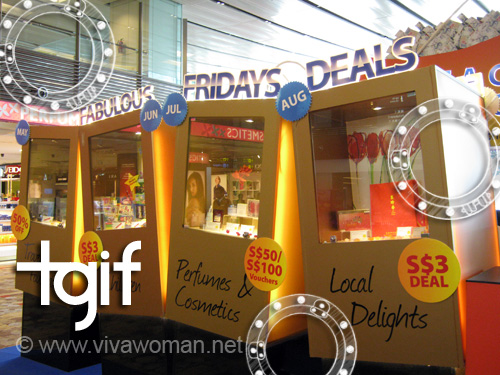 30 weeks of shopping promotions
Changi Airport turns 30 this year and as part of their celebration, they are offering 30 weeks of shopping promotions. One is their 'Be a Changi Millionaire' draw and the other is the 'Fabulous Fridays', a shopping program that features weekly deals at incredibly discounted prices for branded electronic products such as iPad 2, beauty products, luxury fashion and watches, amongst others. Again, you can find the details at their website but essentially, with these two promotions, shoppers can savour great bargains at steep discounts, and at the same time, enjoy the thrilling prospect of winning a million dollars! So what are you waiting for? When you spend a minimum of S$30 in a single receipt at Changi Airport from now till 30 November, you have a chance to win the grand prize of S$1 million!
Buy and board or buy and collect later
So if you are planning to travel or planning to stock up your beauty items, consider the Perfumes & Cosmetics outlets at Changi Airport for great savings. And for those who are flying off, you can buy your stuff, leave it at the store for safekeeping and collect it when you return to Singapore. That way, you get to enjoy the savings and yet, do not have the burden of lugging your stuff to your destination country and back.
For more pictures of the beauty and shopping offerings at Changi Airport, check out the Viva Woman Facebook Page.
Comments