Snowberry Beauty: anti-aging skin care range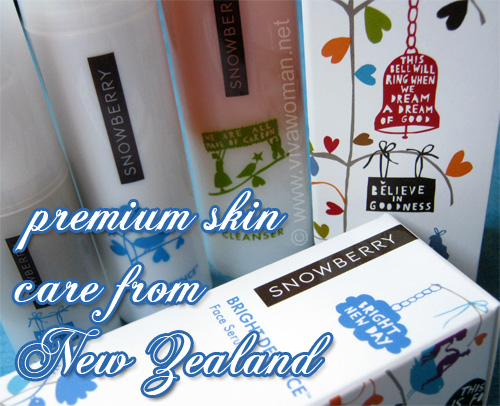 I have been using some products from Snowberry Beauty, a new range of anti-aging skin care products from New Zealand that works on the premise of delivering skin care benefits via clinically proven bio active ingredients such as antioxidants, enzymes and peptide complexes, yet avoiding petrochemicals, sulphates, artificial colouring, parabens, silicones and glycols. This is not a 100% natural skin care range but rather, the products are formulated with a combination of natural extracts plus scientifically-derived anti-aging and skin renewal compounds.
Three products were sent to me on a complimentary basis for review and these were the items I tested – Snowberry Instant Deep Cleanser, Snowberry Bright Defence Face Serum, and Snowberry Smoothing Eye Serum. I have been using them only in the evenings for about five to six weeks now and you can see how they fare for me based on the pictures I've posted here.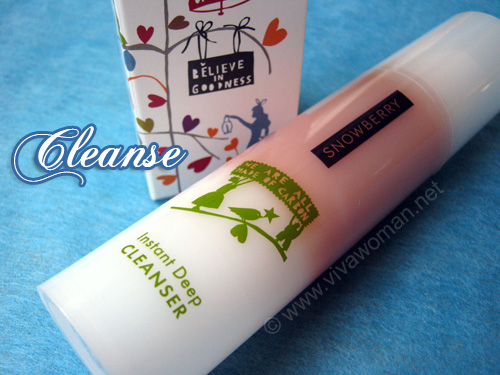 Snowberry Instant Deep Cleanser 50ml S$83
Ingredients: Melia azadirachta linn (Neem) seed oil, Lonicera Japonica (Honeysuckle) flower extract, Plukenetia volubilis (Inca Inchi) seed oil, Olive Oil sqalane, Passiflora edulis (Passion flower) seed oil, Glyceryl Oleate Citrate, Polyglyceryl-6 Caprylate, Caprylic/Capric Triglycerides & Cymbium grandiforum, Candida Bombiola extract & Glucose & Methyl Rapeseed Ferment, Rubius chamaemorus (Cloudberry) seed oil, Echium plantagineum oil, Triticum Vulgare (Wheat) Gluten extract, Rosmarinus Officinalis leaf extract, Polydecene & Solanum Lycopersicum (Tomato) extract Lycopene extract,Ascorbyl Tetraisopalmitate, Macadamia Ternifolia seed oil, Coleus Forskohili (Coleus) oil
This cleanser is kind of interesting as it feels like an oil cleanser but looks nothing like one. It is very oily though as Neem seed oil is the first ingredient on the list and the oily residue stays on even after two washes – more pronounced than using the typical oil cleanser – as this one does not emulsify. I definitely have to follow on this with a foaming cleanser. So I would consider this as something for pre-cleanse as it is rather effective in removing makeup and surface dirt. Nice color though and smells orange-y. However, I consider this too expensive to be used as a pre-cleanse in my case.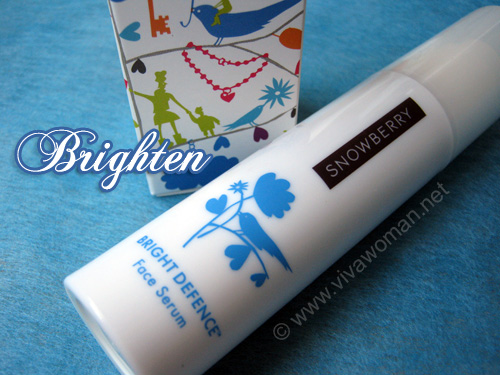 Snowberry Bright Defence Face Serum 30ml S$93
Ingredients: Aqua (Demineralised), L-Ascorbic acid, Sodium lactate, Saccharomyces/Qylinum black tea ferment & Glycerin & Hydroxyethylcellulose, Glycerine (Coconut), Magnesium alumium silicate, Retinyl palmitate / Carrot polypeptide, Ascorbic acid/Citrus polypeptide, Ascorbyl glucoside, Water & Vaccimium myrtillus fruit/leaf extract & Saccharum officinarum (sugar cane) extract & Acer saccharum (sugar maple) extract & Citrus aurantium dulcis (orange)fruit extract & Citrus medica Limonum (lemon) extract, Benzyl alcohol & Glycerin & Benzoic acid & Sorbic acid, Sceleotium gum, Xanthan gum, Vitis vinifera (grape seed) extract, parfum, Dimethylmethoxychromanol palmitate, Citrus bioflavonoids (grapefruit).
I was actually both leery as well as intrigued by the ingredient list. The unique combination of ingredients is said to prevent pigmentation in the skin, allowing for a much more even and brighter skin tone. I'm a bit concerned about using products with retinyl palmitate plus this one has some citrus fruit extracts. Yet, I'm intrigued by Kombuchka – a fermented black tea extract that decreases glycation, preventing the sticky sugar molecules from attaching to and damaging healthy skin proteins. I think this product works. As to how much it does, I leave you to decide based on the pictures I posted below.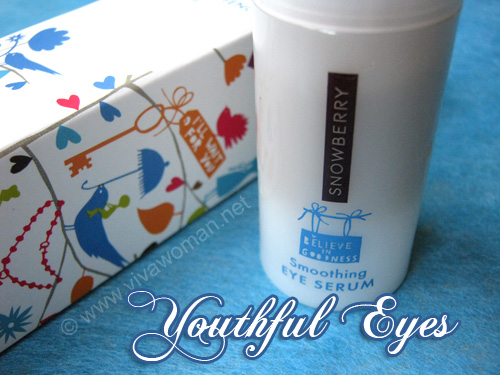 Snowberry Smoothing Eye Serum 15ml S$75
Aqua (Demineralised), Lonicera Japonica (Honeysuckle) flower extract, Hydrolysed Hibiscus Esculentus extract & Dextrin, Sclerotium Gum, Rhizobian Gum, Xanthan Gum, Tetrahydropiperine, Andrographis paniculate leaf extract, Parfum, Glycine Soya seed extract & Ceramide-3, Echium plantagineum oil, Vaccinium vitis-idae (Lingonberry) seed oil, Olive Oil sqalane, Euterpe Oleracea (Acai) seed oil, Biosaccharide Gum-1, Biosaccharide Gum-2, Sodium Hyaluronate, Hydrolysed Sodium Hyaluronate, Water (Aqua), Acetyl Tetrapeptide-5, Cecropia obtusa bark extract, Water & Dextran & Acetyl tetrapeptide-2, Water, Dextran & Tripeptide-1, Sorbitol & Yeast extract, Ubiquinone,Idebenone, Podocarpus totara, Hinokitiol, Algae extract & Pullulan, Hydrolysed Keratin protein, Hydrolysed Rice Bran Protein & Oxido Reductases & Glycine Soja protein, Soyabean lysophospholipid, Ethyl Ximenynate & Lecithin, Fragrance, Glucose & Glucose Oxidase & Lactoperoxidase, Glucose & Glucose Oxidase & Lactoperoxidase, Carthamus tinctorius (Safflower) extract
I was a little disappointed to learn that this eye serum is only for night use but nevertheless have been using it diligently every night. It contains a unique blend of natural peptides and herbal extracts said to reduce eye puffiness and the depth of wrinkles; most notably it contains Guanidine HCL & Tripeptide-1 that clinical trials have shown to activate and stimulate collagen and elastin production. So did it do any wonders for me? Check out the picture!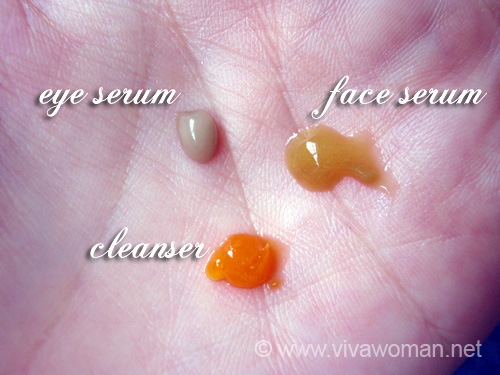 Smell and texture of the serums
Both the serums smells a bit like herbs to me but they're pleasant to my sense of olfaction. I actually like the texture of the serums as they are absorbed quickly into the skin and are lightweight. And despite the combination of active ingredients, they do not cause my mildly sensitive skin any problems. However, because these are just serums and while they do provide some amount of hydration, I still have to use a cream over my skin to increase moisturization.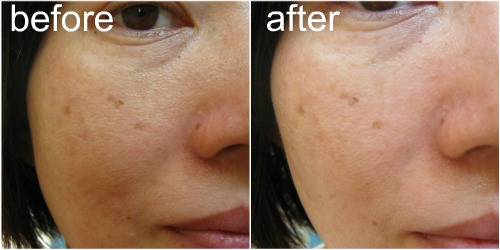 Looking from this picture, you can tell that my skin tone is visibly brightened and some of the spots are also looking lighter. Also noticed the spot near my mouth? It's not as red as before.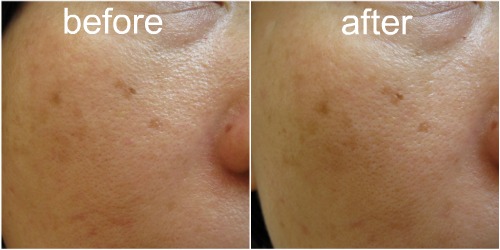 The improvement on this side of the face looks less obvious though but on the whole, I think my skin tone is better and not quite as red.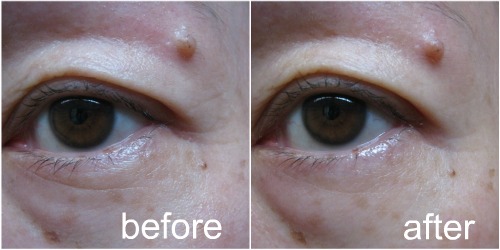 I don't see much effects on the reduction of puffiness but without taking a picture, I really can't tell that the depth of the wrinkles are reduced. So note to self – always take before and after pictures when testing products to show myself the results.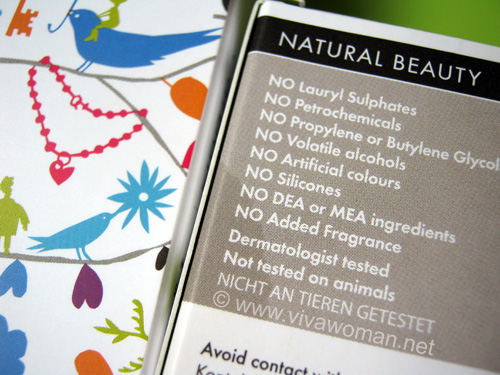 Overall summary
I really like the serums quite a lot. I like the idea of using products that marry good active ingredients with natural botanical extracts without too much chemical overloads. However, they're expensive. Another concern is that the shelf life of each product is stated as three months after opening; that's like very short! Although the bottles are very small, but they look as if they'll stretch beyond three months as I don't use a lot of the serums. So if you ask me, I would recommend trying these products if you are convinced of the results and do not mind paying the premium prices.
For more information on the range of products from Snowberry Beauty, check out Pure Tinture. And besides New Zealand and Singapore, the brand is also available in a few countries – Austria, Germany, Ireland, Lebanon, Mexico, Netherlands, Sweden, UAE and UK.
Comments