How I store & organize my handmade necklaces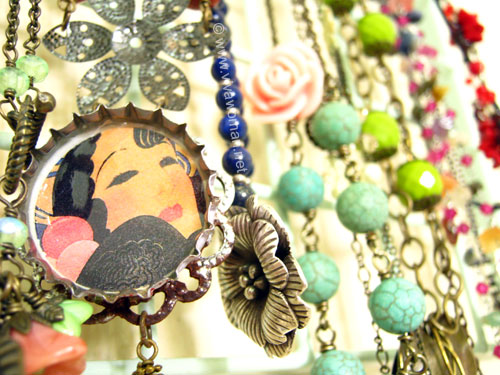 I've been wanting to store and organize my handmade necklaces like forever but never got down to the task. So I've been putting them in boxes but they're not the best for storage. One, some of my necklaces get tangled up in the small space and another, I missed out on some of the necklaces because they were hidden in the boxes, away from my view!
The best way to store them is really to hang them but where? Initially, I thought of using those wire hangers for clothes but the idea just never grew on me. Then I saw some wire racks at Diaso and it hit me that those are great to serve my purpose. At S$2, it was worth a try anyway!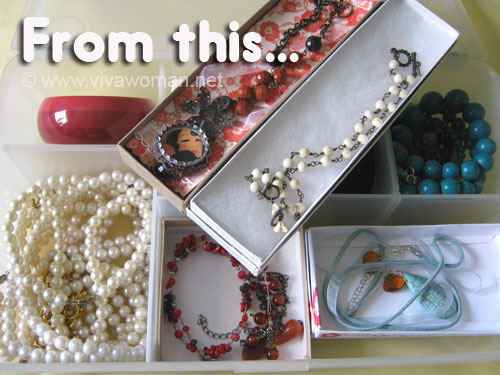 All at one location now
The wire racks come in different sizes and colors and I think they're meant for you to hook stuff. I got a squarish one eventually because the size is just about right for my gamut of handmade fashion necklaces. So instead of rummaging through boxes for my necklaces, I can find them easily now, and all at one location too! Brilliant isn't it?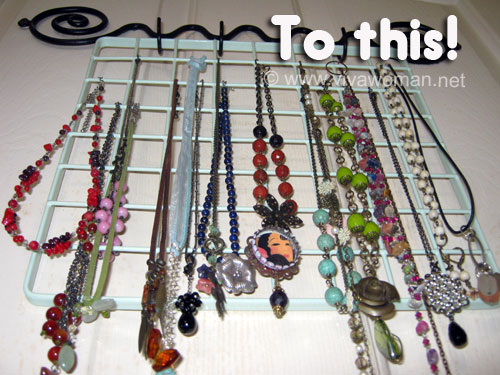 Hung neatly behind my bedroom door
The wire rack should allow me to hang quite a bit of necklaces should my collection expand in future. For the moment, I've got the whole rack hung behind my bedroom door. And because I probably will hang some of my clothes over them too, so they've got some "dust protection" that way.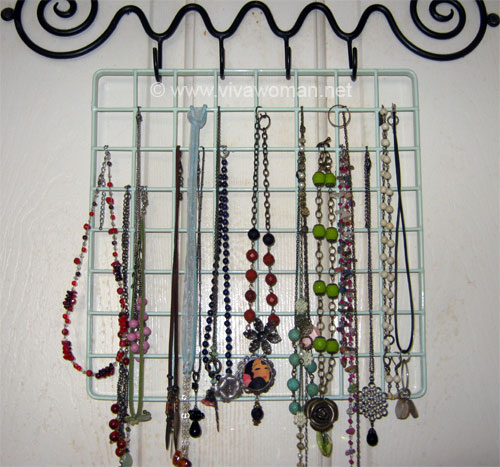 Idea to organize hook earrings
If you're into more storage ideas for your accessories, you might also like to check out how I store my hook earrings (click through). By the way, the wire rack can be used for your earrings too.
Oh, please tell me that I'm clever okay? LOL. Enjoy your weekend dearies! (#k8SjZc9Dxko#k8SjZc9Dxk)
© www.vivawoman.net copyright notice ☺
______________________________________________________________
Comments