Green Beauty: new ways to enjoy aromatherapy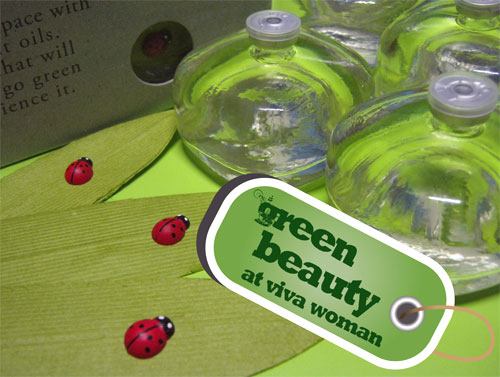 If you like the idea of going green at home, then aromatherapy probably appeals to you too. However, I'm not talking about the typical scented candles or essential oil burners. Instead, think minimalist chic scent diffusers, like this Lady Bug Diffuser from 365 Days. I had a fun time watching how the green leaf slowly absorbed the Jasmine Ylang scented oil and filled the whole room with the lovely scent. And you know what? I've secured five of these worth about S$100 to be included in the VivaBella Green Beauty Box Giveaway of goodies for five of you!
Making aromatherapy a lifestyle concept
These are part of the designer aromatherapy from holistic healing expert, Cheryl Gan, who wanted to change the perception that aromatherapy is a cumbersome procedure, but rather an attractive lifestyle concept that can be easily incorporated into anybody's routine. So working with a pool of creative minds, she has come up with out-of-the-box ideas and unexpected ways for people to enjoy aromatherapy. And she has put these ideas into three unique aromatherapy and home scent brands that range from quirky to minimalist and classy. One of them is 365 Days, the other is Mt Sapola, and the last is Barn & Potter.
Cute & unique items for grabs
So forget the usual lavender scented candles. Check out aromatherapy car accessories, fridge magnets, animal sachets, bookmarks and even garden accessories. And here's one I've received, called the lavender Lucky In Love charm. I thought the charm resembles the stem of the lotus root but the smell is definitely intoxicating – it'll make a lovely X'mas present, don't you think so? Well, check this and other interesting aromatherapy items at Mt Sapola and 365 Days at #B2-K9 Marina Bay Sands, #01-k1/2 Vivocity, #02-18A Great World City, #02-31 Mandarin Gallery, #B1-12 Tanglin Mall, #01-12 Tampines One, and #02-04 Rochester Mall.
Win the Lady Bug Diffuser by telling me more
Meanwhile, if you like to win one of the Lady Bug Diffusers and the other goodies in the VivaBella Green Beauty Box Giveaway, tell me if you are into aromatherapy and where exactly would you place this cute Lady Bug Diffuser?
More about VivaBella Green Beauty Box Giveaway
As you can see, the goodies for the VivaBella Green Beauty Box Giveaway are coming along very nicely. Out of the five boxes, four of them will go to my Singapore readers while one box will go to an international reader. This will happen in December. Winners will be handpicked based on the quality of their comments and participation level throughout the period. To check out the other goodies and to comment on the other posts, check out the Green Beauty section. I'll just say this – if you haven't been participating, you really don't know what you'll be missing!
Comments