Green Beauty: Suki cleanser from Pure Tincture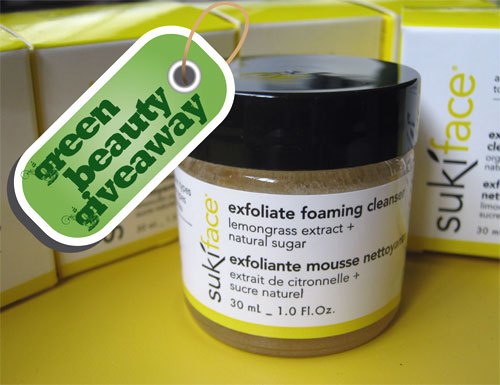 A number of you have raved about this Suki Exfoliating Foaming Cleanser with organic lemongrass & natural sugar and I have to concur. I've tried a sample of it sometime ago and love it! In fact, this cleanser has a 4.1 out of 5 ratings over at Makeupalley by 121 users. So good news for those participating in the VivaBella Green Beauty Box Giveaway because besides the other load of goodies, five of these valued at S$125 have been sponsored by Pure Tincture to be included into the box.
Award winning cleanser
The Suki Exfoliating Foaming Cleanser is an award-winning, 100% deep cleansing natural AHA rejuvenator that unclogs pores, exfoliates dead skin cells, and smoothes away dryness, lines & wrinkles. This product is vegan and here is the full ingredient list: sucrose (sugar), potassium cocoate, oryza sativa (rice) powder, cymbopogon flesuosus (lemongrass) oil, calendula officinalis (calendula) flower extract, lavendula angustifolia (lavender) flower extract, chamomilla recutita (matricaria) extract & squalene, citrus aurantifolia dulcis (orange) peel extract, ascophyllum nodosum (seaweed) extract, *aroma/fragrance, limonene, linalool, geraniol *component of 100% pure essential oils).
About Pure Tincture
Pure Tincture is no stranger to Viva Woman as the company has sponsored a number of products for review in the past. Since 2005, Pure Tincture has been distributing premier natural and organic skin care products in Singapore. And besides Suki, Pure Tincture distributes Madara Eco-Cosmetics, Pure Lochside, Balm Balm, Stem Organics, Santaverde, Snowberry, and The Soap & Paper Factory. The company also pledged to bring in seasonal unique organic skin care to add a touch of surprise and fun for their customers. You may like to know that Pure Tincture supports the green initiative via usage of recyclable materials, as well as support fair trade and smaller brands. The company is also against animal testing and most recently, they contributed 2% of their October sales to Animal Concerns Research & Education Society. Although based out of Singapore, Pure Tincture ships internationally.
Tell me more about Pure Tincture
If you want to win one of these Suki Exfoliating Foaming Cleanser plus the other Green Beauty Box goodies, go check out Pure Tincture and be a fan of their Facebook page too. Then come back here to let me know which of their products caught your eye enough for you to want to part with your money. If you've purchased from Pure Tincture, do share with us how your experience was like or what did you purchase.
Be a fan of their Facebook page to get $10 off purchase
There's a good reason to be a fan on their Facebook page because from now till end December 2011, new customers who like Pure Tincture's Facebook Page will get $10 off their purchase with a minimum $50 purchase. So go 'Like' them already!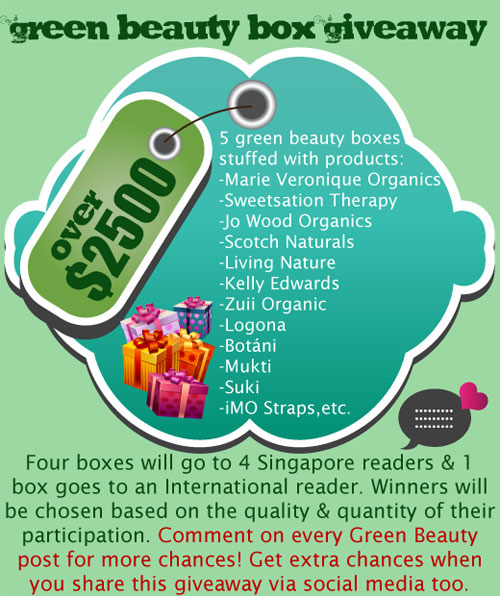 Visit Viva Woman Green Beauty to participate.
Comments