Five reasons why your carrier oil has turned rancid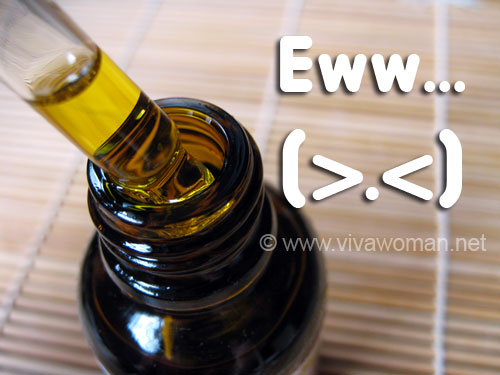 I know a number of you have been using oils in your skin care routine. So today, I want to address an issue that I myself have faced with regards to using them and that is, why are my carrier oils going rancid so quickly? I remember a bottle of my grapeseed oil turning rancid after less than three months of purchase. In another case, one of my custom blended oils also turned rancid less than five months after opening. Carrier oils do have a shelf life but it seems that they can be extremely difficult to predict with any certainty because there are so many variables. So exactly what are these and how can knowing some of these variables prevent you from future heartaches?
1. Types of carrier oils
While it is said that most cold pressed carrier oils typically have a shelf life of between 9 and 15 months, much depend on the particular oil in question and how well it is stored. Some oils have more natural antioxidants and can be good for longer if properly stored in unopened containers. Other oils may turn rancid very quickly even if stored well. But as a whole, because carrier oils contain Essential Fatty Acids, they are more fragile and prone to quicker rancidity. In addition, carrier oils vary in their ratio and specific EFAs that they contain; I found out much later that the reason why my bottle of grapeseed oil turned rancid so quickly was because this oil has one of the shortest shelf lives at around 6 to 9 months. Others like borage, carrot, sunflower and evening primrose oil close behind at around 10 to 12 months. And these oils are very susceptible to damage caused by temperature changes.
2. Source of carrier oils
I had suspected that the grapeseed oil that I've purchased was already not fresh when it was sent to me because the source I purchased from definitely got hers from an overseas supplier. While we all hope that the carrier oils we purchase are fresh but the truth is, many oils can originate on the other side of the world and may have already taken a few months to reach a distributor. And who knows how many hands of traders have these oils passed through before finally arriving at the distributor? And somewhere along the supply chain, the oil may also have been poorly stored and hence triggering the slow, but inexorable process of deterioration.
3. Combination of blends
Going by what I've mentioned in reason 1, blending an oil high in antioxidants with a more bland oil can greatly extend its shelf life as auto-oxidation proceeds slowly until all antioxidants are used up at which time the free radicals attack the fatty acids and the oil quickly becomes rancid. So for my custom blend, I suspected that one of the oils may not have been fresh and hence, it contributed to the degradation. In some cases, I understand that usage of nut oils can contribute to a quicker rate of rancidity too.
4. Insufficient preservatives
When I was looking through the list of the custom blended oil, I also noticed there was a lack of natural preservatives. Most custom blend relies on using vitamin E, often listed as tocopherols, as a natural preservative. In other blends, a combination of essential oils are used to preserve the quality. However, I understand that citrus essential oils will have a scant life span as they tend to oxidize quicker than most others so if only citrus essential oils are used in the blend without other preservatives, then the blend can also degrade quicker.
5. Improper storage
Carrier oils do not like extreme, or repeated changes in temperature. This is why most of these oils come in dark colored glass bottles and we are recommended to store them in a cool, dark place, away from direct sunlight and heat. A slow process of deterioration will begin once they are exposed to heat and even air.
Ways to prevent having your oils turn rancid quickly
While we all love to have our carrier oils or custom blends last longer, the reality is they can't due to a variety of factors. So to prevent your oils from going rancid quickly, always purchase from a reliable source. I prefer to get them direct from US. Additionally, buy in smaller quantities as you can never tell how fresh the source is and so I'll advocate playing it safe here. I know oils can be stored in the fridge but apart from emu oil, I haven't stored any of my other oils as I don't quite like the idea. Also, mark the date of purchase so that you can always keep track in case you forget. And finally, if you're trying to blend your own oils, mix in small batches.
Comments