Beauty blogging: make your blog better looking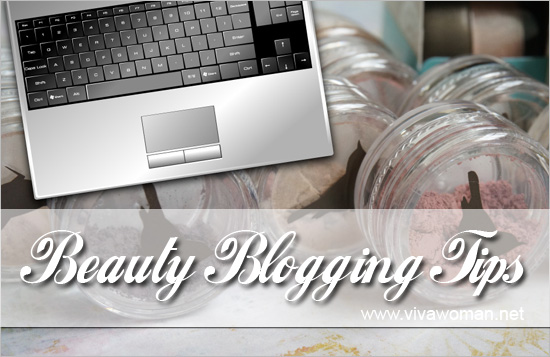 Sometime last year, a number of you mentioned that you would like to see some blogging tips at Viva Woman and so here it is, after much procrastination. To be honest, I wasn't too keen on writing this series because I realized that there are so many blogging tips out there and I wasn't certain what I can contribute differently. However, after some deliberation, I've decided to take a more critical approach to the topic and give you deeper insights on how to become a better beauty blogger. So yeah, this is for those who are serious about taking their blogs a step further.
This will be a series but it will not run weekly. If you want more regular blogging tips, Tine of Beautyholics Anonymous has a weekly Bloggie Wednesdays that you can look up. And I expect that you are already reading some of the problogger's tips if you're seriously interested to beef up your blog. If you're not, then stop twiddling your thumb and start!
So my first topic today is about creating a positive first impression if you're into capturing new readers and retaining them for good. In our context, we can look at this like personal grooming. Your blog represents you and how do you like people to see you? Now, be very focus here. You are not blogging just for yourself if you want to become a better blogger because there is no challenge to do things just for yourself. Always look beyond the horizon girls – blog for your readers! And always know that people who read beauty blogs are mostly visual learners; they have eyes for beauty!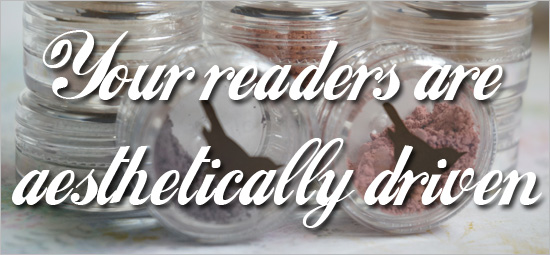 1. Layout
First impression counts. When someone sees you, what kind of impression do you want the person to get? Neat? Pleasant? Friendly? Interesting? Beautiful? Elegant? Modern? Similarly, your blog should convey the impression you want to project. If you cannot decide, you should at least keep it neat and pleasant. The good thing about blog templates is that they are all pretty neat. The only problem comes when bloggers start to tweak their own template and throw in too much clutter. They rearrange stuff around that contribute to mess. So look critically at your blog and ask yourself – what can I remove?
2. Sidebard clutter
A girl that overdress is an overkill. A girl that puts on too much makeup and worse, mismatch makeup is a major turnoff! So likewise, remove all those unnecessary banners and widgets on your sidebar. Having too many elements on your sidebard is just an eyesore. Keep only the essentials and put the others in inside pages. You don't have to sell yourself all over the homepage; create inside pages! Ask yourself – who are you trying to impress? If you have awards, mention the best and keep the rest in your inside pages. Your readers will be impressed if your content is good. Brands and PR agencies will search your blog if they're interested to find out more.
3. Navigation
Take the guesswork out of your blog already! Who wants to visit a blog and have to figure out where to click for more contents or where to click to comment? Just like how you would first extend your hand for a warm handshake, be proactive when it comes to accessibility for all your content. Locate the tabs and buttons for all your key information in prominent locations, such as in your header. If you want readers to comment on your entries, then be sure that the comment button is prominent enough. Hello, yours is not the only blog that your readers are reading and they will just move on if they can't locate something.
4. Pictures
You don't want to be shabby looking, do you? Then be serious about the quality of your pictures! While I won't say the quality of my pictures are superior, but at the least, they are clear. Another thing is, please format your pictures using a standard size as different sizes make your entry look messy! This should not be a problem with pictures you take (unless you are lazy) but it might be a problem with stock pictures. I don't use stock pictures as far as possible and even when I do, I'll make sure I recreate them to keep to the look and feel of my blog. Honestly, with the multitudes of online photo editing resources out there, this is not difficult! So go and work on this! Decide a standard width for your pictures and keep to that for all entries!
5. Advertisements
If you are into monetizing your blog, do decide early – is making money more important or growing your readership? I started my blog with no advertisements as I focused on growing it. And personally, I cannot bear having advertisements all over my blog. Notice I only keep them to the sidebar and the bottom of the entry? While I know that putting some ads right on top can make me more but I just can't bring myself to compromise that with the aesthetics of my blog. And seriously, I will never visit a blog cluttered with ads the 2nd time. In fact, I have even given up reading some established blogs because I cannot tolerate the ad clutter. And if you're a relatively new blog with little readership, remove the ads from your main content and keep them to your sidebar. I mean, why compromise the aesthetics just to earn a couple of cents a day? Yes, I'm being very blunt here…I've said I'm going to be critical.
Let me know if these are helpful
Obviously there are more design tips to building a better blog but these are the key ones that came to my mind. Some others like designing a unique header/logo, or making your blog stick with proper color combination are almost an established fact and there's no need to discuss that anymore. But if you have other tips to add, do share as part of my objective in writing this series is also to build a blogger community for sharing. So do let me know if you find these tips helpful so that I will at least know how far I should take this series going forward. If you're a reader who does not blog, I certainly would like to know what you like to see in a blog in terms of visual design.
Comments