Beauty blogging: how to become a better blogger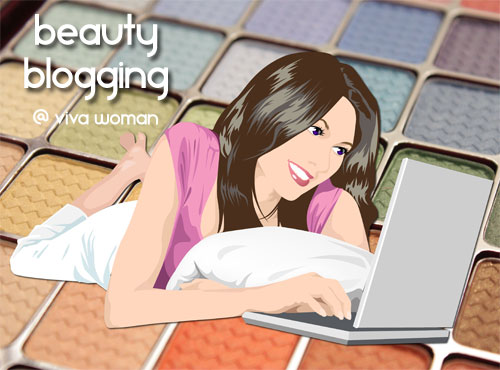 Okay, so here's one of my infrequent contributions to the topic of beauty blogging. For those who have missed, I began with my first topic on how to make your blog better looking last month. As I've last mentioned, this series is for those who are serious about taking their blogs a step further. So today, let's look at 5 tips on how one can become a better beauty blogger.
1. Be prolific
If you seriously want readership, then you need to publish your content regularly; preferably on a daily basis but otherwise, at least every alternate day. You can see blogging like a skincare routine – you have a routine for your skin and you should have one for your blog. In case you haven't realized, there are plenty of beauty blogs out there so what will make readers "stick" to just reading yours? Frequency of publication is one way and soon, readers will make it a habit to visit your blog when they know they can expect fresh content on a regular basis. On the other hand, I find that over publishing can be quite a turnoff too and so you need to find some sort of a balance in terms of blogging frequency.
2. Be original
I don't know about you but I see so many girls looking quite the same these days; long wavy bleached hair, colored contact lenses, long eyelashes, and makeup gao-gao (thick makeup). Likewise, if I visit some blogs and they all look about the same, with the same content, design and ideas, chances are, I'll stop visiting them altogether, especially if they come across as copycats. Okay, I'm taking the opportunity to take a dig at some of these bloggers by writing this but truly, if you want to be good, then you gotta be original. However, I do reckon that this is a tricky topic as where should one draw the line? Some bloggers can turn around and tell me that I've copied their ideas by blogging on this very topic about beauty blogging too eh? I think it's all right to get blogging inspirations but you need to develop your own style and voice. This means that you work on your strengths instead of trying to get inspirations for areas you're weak in. My principle is, always strive to be better than the original – bad copycats irk me and they're telling.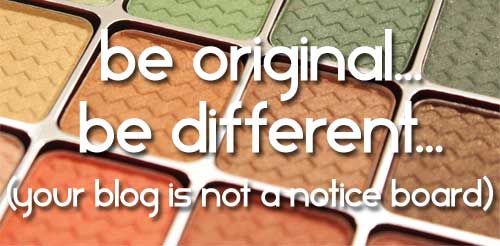 3. Be different
So while it is fine to use the same makeup as other girls, some are just able to do it way better. So this comes back to what I've said about developing your own style and voice. If you've got a sense of humor, capitalize on that; if you're good with graphics, show off your skills. As for content, well, find your sweet spot. I started off not really knowing what I could cover but as I blogged, I found my niche. So if it's a common topic that most other beauty bloggers are focusing on such as makeup, then ask yourself what can you contribute that is so different from others. For example, putting up a tutorial is probably more useful than just publishing a plain review. And oh, I really wish more beauty bloggers are selective about what they cover on their blogs instead of regurgitating everything sent to them by the PR agencies. Don't make your blogs like notice boards!
4. Be respectable
While we do form impressions based on looks, but rarely or never do we accord respect just because someone is handsome or beautiful right? So if you want to be an established beauty blogger, you need to have the correct blogging ethics. One of the basics is don't lie to your readers. Next, do not copy blatantly, whether it is the text, content or designs of other bloggers. Finally, you also need to be transparent in terms of your relationships with brands if you've received payment or products to promote the sale of a product or service, or if you're being compensated for any marketing work you're doing for the brand. This is simply declaring your interest – if you've received the products on a complimentary basis, say so and if you've received payment to promote them, label the post as an advertorial.
5. Be friendly
If a lady is well-groomed and is friendly, chances are, you'll like her. Likewise, bloggers should be sociable when it comes to online interactions and this means watching your tone as you try your best to answer to all comments and emails, even the impolite ones. I admit that I'm still trying to learn in this area but generally, I'll say we need to be polite. Would you tell someone you barely know that "you're wrong" in their face? Then don't write that in your comments! Additionally, I want to say that if you're a blogger trying to build your traffic, please ask help from other bloggers wisely; it is one thing to share in the name of community building but it is something else to use other bloggers for your selfish purposes.
I hope you have found these tips useful for your blogging. I'm not going to take this series very far as I find that I don't have that much to say that others are already saying. If there's anything you need to know, please put it in the comments. If you're a reader who does not blog, I certainly would like to know what you think make a good blogger.
Comments