Share: do you buy beauty books & magazines?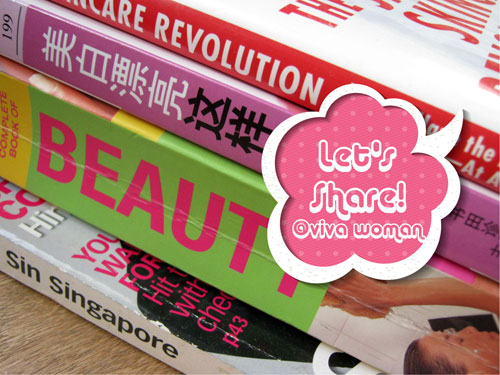 Before the days of the Internet, I used to set aside a small sum each month to purchase hard copy magazines. Some of them are female-centric content, while others are on home improvement or entertainment. But since I-don't-know-when, I've stopped purchasing them altogether. The only magazines I still read are those at the hair salons and in a way, I'm glad for this change because I no longer have to deal with the sentimental issue of magazine disposals.
Buy or borrow?
Now books are a different story. They have a special place and I still enjoy reading them. In fact, you'll probably find me spending more time in the bookstores and libraries than shopping. It's not always beauty-related books but I do enjoy reading such books as they serve as good reference materials for blogging too. And I used to buy my books until someone suggested that I should look into the option of borrowing and so that's what I've been doing mostly now. Like yesterday, I was so excited to find a new book on natural remedies at the library only to discover I did not have my borrowing card. Well, let's hope nobody wants it since it's the Chinese New Year and books are considered a taboo during this period.
Online or offline?
I guess the reason I prefer hard copy books over magazines is because books are obviously, far more indepth and useful. On the other hand, what is available in a hard copy magazine may be found in an online ezine or even blog. Hence, I no longer see a need for them and I'll rather save the money for something else. So if I were to read them, they would most probably be free copies.
Your say?
What about you? Do you like reading beauty-related books and magazines? Do you buy them or do you borrow them? If beauty books and magazines are not your thing, what other genre do you indulge in?
Comments