DIY Beauty: American ginseng energizing face tonic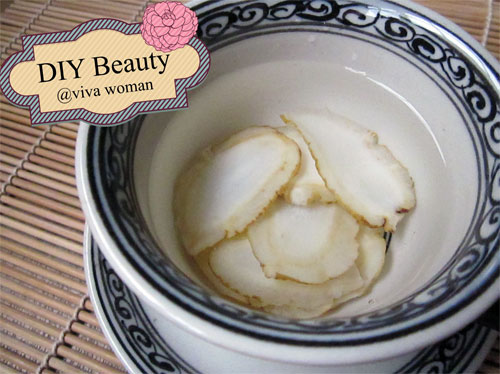 Ginseng has been used in traditional medicine in this part of the world as a tonic and elixir. This is American ginseng, which is said to relieve heatiness, strengthen immune system, support cognitive functions, as well as improve stamina and vitality. Because I've come across various cosmetic products containing ginseng extract as an anti-aging ingredient and so out of fun and curiosity, I've been trying to use it as a sort of 'energizing tonic' for the face. Okay, nice choice of word there but it's really nothing more than a toner. Heh.
Stimulate cellular renewal
Interestingly, I read that ingesting ginseng is good for those with acne but I'm not too sure. I tried ingesting it during the period when I was having acne and it didn't help me. In terms of topical benefits, various sources suggested that ginseng detoxifies the skin and rids it off the free radicals, and topical use leaves your skin healthy and glowing. Since it is an antioxidant and tonic, ginseng can also stimulate cellular renewal and boost blood circulation. So it might be great as a toner to "energize" the skin.
Simple infusion
As we consume an infusion of ginseng slices quite regularly at home, so what I do is to pat some of the infusion on my face, after cleansing and prior to moisturizing. I don't use this regularly, just as and when I remember. I haven't noticed much of a difference but I understand that ginseng can help to balance the oil gland production and that could be why it's said to be beneficial for those with acne.
Do you like the taste of ginseng and have you tried using ginseng on your skin?
Comments