Baby Boo Organic Chamomile & Geranium Cleanser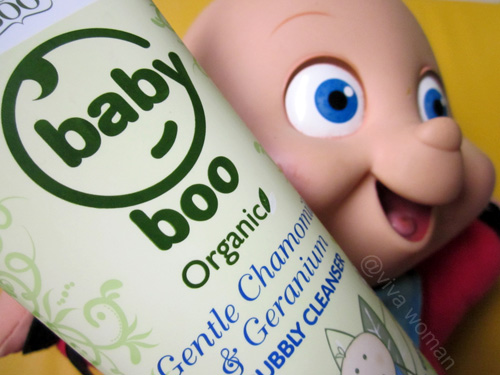 I'm probably one who is easily led by my nose going by how I choose my products. When it comes to facial or body cleansers, smell is of utmost importance for me; a product that smells good to me will get into my good books easily. Like this Baby Boo Organic Chamomile and Geranium Bubbly Cleanser – when I first took a whiff of the scent, I knew I just had to give it a go no matter.
Certified range suitable for babies
For some reasons, I've never checked up the Baby Boo organic 'Pamper My Baby' range of products till recently. I think I had mistaken it for another brand, whose ingredients I wasn't too impressed with. But in any case, I found out that the Baby Boo range is specially formulated to pamper, protect and soothe babies' skin and hair. All products in the range are certified by the Organic Farmers & Growers Association and The Soil Association, and free from parabens, sodium lauryl sulfate (SLS), sodium laureth sulphate (SLES), petrochemicals, synthetic fragrances and artificial colouring. Additionally, Baby Boo organic products have not been tested on animals, do not contain any animal ingredients and all development and manufacturing processes are free from GMOs.
Texture, packaging and scent
Ladies, the next time you head to Watsons, please check out this product and tell me what you think of the combination of chamomile and geranium scent. I'm like so in love with the calming and relaxing scent that I can't get enough of it. I was initially leery that this being a bubbly cleanser might be too runny. Well, it is a tad runny and because of the tube packaging, I found the wastage to be kind of high if I'm not careful and it sure will do better in a pump bottle. But the good thing is that this cleanser foams up adequately and when you rub the gel with your wet hands, you'll get quite a bit of small bubbles in the air. Lovely!
Baby Boo Organic Chamomile & Geranium Cleanser, 200ml
Ingredients: Aqua, Decyl Glucoside, Lauryl Betaine, Xanthan Gum, Pelargonium Graveolens Flower Oil (Produced under Organic Farmers & Growers Standards), Anthemis Nobilis Flower Oil (Produced under Organic Farmers & Growers Standards), Aloe Barbadensis Leaf Juice Powder (Produced under Organic Farmers & Growers Standards), Phenoxyethanol, Citric Acid, Benzoic Acid, Dehydroacetic Acid, Citronellol, Geraniol, Linalool.
This is a paraben-free formula that uses Phenoxyethanol, Benzoic Acid, and Dehydroacetic Acid as preservatives instead. I was concerned that the addition of the scents might irritate the skin of my child but it poses no problems for himself nor me. While this is a keeper for me, it's not really the case for my son. Because this is just a body cleanser, I can't use it for my son's hair and so I'm likely to go back to purchasing A'kin Body Wash & Shampoo for him, which is an all-in-one bath product for children.
Overall summary
Like I've indicated, I'm in love with this stuff and at S$14.20, readily available from Watsons, I'm very likely to continue purchasing it for awhile. Unfortunately, it seems that Watsons has only stocked a limited range of the baby products because I see a few more interesting bath and body items on the Maison Boo website that I'll be keen to give a try.
Have you tried any of the Maison Boo or Baby Boo products & do you have a favorite?

Comments