Marie Veronique Organics Acne Relief Treatment Kit
♥Guest Post♥ Today's post is written by M.C., a regular reader of Viva Woman who is in her twenties with sensitive combination skin. All products featured here were provided on a complimentary basis for the purpose of review.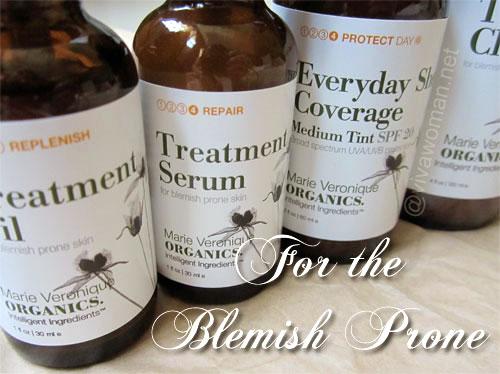 Long-time readers of Viva Woman would probably be familiar with Marie Veronique Organics. Founded by Marie Veronique Nadeau, a former chemistry teacher, the brand aims to create skincare products for graceful and natural aging, using organic ingredients whenever possible. According to Marie Nadeau, conventional acne treatments for teenage acne are not suitable for adult acne as "traditional methods of treatment can dry, inflame and irritate, ultimately accelerating the aging process." Instead, she recommends their regimen under the Acne Relief Kit that regulates oil production without over-exfoliating, thus keeping the skin balanced and nourished.
The Acne Relief kit comprises just four simple products – with short and relatable ingredient lists – that are designed to combat moderate to severe adult acne. It's also very fuss-free: two products in the morning and three in the evening only!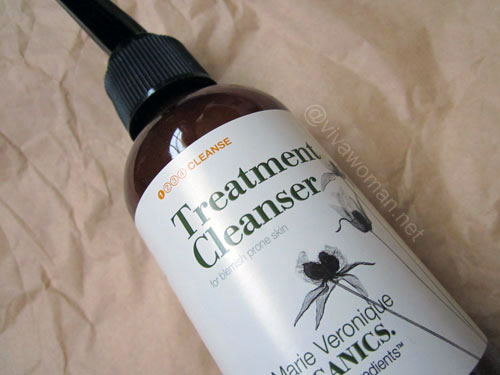 Treatment Cleanser (4 oz | 120ml) US$37
Ingredients: Green & white tea), adzuki bean powder, vegetable glycerin, apple cider vinegar, xanthan gum, lactic acid, black willow bark extract, Cosmocil CQ*, honey, potassium sorbate, colloidal oat flour, marshmallow root powder, rice bran powder, rosemary oleoresin, Usnea lichen tincture, lavender essential oil, rose geranium essential oil
Ingredients
This treatment cleanser is supposed to kill acne-causing bacteria, prevent clogged pores, and dissolve dead skin cells without stripping the skin dry – and it delivers! Texture is a little grainy like an exfoliating cleanser, most probably from the adzuki bean powder, but not abrasive at all. I normally double-cleanse but once is sufficient here. My skin does not feel uncomfortably squeaky clean but plump and moisturized. The scent is delicious: a little citrusy, a little yoghurt-like.
Over the month or so that I used this cleanser, I only suffered from one breakout! The difference became even more startling when I finished this and switched back to Thursday Plantation (which I've used before). Suddenly, I gained 5 pimples in the very first week, with my skin feeling noticeably drier and tighter. I definitely like this, but it barely lasted more than a month – maybe because I needed two pumps each time as it's non-foaming. Since it gets depleted so fast, I don't think I'll be ordering this.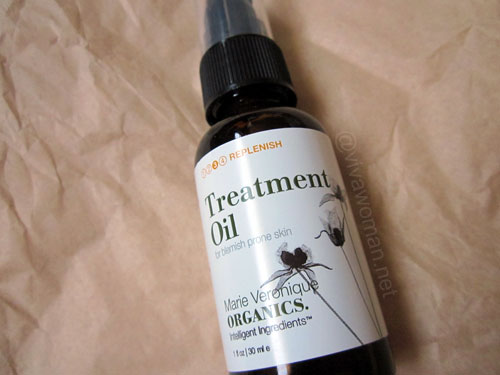 Treatment Oil (1 oz | 30ml) US$80
Ingredients: Jojoba oil, safflower oil, sunflower oil, pumpkin seed oil, emu oil, borage oil, black willow bark extract, vitamin E, acai oil, cranberry seed oil, red raspberry seed oil, tamanu oil, sea buckhorn oil, squalene (from olive oil), watermelon seed oil, rosemary oleoresin, Usnea lichen tincture, lavender essential oil, carrot seed essential oil, curcuma longa essential, tea tree essential oil, palmarosa essential, rosemary essential oil, moroccan chamomile essential oil
Ingredients
Intriguingly, this is the main source of moisturizer in the kit, but it also does a good job in keeping acne-causing bacteria at bay with tea tree, lavender, sea buckthorn and pumpkin seed oils. It's easy to massage into the skin and surprisingly, my face does not feel oily after application. However, the dispenser is a real pain because 80% of the time, it squirts out the content haphazardly causing a lot of wastage! On the rare occasions that it works properly, I use about one and a half pumps for my face and neck. Rubbing it around the T-zone pushes out blackheads to a small extent, which is good, but that's only for very superficial blackheads. I reckon this will last about three months. I like that it seeps into the skin easily, but otherwise it's not memorable. The price ain't cheap, so I'll just use other oils after this.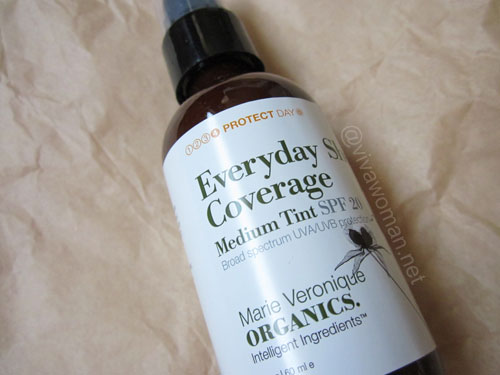 Everyday Sheer Coverage, SPF20 (2 oz | 60 ml) US$50
Ingredients: Green & white tea, non-nano zinc oxide, vegetable glycerin, broccoli seed oil, cherry kernel seed oil, emu oil, pomegranate seed oil, red raspberry seed oil, vitamin E, yangu oil, Cosmocil CQ*, xanthan gum, n-acetyl glucosamine, lecithin, potassium sorbate, pearl powder, rosemary oleoresin, beta glucan, coffee fruit extract, silk powder, rose essential oil, neroli essential oil, helichrysum essential oil, cistus essential oil, iron oxides
Ingredients
This is my favourite of the lot. I'm rarely enamoured with sunblock but this, I would buy in a heartbeat! It offers broad spectrum sun protection with SPF 20 but what I love is that it's such an incredible makeup-base/foundation: the tint was perfect for my skin tone, the formula glides easily!  I do need to re-apply in the afternoon or use mineral powder over it. The smell is also somewhat musty and oaky, like your grandfather's 50-year-old study, but it did grow on me after a while. The bottle would probably last three to four months minimum.
Overall, I'm really impressed that this excellent product contains natural, easy-to-comprehend ingredients and I'm going to ditch make-up bases and foundations with complicated compounds for this. And did I mention that it leaves a sheer, healthy matt glow?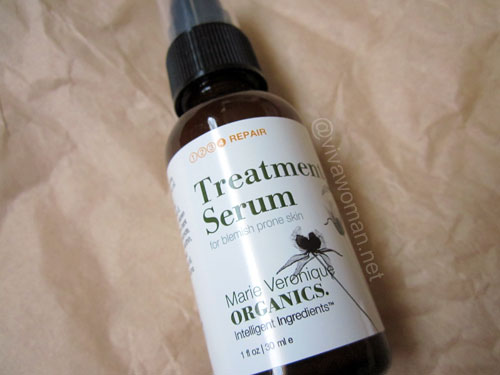 Treatment Serum (1 oz | 30ml) US$90
Ingredients: Green & white tea, pantothenic acid, argan oil, emu oil, pumpkin seed oil, tamanu oil, watermelon seed oil, vegetable squalene (from olive oil), vitamin E, kombucha extract, lactic acid, aspen bark, MicroGuard*, black willow bark extract, licorice tincture, niacinamide, xanthan gum, usnea lichen tincture, lecithin, rosemary oleoresin, carrot seed essential oil, lavender essential oil, helichrysum essential oil, curcuma longa essential oil
Ingredients
This Treatment Serum claims to regulate sebum production through pantothetic acid and to combat aging. Frankly, this doesn't leave an impression. It's non-greasy and easily absorbed but I don't see a whole lot of improvement. In addition, my skin gets all tingly every time upon applying it, but since nothing negative has happened so far, I suppose that's not an issue either.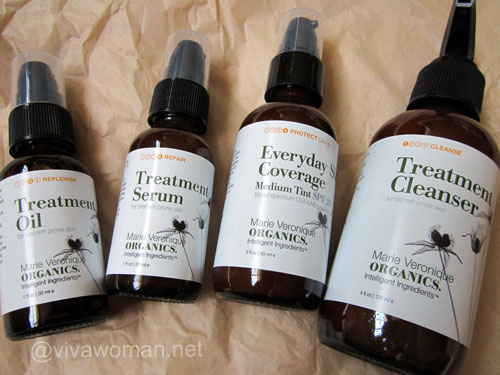 Some users may experience initial "purging"
I get about 4-5 pimples a month although they're usually not too angry-looking. Some reviewers experienced increased breakouts in the first week. Thankfully, this did not happen to me, but you might want to keep this in mind. I had high expectations, and I'm happy to share that overall, I really enjoyed using this range. The entire kit of 4 products cost US$230 and you can check them out at the website here.
Comments