Why do you need to shake products well before use?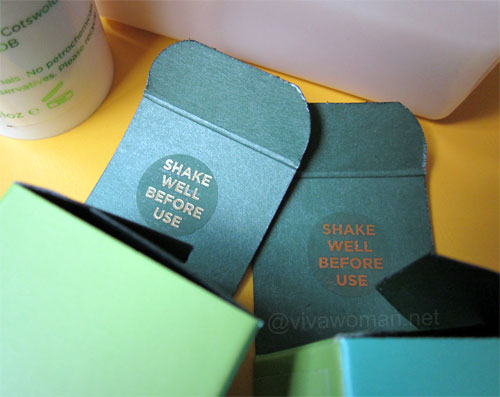 Hey ladies, do you have at least one item in your skin care stash with this instruction – shake well before use? Have you ever wondered why you need to follow the instruction and is it something that annoys you? Well, I have in my skin care stash, a number of products requiring me to "shake well before use" and these include sunscreens, skin lotions, and even eye creams. I have to admit that the instruction sort of annoys me slightly, especially if the product is housed in a smallish container that doesn't exactly give much room for shaking…if you know what I'm talking about.
Lack of emulsifiers in the formulation
The reason why you need to give some of these products a good shake prior to use is really because the majority of skin care products contain both oil and water soluble ingredients, and the problem with such emulsions is that they separate easily. Products that need not be shaken before use typically use emulsifiers or binders that act to bond the water and oil together such as glyceryl stearate, polysorbates, stearic acid, butylene glycol, PEG, triethanolamine, palmitates, ceteareth 20, beewax, and cetyl achohol. As some of you may have noticed, some of these ingredients aren't all that desirable and so products in the natural/organic category tend to avoid them. Because of this reason, many of the skin care products require us to shake well before use.
Some ingredients can't stay suspended
Most sunscreens also require users to shake well before use so that all the particles within the sunscreen are distributed evenly in the container instead of getting settled in the bottom of the bottle. Other products include some liquid foundation, because the pigments can settle to the bottom of the bottle, which will result in an uneven finish. You can say that these skin care products behave like some food products – upon standing for any period of time, will separate because of some ingredients can't stay suspended for longer periods of time due to them being dense or heavy.
Solutions to minimize shaking
My pet peeves when it comes to this instruction is that some formulations still don't get mixed too well even with a good shaking and another is, I often forget to shake. As a result, the product sometimes do not perform as optimally as it should be. I've even tried to turn some bottles upside down just so to minimize the shaking but the outcome hasn't been that ideal. I really think some of these products that are housed in airless pump bottle and require us to shake prior to use should come with a small stainless steel ball bearing inside the bottle, which will help to keep the lotion or serum consistent. Plus, the clacking noise in the bottle will remind us to remember to shake before use!
Comments