Fish or no fish, this is what I really like to wear daily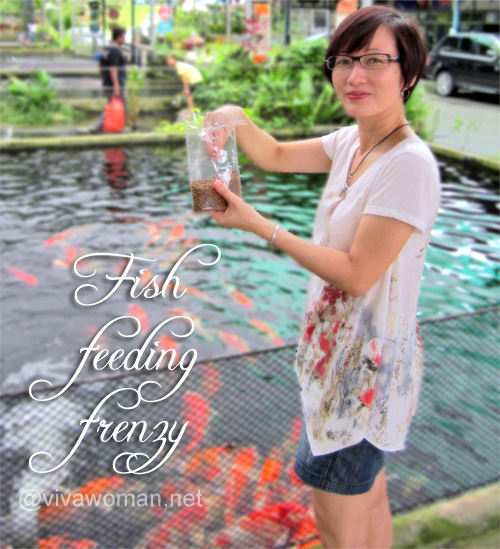 The weather was good earlier in the day and we decided to head to a spot we haven't been in eons. The Mainland Tropical Fish Farm at Pasir Ris. This is basically a "fishy" place, where you can just drop by to feed the fish, fish a fish, or buy a fish. So don't expect me to turn up all dressed up here. The trip was totally unplanned anyway and it so happened that what I like to wear was fish appropriate with all the splishing and slashing.
My son reminded me that a little girl had dropped inside one of the ponds the last time we were here. It happened really quickly but the good thing was the pond was shallow and she was quickly picked up. But the poor girl must have been quite traumatized given that the perpetually hungry fish must have tried to nibble at her. And speaking of nibbling, this fish farm also comes with a fish spa but we didn't see anyone at the spa at all. The fish spa did look enticing but we basically kept our feet a safe fish-distance away.
Oh, these pictures were taken using my very normal point-and-shoot camera. I'm kinda pleased that I figured out how to blur the background using Photoshop. So no, I wasn't trying to conceal my complexion in case that's what some of you are wondering.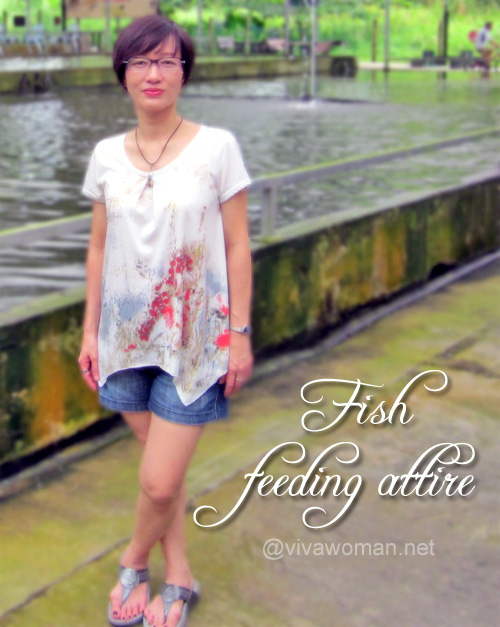 I don't really care what others say about tees and shorts being too casual or that it's a fashion crime. I love them and would be happy to wear them daily! So like what Renee mentioned, heck the fashion snobs! And my hair is short again as you can see. I've been meaning to stay away from short hair but my hairstylist basically got carried away while talking to me during the haircut session. Lesson learnt: don't talk too much to your hairstylist if you don't want your hair too short!
Comments